Can a machine that looks suspiciously like a computer CPU help save lives from one of the world's most ancient diseases?
For many in Europe and North America, tuberculosis (TB) is a disease of the past, which haunts abandoned sanitoria or the pages of 19th century novels.
 
Yet when I pulled into a dusty open-air TB centre behind Mavalane Hospital in Mozambique's capital Maputo -- with droves of patients anxiously awaiting their results -- it was clear that for many low-income populations, TB is nothing less than a modern-day public health emergency. To make things worse, many of these patients were living with HIV, as 50 percent of those with HIV in Mozambique also have TB, which is transmitted by airborne bacteria.
 
In a side door, only steps away from those waiting for their results, masked TB patients crowded into a small space to receive treatment. It was painfully obvious how easily this disease of poverty spreads in close quarters. I was told that health workers are often infected, only adding to the misery of a country that has one of the lowest ratios of health workers per person in the world.
 
There is hope though, and a new piece of technology could in fact play a role in turning the tide on TB in Mozambique and elsewhere. As World TB day is around the corner on March 24, it's a story worth telling.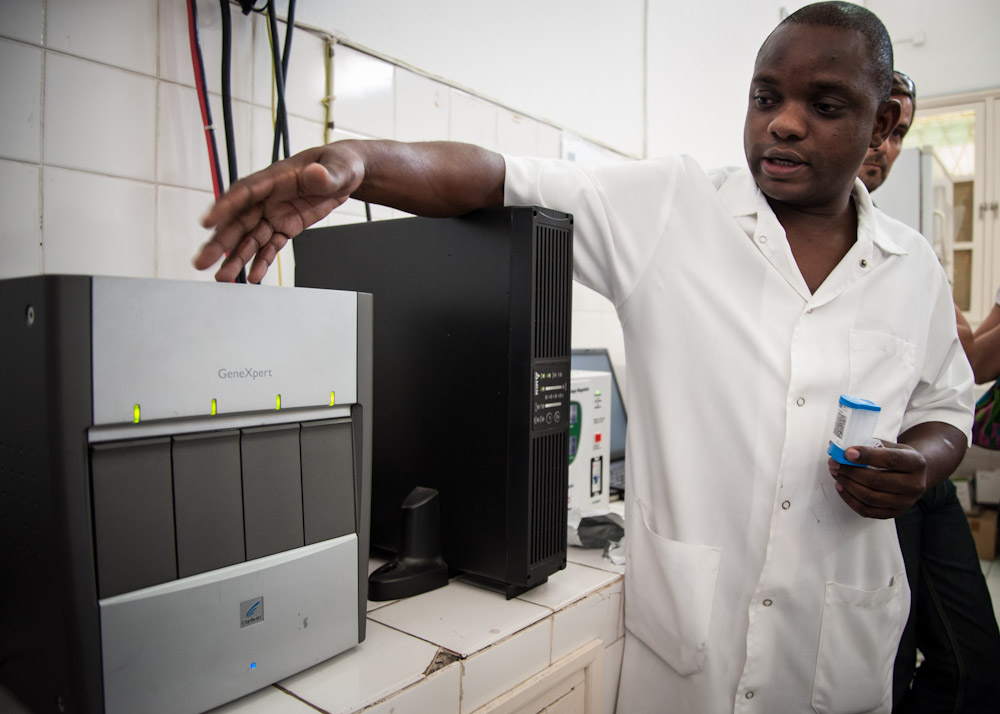 Last week I had the privilege to visit Mozambique with UNITAID, the global health initiative based in Geneva that I chair. Created in 2006, UNITAID is largely financed by a small tax on airline tickets and last year invested $30 million to roll out a new rapid test for tuberculosis, known as GeneXpert (pictured above). Initially created to test for anthrax, GeneXpert can provide reliable results in only two hours.
Old testing methods take weeks or months, with samples taken from patients and transferred to microscopy laboratories. At Mavalane hospital, many of these patients were actually waiting for results to be delivered via SMS printers, set up to receive data from distant districts. With GeneXpert, patients spit into a cup which is simply inserted into the machine. Results are ready in two hours and patients can be put on treatment straight away.
 
UNITAID is introducing a GeneXpert machine into each of the 12 provinces of Mozambique and purchasing the cartridges needed for each test. This is vital for a country that stretches 2,300 km along the Indian Ocean from South Africa to Tanzania. Colleagues told me about visiting health clinics in the remote north, where three tiny laboratories provided TB testing services for 180,000 people. Even in Maputo, travelling long distances means work hours lost, hence the large number of potential patients that are "lost to follow-up."
 
GeneXpert is especially important for combating the growing surge of deadly multi-drug resistant tuberculosis (MDR-TB), which is non-responsive to the drugs commonly used to treat TB. To test for MDR-TB, the bacilli that causes the disease needs to be grown in culture. This usually takes months. GeneXpert can do it in two hours.
 
I visited the only MDR-TB referral hospital in Maputo, an imposing seven-story building in the midst of sweet potato fields on the outskirts of the city. The director explained that patients sometimes wait three months for results and over 20 percent of her patients never return. She was awaiting GeneXeprt eagerly.
 
Dr Gaël Claquin, with the World Health Organization in Mozambique, estimates that the some 50,000 cases of TB diagnosed every year in Mozambique are only half the actual number. He told us that GeneXpert will be able to diagnose thousands of new patients.
 
Yet I also saw first-hand the horrors of MDR-TB treatment. On the top floor of the referral hospital, reserved for MDR-TB patients, ghostlike patients shuffled between the corridors. Doctors rolled drug trolleys by, laden with the multiple toxic drugs and shots needed every day for MDR-TB treatment. MDR-TB patients must adhere to a two-year regimen of these drugs - the daily drug burden can easily surpass ten drugs and shots a day. Side effects include psychosis and deafness.
 
World TB Day commemorates the day in 1882 that Robert Koch discovered the tubercle bacillus, the bacteria responsible for tuberculosis. Back from Mozambique, I only have to open the newspapers here in France to read about MDR-TB spreading in hospitals, or browse the web for stories about outbreaks in Los Angeles. Although mainly a disease of the poor, MDR-TB doesn't respect economic, racial or national boundaries and presents a major global threat, with an estimated 630,000 people ill worldwide with this form of TB.
Technology can in fact save lives and from what I've seen in Mozambique, GeneXpert will certainly lead to better testing. Newer technologies to diagnose TB are also on the pipeline. But now we need to concentrate on better treatments for MDR-TB to finally put a stop to this ancient airborne killer.
Calling all HuffPost superfans!
Sign up for membership to become a founding member and help shape HuffPost's next chapter