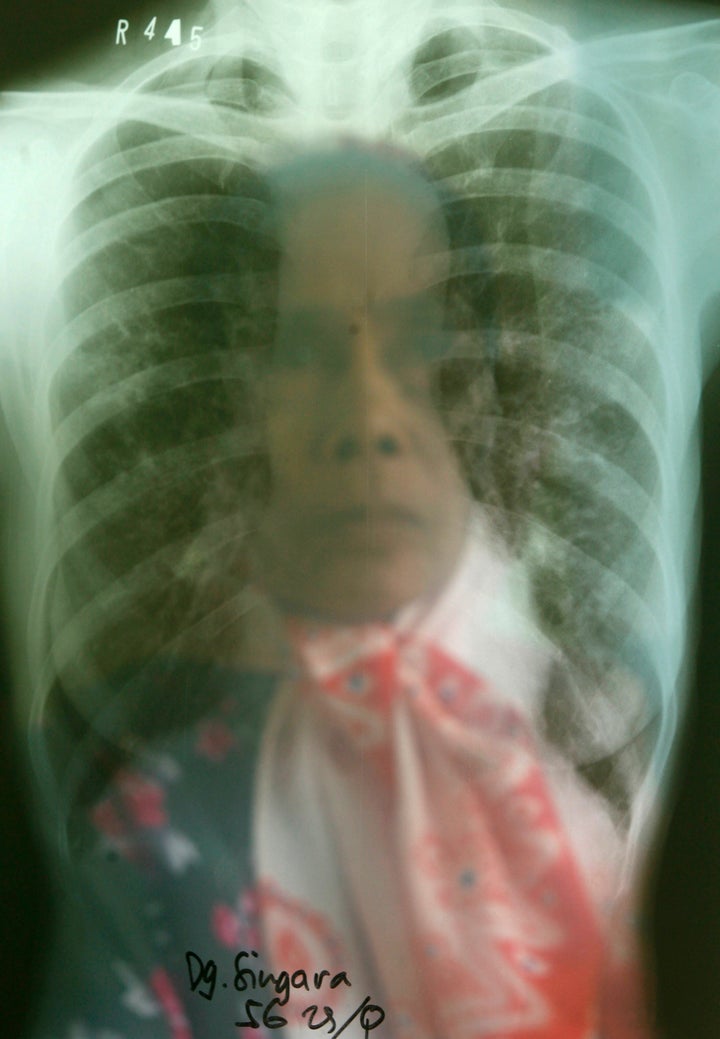 Tuberculosis remains the world's top infectious killer for the fourth year in a row, the World Health Organization said Tuesday. Despite TB's lock on the grim title, as it kills far more than HIV/AIDS or Ebola, the disease has historically received less attention on the global stage.
"Tuberculosis got to be at the top of the list of infectious killers as it has continued to be the bottom of the list of political priorities," Joanne Carter, executive director of the anti-poverty nonprofit Results, told HuffPost.
That's had real consequences. At the current "slow" rate of progress against the disease, the WHO says, the goal of eliminating TB by 2030 will be missed ― and by decades.
"Governments continue to tackle the world's deadliest infectious disease with lethal mediocrity," Sharonann Lynch, the HIV & TB policy adviser for Doctors Without Borders' access campaign, told HuffPost. She called Tuesday's WHO report a "shameful report card."
TB "needs to be brought from the shadows ― it needs a political spotlight and commitment of the highest level possible," Lynch added.
That may be changing. Efforts against the disease get a lift next week as world leaders gather Sept. 26 for the first high-level United Nations meeting to discuss tuberculosis. This vaults TB into the category of just four other conditions ― HIV/AIDS, noncommunicable diseases, Ebola and antimicrobial resistance ― that have such a meeting devoted to them.
Prior U.N. high-level meetings have rallied global support and resources to make rapid progress in fighting health crises.
"We have never seen such high-level political attention and understanding of what the world needs to do to end TB and drug-resistant TB," Dr. Tedros Adhanom Ghebreyesus, WHO director-general, said in a statement. "We must capitalize on this new momentum and act together to end this terrible disease."
Emilio Emini, director of the Bill & Melinda Gates Foundation TB program, told HuffPost that it will be vital for the high-level meeting to bring political attention to the disease and to translate that into political action.
"The world's leaders must seize the opportunity of the first-ever TB summit to curb and reverse TB's deplorable trajectory," Lynch said. "It's time to smash the TB status quo—what are we waiting for?"
The Threat Of A No. 1 Killer
Lucica Ditiu, executive director of the international Stop TB Partnership, said the 2018 WHO report, which reflects 2017 data, shows efforts against TB have stagnated. She likened TB's status to the early days of HIV/AIDS, and warned against complacency. "I don't know how to leapfrog those years of pain," she said, without rapidly expanding investment and action.
Every minute, the airborne disease kills approximately three people ― more than 1.6 million a year. In 2017, 10 million people developed the disease, including 1 million children.
"It's still a disease of poverty," Dr. Tereza Kasaeva, head of the WHO's TB program, told HuffPost. "In spite of the fact that it's an airborne infection that doesn't know borders or nationalities ― it still mostly impacts the poorest population."
It's a particular shame, considering TB is treatable and curable, Kasaeva said.
WHO experts estimate 3.6 million people have TB and are not receiving treatment. Funding for treatment is $3.5 billion short of what's needed in 2018, the WHO says, and the shortfall for research and development is $1.3 billion.
If such trends continue, experts fear, the world could be facing a larger, even deadlier drug-resistant form of the scourge.
"If we ignore TB, we will be faced with another epidemic more strong and more dangerous," Kasaeva said, referring to the growing "huge reservoir" of those infected with a multi-drug resistant form of the bacteria.
Only one-quarter of the 558,000 who contracted drug-resistant and multidrug-resistant forms of TB were treated in 2017 ― leaving hundreds of thousands to most likely die.
Putting TB On The World's Agenda
Efforts this spring and summer to make TB a higher priority were fraught with debate and disappointment as the U.S. sparred with other countries over intellectual property language in a U.N. declaration.
In July, a protracted battle over a push to eliminate previously standard intellectual property language, which potentially would limit access to life-saving drugs, ended with South Africa breaking decades of U.N. protocol to defy the U.S. and force new declaration text.
The U.S. agreed last week to allow language that favors generic versions of patented TB drugs through so-called compulsory licensing following criticism that the U.S. was backing Big Pharma profits over potentially life-saving medicines.
"The Trump Administration will maintain leadership of TB research, prevention and treatment while also protecting American ingenuity and innovation, which is why we appreciate that the document recognizes that protecting the engine of innovation is what drives the development of new treatments," a spokesperson for the Department of Health and Human Services told HuffPost. "We will continue to work with partners to make affordable medications – including generics – even more accessible."
"Tuberculosis got to be at the top of the list of infectious killers as it has continued to be the bottom of the list of political priorities."
Meanwhile, advocates are still hustling to convince top world leaders to appear at next week's meeting. Bill Gates, a top donor in the fight against TB, has committed to speak ― a "shot in the arm," according to Dr. Paula Fujiwara, the scientific director for The Union, an international organization that fights the spread of TB.
More than 40 world leaders also have confirmed their attendance. But of the eight countries that contain two-thirds of the world's TB cases, the leaders of fewer than half are likely attending. No major European leaders have promised to attend. U.S., Canada, China and Russia heads of state also are not expected to appear, although there may be last-minute changes, and India's Narendra Modi cited a prior commitment of announcing health goals at home.
Lynch called the meeting's roster of leaders, especially from high-burden countries, "disappointing," and said political commitment is going to be what makes the meeting a turning point.
Still, Carter noted the significance of an alliance between WHO, the Stop TB Partnership and the Global Fund to diagnose and treat 40 million people who have TB by 2022. She also pointed to the leadership of the countries that have pledged to send leaders to the meeting. In addition, there has been growing bipartisan support in the U.S. ― with 43 senators and 106 members of the House signing letters encouraging increased support for TB efforts.
Still, the meeting is a single day on the calendar, Matt Oliver, head of the secretariat for the Global TB Caucus, a worldwide group of parliamentarians, told HuffPost.
"People will inevitably be measuring success in the numbers of heads of state or the commitments made on the stage," Oliver said. But it will only be a success, he added, "if, in five years time, things have progressed markedly."
"What has to change is there has to be more accountability," Lynch said. "We won't accept just another bumper sticker to end TB."
Popular in the Community