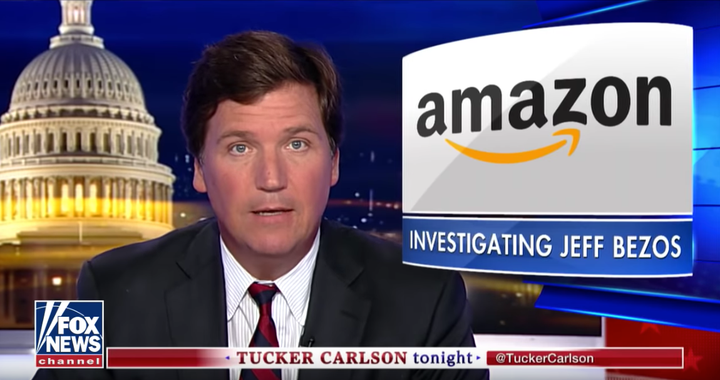 Sen. Bernie Sanders (I-Vt.) has been fighting with Amazon CEO Jeff Bezos over the fact that some of Amazon's employees are poor enough to qualify for food stamps.
The former Democratic presidential candidate and progressive kingmaker has even said he will introduce a bill to tax companies for every dollar their workers receive in safety net benefits.
"Bernie Sanders of all people is trying to get your money back from Jeff Bezos," Carlson said. "This is especially amazing because he is on Bernie's side on most things. They are both left-wing activists. But on this question, Bernie is right."
But the argument that food stamps subsidize low wages goes against the agenda Trump and the Republican Party have put forward, which would cut food stamps because the program supposedly prevents poor people from taking low-wage jobs.
Republicans are currently pushing a long-shot bill that would make the "work requirements" for food stamps ― officially the Supplemental Nutrition Assistance Program ― stricter. Their top justification for the policy is that businesses have supposedly been unable to hire enough workers because SNAP benefits make it too easy to survive without market income.
"It surprises me how much employers can offer and still complain that they can't beat what the government pays," one Republican lawmaker told HuffPost earlier this year.
With his proposal, Sanders is making an opposite point: that it's too easy for big companies like Amazon and Walmart to exploit workers, pay low wages and leave workers dependent on government programs to pay for food. His claim that food stamps subsidize these firms' "starvation" wages comes from an April report by The Intercept and the New Food Economy, a nonprofit. Their story used state payroll data to show that substantial numbers of people with earnings from Amazon and Walmart also received SNAP benefits in a given time period.
Earlier this week, Amazon responded to Sanders' criticism, saying its average full-time employee earns more than $34,000, which would be above the income limits for SNAP participation for most households. The only Amazon workers receiving benefits, according to the company, are part-timers and seasonal workers with much lower annual incomes. But the company hasn't disclosed what percentages of its workforce work full time, part time or for a temporary staffing firm.
"If Amazon is so proud of the way it treats its workers, it should make public the number of people it hires through temporary staffing agencies like Integrity Staffing Solutions and make public the hourly rate and benefits those workers earn," Sanders said in a press release this week.
Sanders has said his bill will be formally introduced next week. It stands less chance of passing than Republicans' new work requirements.
Popular in the Community