Carlson, a veteran conservative journalist and commentator, joined Fox News in 2009 as a contributor after previously hosting shows on MSNBC and CNN. He launched news and opinion site The Daily Caller the following year, and in 2013, stepped up to co-host the weekend edition of "Fox & Friends."
Since Kelly, widely seen as the future of Fox News, announced Tuesday she was leaving Fox News for NBC News, there's been speculation that the network would want another woman hosting the coveted 9 p.m. slot between ratings leader Bill O'Reilly and Sean Hannity. Also, Carlson had only been in the 7 p.m. slot, vacated by Greta Van Susteren, since November. 
It's a rapid rise for Carlson, though he has quickly succeeded with his show in producing strong ratings, sparking debate and generating viral moments ― metrics prized by cable news executives. 
"In less than two months, Tucker has taken cable news by storm with his spirited interviews and consistently strong performance," Rupert Murdoch, executive chairman of Fox News parent company 21st Century Fox, said in a statement. "Viewers have overwhelmingly responded to the show and we look forward to him being a part of Fox News' powerful primetime line-up."
Carlson's show has averaged 2.8 million viewers since its launch and last month ranked 2nd in the key 25-54 demographic, behind only O'Reilly. 
He's also generated plenty of headlines already. Carlson got New York Times public editor Liz Spayd to agree with him that some of the paper's political reporters' tweets had crossed a line and sparred with Newsweek's Kurt Eichenwald and Teen Vogue's Lauren Duca. She called Carlson a "partisan hack," while he dismissively suggested she write about fashion instead of politics.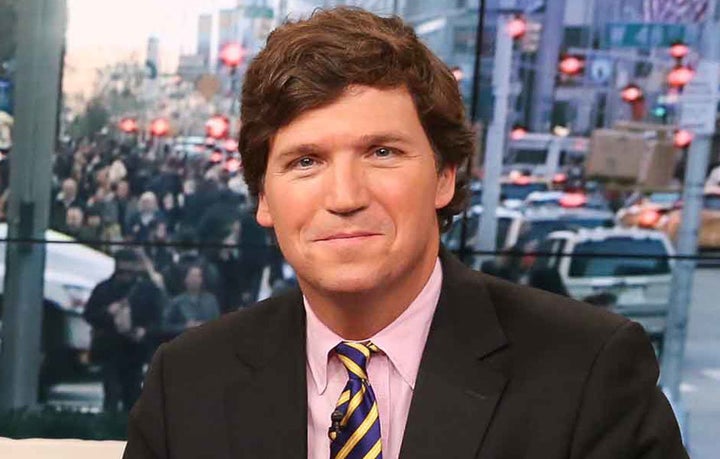 Carlson, who made media criticism a recurring part of his Fox News show, had once been a highly regarded magazine writer for publications like New York and Esquire, as well as the conservative Weekly Standard.
He later shifted to television punditry and served as the bowtie-clad conservative host on CNN's partisan slugfest "Crossfire." Jon Stewart famously appeared on the show in 2004 and urged Carlson and liberal host Paul Begala to "stop hurting America." The show was canceled months later. 
In 2005, Carlson began hosting an evening show on MSNBC, which was canceled three years later as the network veered left in primetime. 
Carlson drew jeers from the conservative faithful at the Conservative Political Action Conference in 2009 for speaking favorably about The New York Times and suggested there needed to be better fact-based reporting from newsrooms on the right. 
But Carlson has also criticized the Times, and the news media more broadly, as being disconnected from much of the country.
"Everybody in journalism — black, white, Hispanic, Asian — they're all from exactly the same culture," he told HuffPost in 2013. "They're all coastal. They're all secular. They've never held a gun before. They also have the same — they're all pro-choice. They're all pro gay rights. That's fine. But the net effect is an echo chamber."
By promoting Carlson to 9 p.m., Fox News has shifted to a primetime line-up that ranges from sympathetic to president-elect Donald Trump to outright cheerleading. Kelly, who prompted tirades from Trump after she challenged his sexist comments during a Republican debate, didn't boost his candidacy in 2016 and frequently booked critics on her show. Meanwhile, Trump frequently turned to Hannity for softball interviews throughout the election. 
Carlson wasn't a Trump mouthpiece, like Hannity, but has repeatedly criticized so-called elites, and especially those in the news media, as being out of touch with Americans who voted for Trump. "In Washington," he said last month, "no one believes anything unless it comes from The New Yorker, New York Times editorial page, or The Washington Post." 
The Drudge Report first reported the news of Carlson's promotion, which was confirmed soon after in a press release.
Fox News also announced that afternoon host Martha MacCallum will move to 7 p.m. to host a new program, "The First 100 Days." She'll co-anchor Fox News' inauguration coverage with chief political anchor Bret Baier too. 
"Martha is a versatile and skilled anchor who has proven to be an essential component of our news programming," Murdoch said. "For the last 12 years, our viewers have trusted her reporting and we are pleased she will be part of our primetime line-up for the first 100 days of the new presidency."
This post has been updated with more details on Carlson's career and statements from Fox News.
REAL LIFE. REAL NEWS. REAL VOICES.
Help us tell more of the stories that matter from voices that too often remain unheard.
BEFORE YOU GO