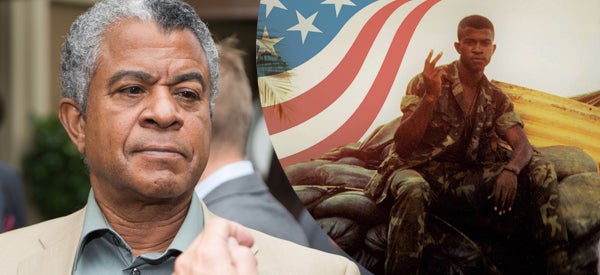 God created man in his own image. If Sarah Silverman is anything like the Creator — and who's to say that she isn't? — then we can only assume that God is the spitting image of Tucker Smallwood, who so deftly inhabited the role of "Black God" on the now-defunct Comedy Central series The Sarah Silverman Show. Nice work if you can get it — gratifying even — especially for Smallwood, whose arresting humor and irreverence was (and still is) in line with the show's provocateur namesake. Smallwood's vintage may not match the God of Abraham's, but he has amassed four-decades of stage and screen credits, portraying every character type in films like The Cotton Club and on television sci-fi shows Space: Above and Beyond, The X-Files, Star Trek: Voyager, Star Trek: Enterprise, Millennium, to name only a few.
He is, however, much more than his extensive filmography. And before his name appeared on the rosters of Actors Equity or the Screen Actors Guild, he participated in his generation's most harrowing and divisive narratives.
"If I have a gift, it's in having have lived an interesting life," said Smallwood who, once upon a time, was assigned to Military Assistance Command, Vietnam (MACV); an Army advisor to Vietnamese regional force troops, Smallwood accompanied combat patrols until severely wounded in the throat somewhere in the Mekong Delta.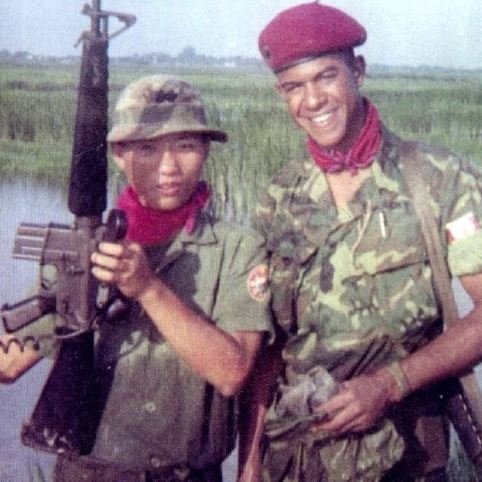 "In the Medevac chopper, I remember the blood and the morphine they gave me," Smallwood wrote in his memoir, Return to Eden. "In triage, I remember the skeptical looks of those caring for me – not insensitive, just realistic. And sometime later, on the table, my job done, I finally let it go. My doctors confirmed it. I died. That doctors managed to revive me has long been a cause for celebration, reflection and sadness, for many others were not revived."
The question "Why am I alive?" is a recurring theme among those veterans that lumber under the crippling weight of survivor's guilt and PTSD (Post Traumatic Stress Disorder). Many have reached out for help and re-built their lives, while others have suffered and even died in silence.
And PTSD may have been the only common thread connecting Smallwood to his fellow Vietnam veterans. Because he was an advisor to indigenous forces, not only did his service have little in common with the average American troops in Vietnam, his life leading up to the war was just as atypical.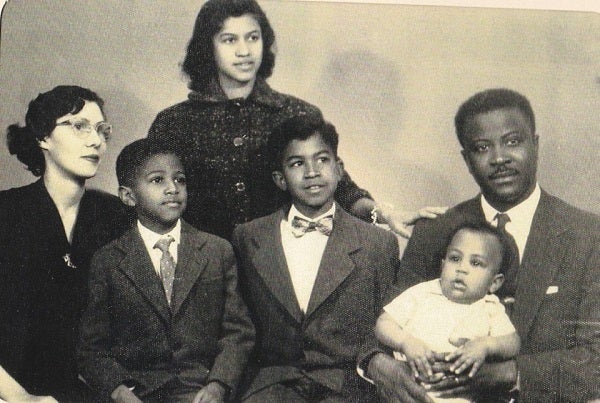 Tucker Smallwood was born in Washington DC. His father, Dr. Osborn T. Smallwood, was a Fulbright professor in Greece and later a diplomat in Germany. Consequently, his children spent much of their early years in Europe.
"My father was the most amazing and most accomplished man I've ever known. He created bootstraps. He was a Lutheran minister who put himself through school, got his masters, and PhD. And he's doing all of this in a time when there were more obstacles than you can imagine in the path of a purposeful black man."
As a youngster, Tucker excelled in school and was considered a prodigy on violin. The Smallwoods left Europe in 1957 and returned to an America in transition. While they were across the pond the struggle for Civil rights and integration became foremost in the national conversation.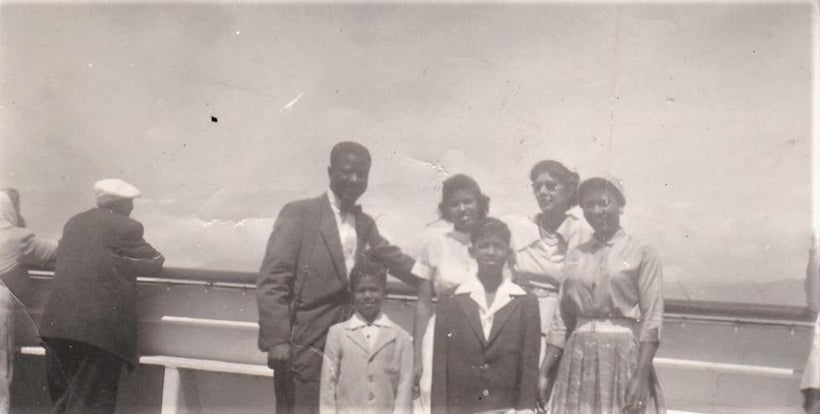 "I wasn't unconversant with black culture and history. I had lived through segregation to integration but I wasn't politically savvy," Smallwood said. "I have no memory of any specific decision but by thirteen I began to underachieve. The reason I became more withdrawn once back in America was that I had grown weary of the attention, always being in the light. I didn't want that stress or pressure any more…and so I tried to fit in, be more ordinary. Try to imagine what it's like to be in 2nd grade, marched up to the 6th graders, asked to solve their math and grammar problems. Amazing I didn't get my ass handed to me five times a week. And for the next seven years or so, I was remarkably unremarkable. Yeah, I was liked; I was noticed, as always. But much less distinguished during those years than my earlier promise might have suggested."
His college experiences were varied as much as they were eventful. Studies commenced at Antioch College in Ohio but the next two years were spent studying abroad in Germany. Smallwood's father had since become Director of the German American Institute at Regensburg and Frankfurt.
"There were 400 of us Americans studying at the University of Munich. 200 were men. 180 served as officers in Vietnam, all with distinction. That's a stunning statistic until you considered who the fuck we were. We were the children of Americans who dedicated their lives to service. I'm very proud of that."
The last stop on the collegiate journey was the University of Maryland in College Park where he tried out for the football team and made it (two years after the Atlantic Coast Conference integrated its teams). Sidelined with a torn meniscus, Smallwood figured his football injury would keep him out of the military. He was wrong.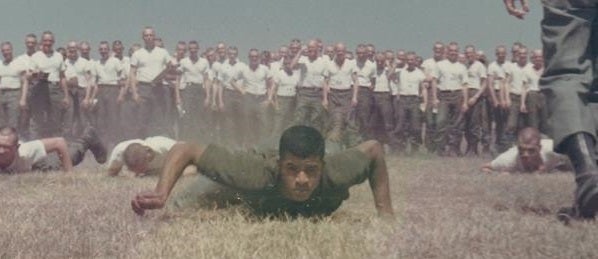 "Being drafted really came as a surprise to me. When I went to the physical my knee clicked every time I flexed it. The doctor examining me said, 'Well, let us know later if it bothers you.'
"While I was in college I directed television for WBAL in Baltimore. My father had arranged for my placement with THE BIG PICTURE, a U.S. Army program that broadcast official reports, internationally, on Armed Forces Television. However, I fell in love with the process of soldiering while going through basic training and advanced infantry training. I qualified as Expert on 10 weapons, I navigated in the dark with surprising success. Men responded when I urged them forward and I learned just how tough, how resilient I became, without sleep, without food, without warmth. I just found the physical demands of commanding infantry troops more rewarding. Clearly, I had some shit I needed to prove to myself. I was going to be a fucking soldier."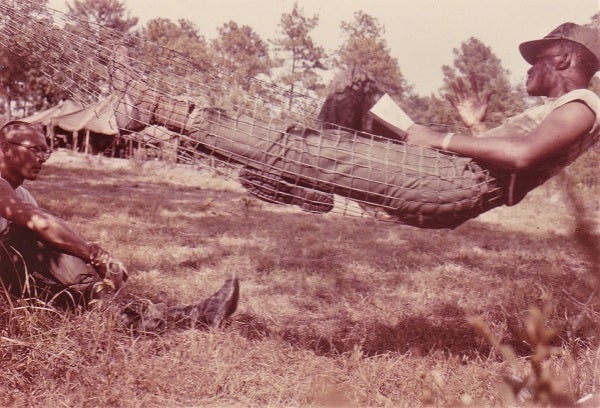 After advanced infantry training Smallwood reported to Ft. Benning for 24 weeks of Officer Candidate School. Upon completion of OCS, Smallwood became a Tac Officer training other officer candidates for the next six months. Then he volunteered for Jump School, Special Warfare School and Vietnamese language training.
"My preference was to work with men that were committed to the mission and get on with the task at hand. That meant foreign nationals – maybe mercenaries, maybe Vietnamese citizen soldiers. Accepting a platoon leader's slot in an American unit that required me to deploy draftees (who didn't want to be there) into battle had little appeal for me."
Smallwood arrived "in country" during Nixon's policy of "Vietnamization." The policy was designed to reduce American troop strength, and gradually replace US ground units with Vietnamese troops. Subsequently, Mobile Advisory Teams (MAT) were established to support Vietnamese Regional Forces and Smallwood was sent to Gia Dinh Province in the Mekong Delta.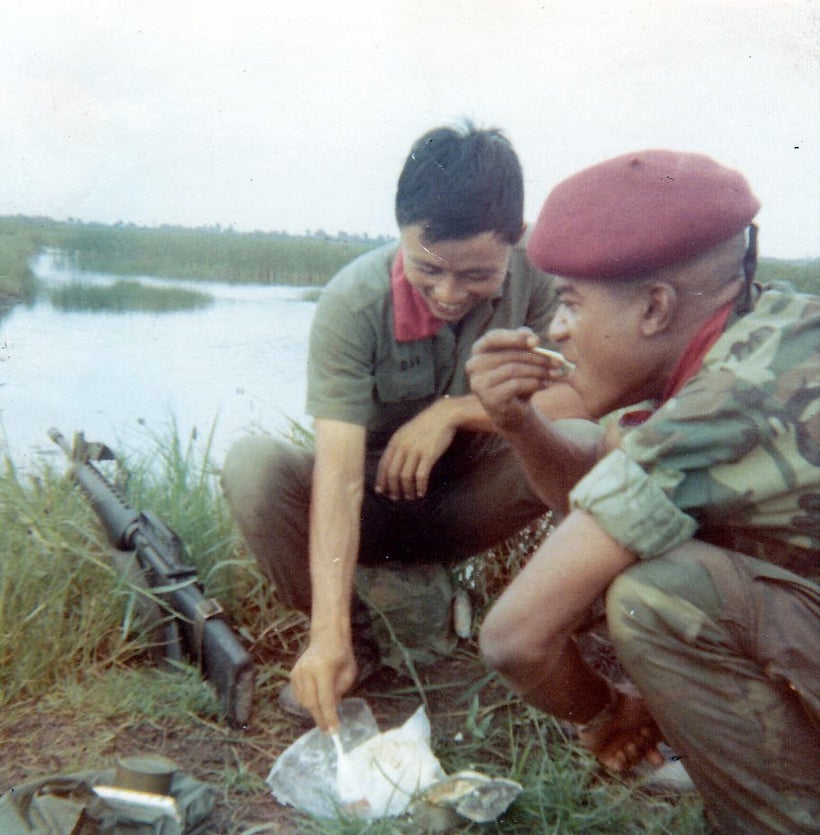 "My assignment was MAT-36, Advisory Team 44. My AO (area of operations) was thirty 'klicks' southwest of Saigon and along a major Viet Cong infiltration route from Cambodia."
"Any operation in my area involved continual crossing of canals, rice patty and swamp. Leaches, trench-foot jungle rot were a condition of life in the delta. Keeping our weapons, ammo and radio dry were as important as breathing. Because I was the tallest man for miles it usually fell to me to carry across water the radio and occasionally, the M60 machine gun- one stumble or moment of panic and you've lost your communications, our lifeline to artillery, airstrikes and most critically Medevacs. After a few failures I even managed to keep my Pall Malls dry."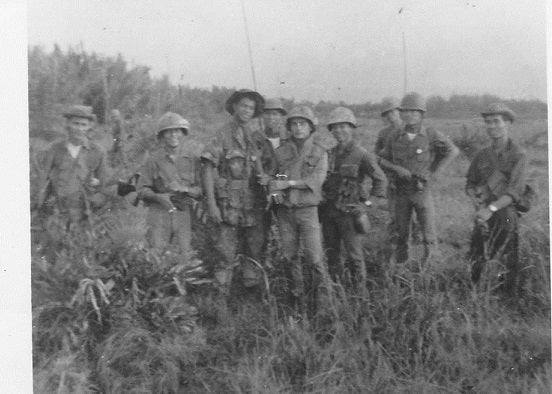 The village, Tan Nhut Nam, where MAT-36 operated was situated along the Kinh Song Canal and was VC contested. Contact with the enemy was frequent and the five-man-team saw action from the moment they arrived. But it was one particular event that occurred near the end of Smallwood's tour that "dominates the landscape of his life."
"On September 14th, six mercenaries showed up at my bunker asking 'to go hunting," Smallwood told an audience at the Rogue Machine Theater in Los Angeles. "Their orders were to kill or capture a Vietnamese tax collector. None of them could speak any English but my Vietnamese was pretty good. They were a motley crew. They were paid by the Phoenix Operation – a CIA operation – and worked for blood money. I was concerned they would not locate their target and to collect their reward they might waste some unfortunate farmer. This was known to happen. Since this was going down on my turf I decided to go with them. Every farmer in that area recognized me or knew of me. My team had worked hard to win their trust. And, maybe, I had a touch of hubris. These men were stone killers. 'I can roll with them.' The fuck was I thinking? I briefed my team: mission coordinates, grabbed my radio, standard combat load and shortly after noon we single filed through my perimeter wire and patrolled west toward Cambodia. We eased up out of the water onto a small hummock of land. Just as I knelt down to check my map the hummock exploded. It was the loudest sound I'd ever heard. Still is.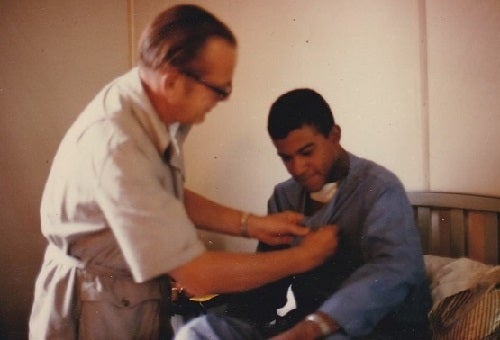 "My right carotid was severed, blood spurting ten feet in front of me. 'Do not lose consciousness!' I tied my sweatband tight as I could around my throat and began to key my radio handset. Calling to my team, to anyone, whispering, 'Mayday, Mayday' because I could no longer speak. It took more than thirty minutes to raise a response. And then we waited."
To this day, Smallwood has no idea what caused the explosion. It could have been a command operated booby trap or a booby trap his men found and tried to disarm. Nevertheless, he lost a lot of blood and upon reaching the field hospital his heart stopped on an operating table. As one doctor dispassionately pronounced him dead and moved on to other wounded soldiers, another named Cardenas stepped in and made Smallwood's heart beat again. If not for that doctor's determination our story would have ended right there, tragically, and there would be seven Smallwoods (there are six) chiseled into the black marble wall of the Vietnam War Memorial.
"I spent three weeks in Saigon hospital, two weeks at Camp Zama near Tokyo, and then flown back on a stretcher to Andrews Air Force base. I was in Walter Reed Hospital for four months. At that time, there was no expectation of me to have an extended life. I asked the vascular surgeons at Walter Reed, 'What can I expect?' 'We don't know,' they told me. 'Five years maybe. People with your injuries don't survive. There's no graph. You're not supposed to be here.'"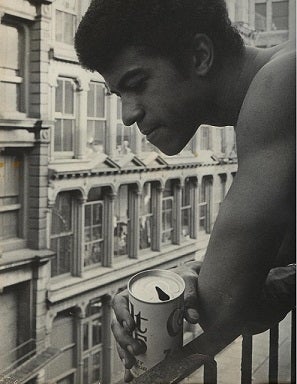 After recovering from his injuries, Smallwood moved to New York City, determined to become an actor. He sought out New York's most prominent acting gurus Sanford Meisner, Stella Adler and Lee Strasberg and the G.I. Bill paid for their invaluable work-shops and classes.
"I was just incredibly alive and grateful. I was a joy to be around and I was loving my studies. I was working as a waiter at a restaurant in Mid-town, got my meals, and made good tips. Once Sandy [Meisner] broke my barriers down I realized what was inside of me and how to get to it. I was cast in my first equity play, Five Black Visions, after reading about an open call in Backstage. Morgan [Freeman] was in that play. I got my SAG card when I was cast in a Zenith commercial.
From the mid-70s on Smallwood was a familiar face on all three television networks. He co-starred with JoBeth Williams on the ABC children's show Jabberwocky, portrayed ADA Frank Evans on NBC's soap opera Somerset, and was the Emmy-nominated host of the CBS news magazine, Channel 2: The People.

"It was a magical 10 years but relationships started ending; there was depression, self-destructiveness and I was subverting and sabotaging my life. I wandered in that funk for years. I went down to the dedication of the Wall in 1982 and a few years later marched in the first parade to acknowledge the Vietnam Veterans in New York City. Both were important events for me. I joined the Vietnam Veterans of America and, in 1988, was given a copy of the book Long Time Passing: Vietnam and the Haunted Generation by Myra MacPherson. This was the first book to examine PTSD among Vietnam veterans and its' impact on their families. When I read Myra's book, I recognized my behavior in her stories. I said, 'That's me, that's how I feel, that's how I behave.'"

"After I had undergone treatment I appreciated that 'You have been given a real break here. You were trying to destroy your life for some years and you found your way out of the rabbit hole' and I'm going to see to it, to the extend that I can, that no other guy who had that effect on his life has to go through that. I'm going to advocate on his behalf, gain attention for him and persuade him to get the attention he needs to enjoy his life."
While being treated for PTSD, Smallwood's therapist, Dr. Victor De Fazio, encouraged him to get his experiences down on paper. What began as a writing exercise and years of work culminated in his book Return to Eden. The book is collection of essays about a colorful life in and out of war. It also includes Smallwood's account of his first visit to Vietnam since leaving on a stretcher in 1969. And like many of those whose identities are inextricably linked to their war years, Smallwood's book "engages all things veteran" in his life.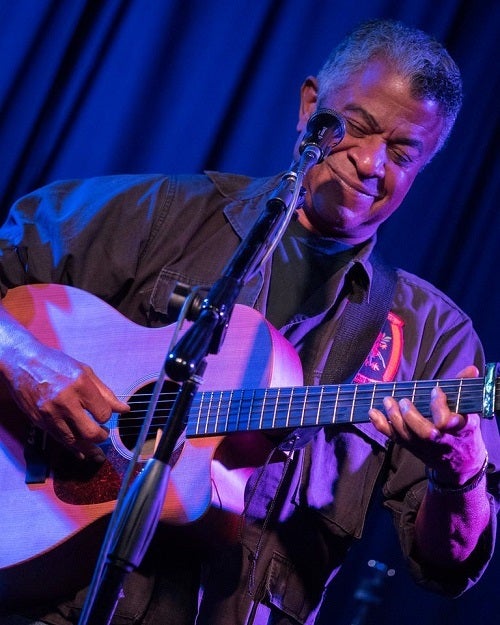 Return to Eden begins with a chapter entitled, "The Wall," and a poignant exchange between the author and fellow veterans he encountered at the Vietnam War Memorial in 2002:
"This past weekend I was filming in Washington DC, the city of my birth and as always, felt compelled to revisit The Wall. This past Saturday was gray and overcast, a typical DC winter's day. As I stepped back from Panel 26 to collect myself, I noticed among the crowd two middle-aged men, one in a flight jacket. After allowing them a private moment with their own memories, I approached and asked, 'You were a chopper pilot. Did you fly slicks, or gunships, or dustoffs?' He replied, 'I flew Medevacs, 1969-70, out of Cu Chi.' I said, 'I was an advisor with MACV in '69; my dustoff flights came out of Bien Hoa – but someone like you or maybe someone you knew took care of me and my people when we were most in need. Thanks.'
Then we shook hands and exchanged the phrase that is our benediction, expressed with gratitude by all Vietnam veterans who made it back:
Calling all HuffPost superfans!
Sign up for membership to become a founding member and help shape HuffPost's next chapter
This post was published on the now-closed HuffPost Contributor platform. Contributors control their own work and posted freely to our site. If you need to flag this entry as abusive,
send us an email
.