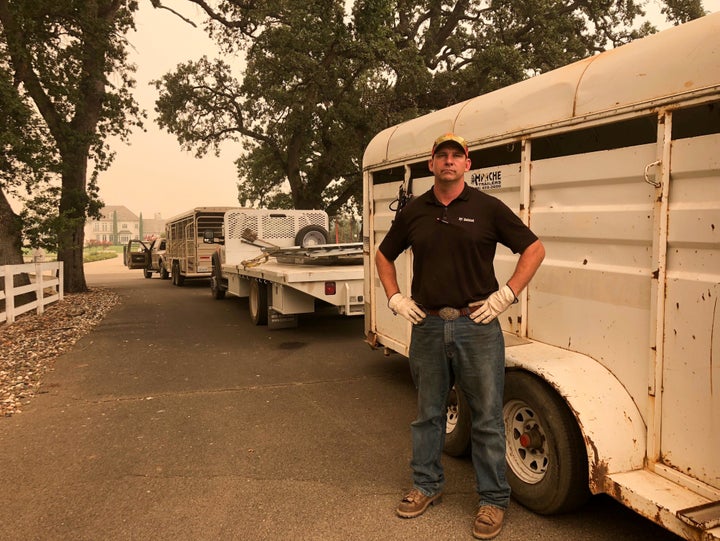 Tucker Zimmerman is one of many volunteers providing a helping hand to strangers and their animals threatened by the massive blaze. Zimmerman, a tractor equipment salesman, has been credited with saving the life of at least one person, as well as dozens of horses and other animals.
He told KGO-TV that he pulled a man out of a burning house and protected him until emergency personnel arrived.
"I actually went into a neighborhood and every house was on fire," Zimmerman told the station on Saturday. "I got him pulled out, protected him with a garden hose until firefighters arrived. They took over, but I got his American flag and gave it to his wife because I promised that to her."
As people have fled their homes, Zimmerman has been heading into evacuation zones in Shasta County to rescue whatever life he can find, Reuters reported. He's been credited with saving dozens of horses, which he's been loading onto a large trailer and driving to stables, rodeo grounds and ranches owned by other good Samaritans who've offered their properties to the stranded animals.
"He restored my faith in humanity," Noah Urban, whose 6-year-old horse was saved by Zimmerman, told Reuters. "You're not just helping the animals, he's helping people to alleviate their stress. It would be like losing your children. If you had to leave them behind, I can't even think about it."
The Carr Fire, which ignited on July 23 and spread rapidly, has killed at least five people and destroyed hundreds of structures.
As of Saturday, only 5 percent of the fire was contained, NPR reported.
Related
Popular in the Community