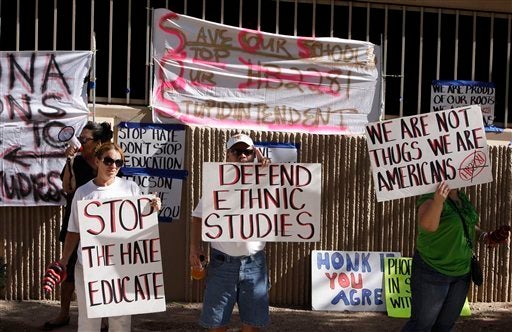 Returning to the classroom after the Martin Luther King, Jr. holiday, students and teachers will be greeted by a tremendous amount of confusion and potentially traumatizing fallout from last week's extraordinary ban on books in the Tucson Unified School District (TUSD), as part of the suspension of the nationally acclaimed Ethnic Studies/Mexican American Studies program.
Nowhere has that confusion been greater than at Tucson High School, a historic battleground in the city's long-time struggle to end discrimination and segregationist practices. Tucson's largest school district, in fact, with over 60 percent of its students from Mexican American families, remains under an embarrassing federal desegregation order.
At this same time of the ban on Mexican American Studies, Arizona legislators are now considering a bill to allow the teaching of the Bible in public school classrooms.
With nearly two decades of teaching experience, Tucson High School teacher Curtis Acosta was praised on CNN for his critical role in bringing together students in the aftermath of the Giffords shooting in Tucson. In a similar fashion, Acosta has joined other teachers and the community in numerous attempts to bring together Tucson's faltering school administrators and board members in community forums and meetings. Featured in the acclaimed film documentary, Precious Knowledge, Acosta has been forced to defend wild accusations by the troublingly erratic TUSD school board president Mark Stegemen last summer that his use of literature and hand clapping, in the tradition of celebrated United Farm Work leader and native Arizona Cesar Chavez, was "cult-like."
As I reported in the past, in an audit commissioned by Arizona's state superintendent of public instruction, the MAS program was not only in full compliance with Arizona laws, but students in the MAS high school program "graduate in the very least at a rate of 5 percent more than their counterparts in 2005, and at the most, a rate of 11 percent more in 2010." Scholars and educators from across the country have hailed Tucson's MAS program as "the nation's most innovative and successful academic and instructional program in Ethnic Studies at the secondary school level.
Here's an interview with Acosta on the crisis in Tucson's schools.
Jeff Biggers: What do MAS courses do you teach and how long have you been teaching?
Curtis Acosta: I designed the curriculum and pedagogy for both Latino Literature at the junior and senior levels at Tucson High Magnet School. I have taught both courses since their inception at our school. My first opportunity was to teach and design the junior class starting in 2003-04, followed closely by the senior level class which began in 2005-06. The senior component at Tucson High was granted due to the work of our students of the graduating class of 2006 who desperately wanted to continue the rigorous study in our classes because it reflected their lives and cultura, as well as serving as a window to the experiences of others. They embraced the human elements of the class we use as a foundation to academic study and petitioned the site based decision-making committee, as well as a presentation focusing on the transformation that our classes had in their lives, their self-esteem, and scholarly goals.
This is my seventeenth year teaching for TUSD, all but two of those years at Tucson High. My colleagues and I have all been dedicated to our students in TUSD for years through innovation and hard work. We have quantitative academic results and brilliant graduates who are outstanding young people dedicated to their community. That is why the lack of support from our own district has been so frustrating and tragic. We have worked tirelessly for the students and families in the district for decades and the same cannot be said by the politicians and officials that ended our program on January 10th.

JB: How did TUSD administrators prepare you in advance for any changes in your courses?
CA: We received absolutely no practical preparation for how our classes would be altered. My local site administrator at THS spoke to all our classes before the Governing Board meeting, but he had little insight pertaining to the Board's intentions. He wanted to communicate to the students that changes may happen and walked them through a few possibilities. However, he really could not provide any details since he said he was not sure which direction the Board would choose to proceed.
JB: How did the school present the changes to the students, and assist in the transition?
CA: As of today, the day after Martin Luther King Jr. Day, my students have yet to hear from their administration. My two MAS colleagues and I have had one 90-minute meeting last Wednesday the 11th, in which we were told that TUSD expects immediate changes. At that meeting, no one was certain what those changes included and the guidelines were non-existent for how to be sure we are in compliance with the law. What was clear is that our curriculum and pedagogy must be entirely overhauled. Which means the alterations are not only what we teach, but how we teach. No further support has been given to this point, and I believe my site administrators are equally confused about the vagueness of the direction and policy, which is why we have received little direction.
JB: Explain how you use The Tempest and why administrators objected?
CA: I am glad you asked this question since it gives me a chance to clear up many of the nuances that did not go viral. First and foremost, I believe our local site administrators at THS had my colleagues and my best interests at heart during our discussion of curriculum. This is a situation that was painful for everyone in our room at THS -- administrators, department chairs, and teachers. This is all due to the direction of the Governing Board and the decision to comply with a bad law. It was clear that TUSD administrators gave little practical guidance to our site administrators. Thus, we were all trying to figure this out together.
I recorded the meeting with permission of all in the room, and listened to it again last night. What is very clear is that The Tempest is problematic for our administrators due to the content of the play and the pedagogical choices I have made. In other words, Shakespeare wrote a play that is clearly about colonization of "the new world" and there are strong themes of race, colonization, oppression, class and power that permeate the play, along with themes of love and redemption. We study this work by Shakespeare using the work of renowned historian Ronald Takaki and the chapter "The Tempest in the Wilderness" from his a book A Different Mirror where he uses the play to explore the early English settlements on this continent and English imperialism. From there, we immerse ourselves in the play and discuss the beauty of the language, Shakespeare's multiple perspectives on colonization, and the brilliant and courageous attention he gives to such important issues.
However, TUSD is basing our compliance upon their appeal and Mr. Kowall's ruling. Thus, I believe our administrators advised me properly when they said to avoid texts, units, or lessons with race and oppression as a central focus. If we are asked to follow a bad law than absurdities such as advising I stay away from teaching The Tempest not only seems prudent, but intelligent. We also have not received confirmation that the ideas, dialogue, and class work of our students will be protected. In clearer words, if I avoid discussing such themes in class, yet the students see the themes and decide to write, discuss or ask questions in class, we may also be found to be in violation. The stakes are far too high since a violation of the law could cost the district millions, our employment, and personal penalties from the state for breaking the law.
At the end of the meeting it became clear to all of us that I need to avoid such literature and it was directly stated. Due to the madness of this situation and our fragile positions as instructors who will be frequently observed for compliance, and be asked to produce examples of student work as proof of our compliance, I cannot disagree with their advice. Now we are in the position of having to rule out The Adventures of Huckleberry Finn, The Great Gatsby, etc. for the exact same reasons.
Related
Popular in the Community