 On Tuesday, the Tucson City Council voted unanimously to advance a resolution to require background checks at all gun shows operated on city owned or managed property.
At a packed City Council meeting, nearly everyone in attendance sported a button with the slogan "Common Sense Gun Laws." Opposition to background checks was overwhelmed by supporters, with only two Tucsonans and one gun show promoter speaking against the measure at the call to the audience.
The city approved a similar measure in 2002, but the state of Arizona passed a law that overturned the city ordinance. The move this week is a resolution regarding operating the Tucson Convention Center--not an ordinance that would be subject to pre-emption by the Arizona Legislature. Currently, federal law does not require universal background checks be conducted on gun show transactions or private sales. Gun control supporters are pushing for closing the "gun show loophole" to stop potential sales to unqualified buyers, such as people with a history of mental illness or a felony conviction.
But just how many gun shows are there?
Gun Show Trader boasts the "largest gun show list" in the US. As of February 6, 2013, this website listed 1137 scheduled gun shows, with more being added every day.
Gun Show Trader showed 30 gun shows scheduled for Arizona in 2013 and 2 so far for 2014. In 2013, there are 7 gun shows scheduled for Tucson, 6 for Mesa, 5 for Phoenix, 3 for Glendale, and the other 9 are everywhere else in Arizona.
But to put this into perspective, one must compare the number of gun shows scheduled for Arizona with other states.
Which state has the most upcoming gun shows? Texas, not too surprising, with 103, but the spread of scheduled gun shows nationwide (0 to 103) and the distribution of shows by state is surprising.
At first glance, there doesn't seem to be much rhyme or reason to the number of shows scheduled. Five states have no gun shows scheduled at all. One might expect more liberal East Coast states like Connecticut and Delaware not to have any gun shows, but no gun shows in New Jersey, South Dakota, and North Dakota? On the other end of the spectrum, six states have 60 or more gun shows scheduled-- more than one per week. As mentioned, Texas has the most with 103, but #2 is Florida with 86, followed by Indiana (71), Pennsylvania (70), Washington (65), and California (60).
Common sense would dictate that that population, politics, and/or existing regulations could be factors in the number of gun shows per state. In order, California, Texas, New York, Florida, and Illinois are the 5 most populace states in the US; respectively they have 60, 103, 18, 86, and 29 scheduled gun shows. Indiana, which has less than 100,000 fewer citizens than Arizona, has more than twice as many gun shows than Arizona (71 vs 32).
Thinking stereotypically, red states in the South and the Plains should have more gun shows than other states, but a geographically and ethnically diverse group of states has only 2-4 gun shows: Alaska, Hawaii, Idaho, Maine, Minnesota, Nebraska, and New Hampshire. Except for Florida, Southern states have a modest number of gun shows-- fewer shows overall than blue states like California (60), Oregon (40), or Washington (65). Mississippi, Kentucky, and West Virginia have 6, 18, and 17 scheduled shows respectively. Mississippi has fewer scheduled shows than Massachusetts or Tucson proper.
So, if population and red/blue mix don't help predict the number of gun shows, existing regulations are a likely reason for the differences. At the Tucson City Council meeting regarding background checks at gun shows, a gun show promoter said she conducts shows in California, a state that requires background checks on all show sales. With 60 shows scheduled so far for 2013 in California, the background checks don't seem to have deterred gun commerce. The National Rifle Association (NRA) tracks gun laws at the state and federal level, but the patchwork of current and proposed legislation is a quagmire.
With 1122 gun shows scheduled (to date) for 2013 and 15 already scheduled for 2014, the logical next questions are: how many guns will be sold at shows this year and what percentage will be sold without background checks?
The background check resolution is the second gun control step spearheaded by Tucson City Councilman Steve Kozachik since the Sandy Hook massacre in mid-December. On the second anniversary of the Tucson shooting, which took the lives of six people and wounded 13 others, including Congresswoman Gabrielle Giffords, Kozachik organized a gun buy-back, which netted 200 unwanted guns and put him at odds with the NRA and the Arizona Republican Party. Blowback from the gun buy-back led to Kozachik's high-profile resignation from the Republican Party, leaving Tucson with an all Democrat city government.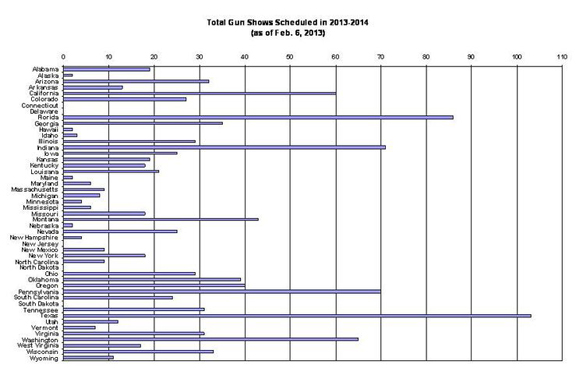 Calling all HuffPost superfans!
Sign up for membership to become a founding member and help shape HuffPost's next chapter