An unidentified man broke into an Arizona mosque early Monday morning and ripped up copies of the Quran.
The Islamic Center of Tucson wrote in a Facebook post that the man, seen in surveillance footage wearing a University of Arizona T-shirt, entered the mosque at about 3:30 a.m. Monday.
"He ripped copies of the Qur'an and threw them around the prayer room before leaving the building," the center wrote. "Thankfully no one was hurt."
"The camera footage leads us to believe the sole intent of this individual was to damage the center's religious property," the center wrote in another post. "The Tucson Police Department responded quickly. As always, they were kind, courteous, and thorough with their investigation."
The department's Sgt. Kim Bay told Tucson News Now that police were searching for the man seen in surveillance footage.
"There is no indication this was a hate crime," Bay said, adding that the department wanted to question the man before speculating about his motives.
"Although we are disheartened by this incident, we understand that this is an isolated incident," the center wrote. "The ICT has been a part of the Tucson community since the late 1980's and since then, the Tucson community has been kind, welcoming, and supportive."
Imraan Siddiqi, executive director at the Arizona chapter of The Council on American-Islamic Relations, or CAIR, called on "local, state and federal law enforcement authorities to investigate this incident as a possible hate crime and for religious and political leaders to speak out against the growing Islamophobia in our state and nation that results in such acts of bigotry."
The attack on the mosque comes amid a frightening surge in hate incidents targeting Muslims.
Hate crimes rose 7 percent in the U.S. in 2015, according to the FBI, a rise driven largely by a 67 percent increase in hate crimes targeting Muslims. The FBI hasn't released hate crime statistics for 2016.
Also in 2015, mosques were targeted for vandalism, arson and other types of destruction 80 times, a nearly 400 percent rise from 2014, according to a report from CAIR.
In a seven-week span this year, three mosques in the U.S. have fallen victim to arson, according to authorities. And just this past weekend, a mosque in Michigan caught fire, although the cause of that blaze is unknown.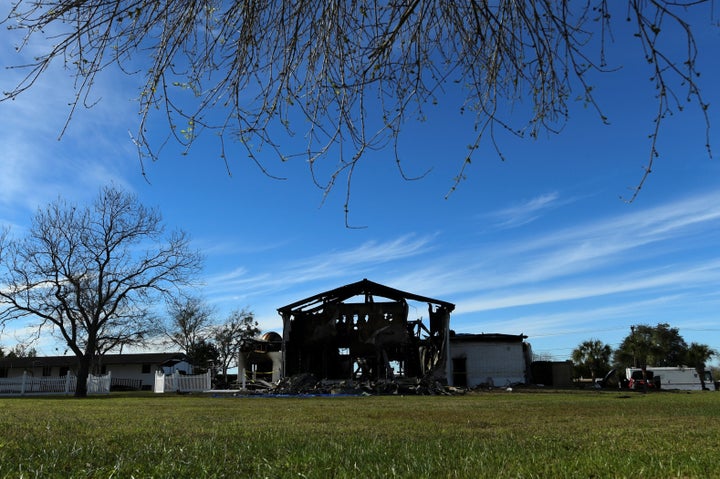 Meanwhile, the number of anti-Muslim hate groups tripled in 2016, according to a recent report from the Southern Poverty Law Center, a rise the SPLC attributed to the anti-Muslim rhetoric of President Donald Trump.
Members of the Islamic Center of Tucson have faced anti-Muslim sentiment themselves. "Terrorist, go back to where you came from!" someone shouted from a car window at the Islamic Center's president, Ahmed Meiloud, last year.
And college students in neighboring private high-rise dorms are known to throw bottles and cans at mosque members. "Yes, these are students, usually drunken students, but these attacks aren't random," Meiloud told The New York Times. "We are the target."
America does not do a good job of tracking incidents of hate and bias. We need your help to create a database of such incidents across the country, so we all know what's going on. Tell us your story.
Popular in the Community