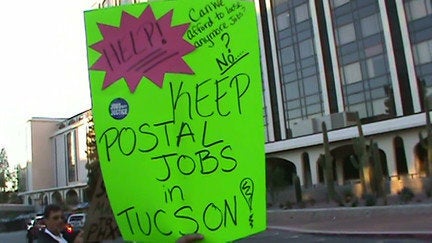 Snail mail, as it is derisively called, has been losing ground to e-mail, texting and social media for years. And the financial troubles of the United States Postal Service (USPS), in part due to the coming of the Internet age, are impacting what used to be one of the most stable jobs in the nation: that of the postal worker.
Between 2006 and 2010, first class mail declined 20 percent, according to Brian McCoy, a USPS representative who addressed a capacity crowd at the Tucson Convention Center on Tuesday, Dec. 28, 2011. Although "business mail" (AKA "junk mail") volume held steady, and USPS package deliveries increased during the same time period, the first class mail decline is ominous because first class "pays the bills," McCoy reported.
McCoy has the unenviable job of holding public hearings across the country in towns and cities -- like Tucson -- that are slated to lose their mail processing facilities and the accompanying good-paying postal jobs. As more than 500 Tucsonans listened to McCoy's presentation and waited to voice their opinions at the open mike, protesters from Jobs with Justice, Occupy Tucson, and the local postal workers' union chanted, waived signs and signed petitions outside.
According to McCoy, the postal service is in such dire financial straits that it needs a "$10 billion solution" to keep going. Baring an unforeseen miracle, plant closures, lay-offs and service changes in cities such as Tucson are inevitable.
The postal service currently has nearly 500 mail processing centers across the country; this level of capacity has been necessary to keep the gold standard of 24-hour delivery for local first class mail -- the financial mainstay of the postal service.
USPS proposes to cut the number of facilities from 487 to 252 and reduce the workforce through lay-offs and attrition; the Tucson mail processing plant is one that could be closed. This dramatic reduction in capacity would result in trucking local mail to regional processing centers and trucking it back for distribution. Of course, transporting mail between cities for processing will mean the " disappearance of 24-hour local mail delivery for most Americans, including Tucsonans, whose mail would be shipped to Phoenix for processing and back to Tucson for delivery. Under the USPS plan for "radical network realignment" the new standard for first class local mail delivery will be two to three days.
McCoy told skeptical Tucsonans that reducing the number of underutilized processing plants and, thus, allowing the remaining facilities to operate 20 hours per day, will make the postal service more competitive. Snail mail is already losing ground to its electronic competition because of its relative "speed"; it is not clear how doubling or tripling the turnaround time for first class mail will make the USPS more competitive in the Internet age. The future cost of fuel to transport thousands of pieces of mail from cities of origin to regional processing centers and back again is a huge unknown.
Several local Democratic Party politicians attended the public hearing in support of Tucson's postal workers, including Congressman Raul Grijalva and newly elected Mayor Jonathan Rothschild, who received enthusiastic applause from attendees. It is unclear exactly how many jobs would be lost in Tucson if the mail processing center closes. According to the Arizona Daily Star, 147 postal jobs would be eliminated, but the direct impact to the local economy would be in the neighborhood of 288 jobs; in the pre-event publicity, protest organizers -- including union leaders -- estimated the local job loss to be closer to 400. Nationwide, the plant closures would result in loss of 35,000 postal worker jobs.
During the two-hour public comment period, Grijalva said that there are other strategies that the USPS could use to improve its financial state, instead of resorting to plant closures, lay-offs and reductions in service. Grijalva suggested that the 2006 Congressional mandate requiring the USPS to prepay retirement funds be changed and that the postal service seek more competitive practices.
Thanks to the Postal Accountability and Enhancement Act of 2006, the USPS is required to pre-pay billions of dollars per year into its employee retirement fund. In June 2011, the postal service temporarily stopped those payments, but this had no impact on employees' retirement because the postal service had a $6.9 billion surplus in the Federal Employee Retirement System.
That's right. According to the Washington Post, the postal service lost $5.1 billion in the same time period that it a $6.9 billion surplus in its retirement fund.
Where does the postal service go from here? For the next few months, McCoy and his colleagues will continue to make their case from city to city--extolling the virtues of plant consolidations and bearing the insults of angry residents who will lose their jobs and/or see reductions in services. The stated goal is to reduce mail processing payroll by 20 percent, according to Postmaster General Patrick Donahoe.
Pamela Powers Hannley is a Tucson-based writer and political activist. If you would like to contribute as a citizen journalist to The Huffington Post's coverage of American political life, please contact us at www.offthebus.org.

Popular in the Community