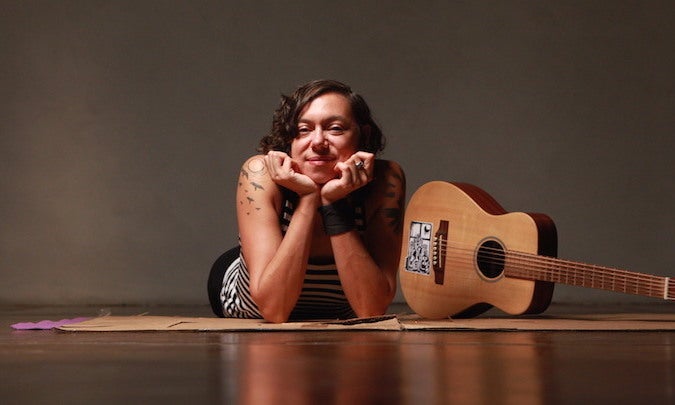 Leila Lopez is a known, loved name in Tucson, Arizona. The prolific artist has been making and performing music in her hometown for much of her life, and is no stranger on the local circuit. Out this week, her latest album Our Animal Skin sees Leila pull back the layers of her recent history, exploring the ebbs and flows that have made her her current self. I interviewed her for Impolitikal, about what drives her to create, why Tucson's so special, and some of her favourite artists and venues in the desert town.
What drew you to live in Tucson, and what compels you to stay?
The community is really wonderful here, and this is a big reason I have stayed for so long. There is an abundance of art and music, and the creative vibe is always in motion. People have said to me on more than one occasion that Tucson is really slow-paced and sleepy, and in some ways I agree, but people are also very active here. So much so that I am constantly inspired to push harder, to make more.
You're about to release your third album Our Animal Skin, which you wrote and self-recorded, and play almost every instrument on - including guitar, bass, drums, keys, mandolin and cello, as well as vocals. What's your recording set-up?
I have a super modest set-up. Basically a couple of condenser microphones that I have had forever, and an old mixing board. I am using the software that came with my computer. So, imagine the most minimal set-up, and that is what my little home studio looks like. As limiting as it seems, I am used to it, and I am able to work easily with it here in my own way.
What does the album title mean to you? Can you explain how it ties in with the songs and themes explored throughout the record?
The album title came to me after listening to the songs one after another. I realized that in taking so long to record this album, I was actually able to sit back and witness layers of my life being pulled back one after another.
In some ways, I was a different person when I started recording this album than I am now that it is complete. It gave me a different perspective on time, and the way in which our lives and who we are consistently changes and evolves.
Do you have any vivid memories of moments when the songs, or parts of the songs, came to you? Tucson has a pretty raw beauty to it, I imagine that helps with finding the words and the tunes.
The Western skies during sunset! More than a few times, the vibrant colors and mood that the light created helped to draw me into a space where I was inspired to write and record, sometimes lasting until dawn. The dark, looming monsoon skies as well. We have such dramatic skies here in the Southwest!
How long have you been making music, and what keeps you motivated to make and perform it? These aren't easy times for musicians, in terms of being able to fund your craft, afterall.
I have been making music for about 28 years. It's hard to articulate what keeps me motivated, but the closest I can get is to say that at this point it has become like another limb I need in order to move around, or sustenance that keeps my body functioning. It has grown as a part of me. I feel as if I don't have a choice in the matter, which I am really so happy about. I go through phases of creating new work, and also long periods of time where I am just playing for the sake of playing, and I enjoy each equally.
What's your day job, and how does it support or conflict with being a musician?
My day job is working as an assistant in a pre-school. I have been working at this school for 16 years, and it has been really super helpful in keeping me on my toes and creative. Children are amazing. It can be tiring at times, but more than that I feel constantly inspired by their curiosity, creativity, and unconditional love for the moment. I also work with some really amazing and inspiring people, so the overall feeling I get when I am at work becomes fuel for the creative process when I leave.
Your last album came out in 2010. How would you describe the progression between Fault Lines and Our Animal Skin?
It doesn't even feel like seven years ago, and at the same time it feels like an eternity! One thing I notice when I listen to the two albums back-to-back is the distinct memory of the feeling I had during the recording process both times. In the past I remember putting a lot of pressure on myself and the process. I wrung myself out over every detail, and at the end I felt pretty dazed and frazzled by pushing so hard for everything to be just so. This time felt really relaxed and natural for me, and I feel like this is reflected in the music when I hear it. I am more inclined these days to let things just be, and to not push so hard. To settle in the process in a way that every step can be both mindful and enjoyable.
Tucson is in many ways a music town. Can you describe the local scene as you see it, including some of the main venues and local acts to look out for?
There are so many great musicians and bands that I can't list them all in one sitting. Here are a few of my favorites to get started, but this is a small chip off of a really huge mountain:
The Rifle, Mute Swan, Golden Boots, Katie Haverly, Jillian and the Giants, Shooda Shook it, Hey Bucko, Jess Matsen, Keli and the Big Dream, Silver Cloud Express, La Cerca. And I could seriously go on and on and on. There is so much great music here!
I really like the way the music scene in Tucson seems to be very collaborative - everyone jumping in to work on and support each other's stuff, and without any overt commercial motivation. What do you think makes Tucson special, musically and otherwise?
One thing that continues to impress me is that Tucson has some of the best artists and musicians that I have ever seen and heard, yet the scene is for the most part totally unpretentious and welcoming. The collaborative opportunities are so approachable here because people are so open to coming together to create really cool art. It's not the vibe I have gotten in some bigger cities where it seems like folks are just trying to fend for themselves to get established and edging each other out. I like the community feeling, and like we are all just people, not a status, or elite club or anything. It's refreshing.
Support HuffPost
The Stakes Have Never Been Higher
Related
Popular in the Community