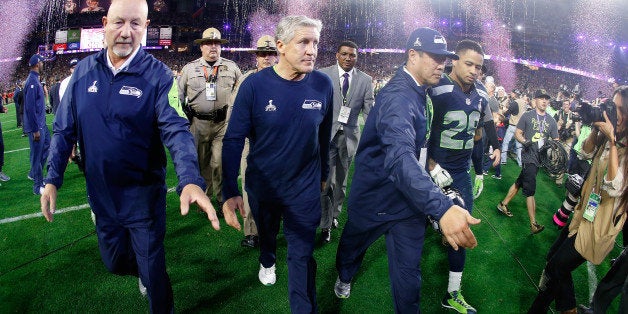 I am from Seattle, predicted last year's Super Bowl nearly to the exact points for both teams (I had it at 45-0), and had assumed victory this year even before the game began with what would have been another remarkably accurate prediction (I had it at 31-24).
So, I am as deeply disappointed at the outcome as anyone.
There were, moreover, clear errors by the officials (a receiver intentionally tripped by a falling defender, but no interference called; multiple push-offs by New England receivers against Seattle defenders) and other key plays where receivers did not catch the ball that provided New England its chances.
One might even want to review the films of the interception to determine if the ball were in the air and if the receiver were hit before the ball reached him? That is, was the interception actually pass interference?
Nonetheless, my initial reaction was, like everyone else's, to blame Pete Carroll's play call.
Sober reflection has changed my mind.
There was every reason to believe the pass would work. In that case, we would be praising Carroll's brilliance for passing when the entire world believed Marshawn Lynch would be getting the ball.
The interception required a spectacular read and reaction and enough space to escape the pick Kearse's route naturally produced.
The Seahawks won their division in part because of Carroll's unconventional (yes, brilliant) play-calling that only a talented, well-coached team could pull off. His use of the 6'5'' Chris Matthews in the Super Bowl, for example, a player who had been selling shoes two months earlier, to go up for perfectly thrown Russell Wilson passes was itself a brilliant maneuver.
Consider, moreover, an alternative scenario. Marshawn Lynch runs on second down, but is stopped [occasionally, that does happen]. There are now two downs left, and a pass attempt would now be much more predictable. That is, by passing on second down when no one expected it, Carroll was increasing the odds that the play would work.
And, suppose Marshawn Lynch had run three times, and been stopped each time, and New England won with the "mother of all goal-line stands". What would we all have been saying? That, at least, the best runner in football had three shots on goal? Or, would we have criticized the Seahawks for their unimaginative play selection, as I myself had on some of their 3-and-out series?
When I learned Pete Carroll was an alleged "truther", my respect for him, and enjoyment of his success, was greatly deflated.
But, the truth is, there was nothing wrong calling a pass play on second-and-goal when the world assumed a Marshawn Lynch run. It was a good, creative call, gone awry.
Related
Popular in the Community