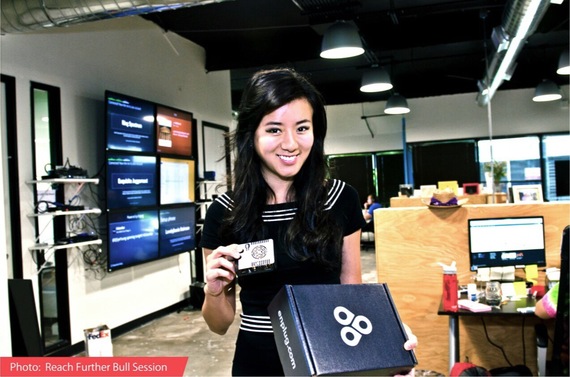 Nanxi Liu is the Co-Founder and CEO of Enplug, the easiest to use software to manage and distribute content on displays in offices, stores, restaurants, hotels, and stadiums. Uniquely, Enplug enables displays to show interactive Twitter feeds, Instagram collages, news feeds, dashboards, and many more third-party developed apps. The software is used in over a dozen languages and countries. Enplug was named Inc. Magazine's 30 Under 30 and Fortune Magazine's Top 10 Most Promising Women Entrepreneurs.
What inspires you?
Brilliant people. Both companies I started, Enplug and Nanoly Bioscience, were a direct result of meeting my co-founders. Within 24 hours of meeting my co-founders, we began brainstorming on building a product together. One of my co-founders at Enplug, Zach Spitulski, built two of the Top 10 Most Downloaded Education Apps in the Mac App Store, during his free time as a college sophomore! How could I not be completely inspired to work with someone who has that kind of go-getter attitude? Our idea of building the premier software to make any TV interactive and customizable materialized after meeting my co-founders.
Who has had the most impact in your life?
My parents, piano teachers, and ex-boyfriends. During the dot-com bust, my dad got laid off from the tech company he worked at. My dad, who has a PhD in engineering, subsequently took a job as a car salesman to pay the bills. If a guy at John Elway car dealership taught Toyota's engine cylinder combustion process to you, the guy might've been my dad. He showed me to do what you can with what you have. Around this same time, we couldn't afford to pay my piano teacher, Martha. She then offered to teach me for free. I was in middle school and experienced a slice of reality: the pressure of knowing that there are people who believe in me and I need to make sure I don't disappoint them. And finally, as oddly as it may sound, my ex-boyfriends have made an impact on my life. They're also some of my closest friends. A guy I dated in college was a brainiac (he did 4 majors in 4 years and graduated with honors) and terrific athlete. We would have "hacking dates" where instead of dinner and a movie, we would eat and code together. He pushed me to bring intensity in work, fun, and health.
What is the hardest lesson you've had to learn?
To build the most valuable software for our customers and stay at the top, our team must stay uncomfortable. There's never a day when we can say, "ok, things are great and our work is complete." There's always more to do. One of our customers suggested for us to build an app in Enplug's App Market that enables the TVs in their office to show live dashboards of their sales and website traffic. Our team went into high gear and built the app in two weeks. When we're uncomfortable is when we make the biggest changes and get things done.
What cause(s) or nonprofit(s) do you support?
Our team actively supports the Women In Tech movement. We mentor at and sponsor events that encourage girls and women to get involved in STEM. I'm on the advisory board of UN Women and chair of Tiger Scholarship Foundation. UN Women is the United Nations entity for gender equality and the empowerment of women. Tiger Scholarship Foundation gives merit-based college scholarships to students with financial need.
To read the rest of the TuesdayNights interview with Nanxi Liu visit Get Inspired.
Calling all HuffPost superfans!
Sign up for membership to become a founding member and help shape HuffPost's next chapter