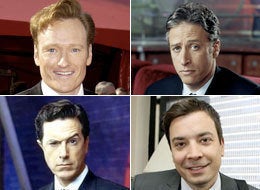 Hi people, crucial question: has your imagination ever shivered at the thought of the Declaration of Independence and the Emancipation Proclamation making love on Betsy Ross's hand-stitched carpet? No? Well, Jon Stewart cannot say the same, and details behind this sensuously patriotic image await you in Tuesday's Late Night Round-Up!
Stephen Colbert dug up the original Moon-landing broadcast his paint-chip nibbling, Nixon-loving former adolescent self made when the momentous moment actually occurred. What a lovable child!
Conan continued taking shots at Harry Potter fans, and even though we are serious Potter fans, we feel he might be right in taking this newest trend to task.
Jimmy Fallon mocked India's apocalyptic beliefs about the eclipse that just occurred. We feel this might be a mistake. Honestly, eclipses are cosmic events and Fallon's just a comedian our fear is the gods may punish him for this. We'll see!
Popular in the Community