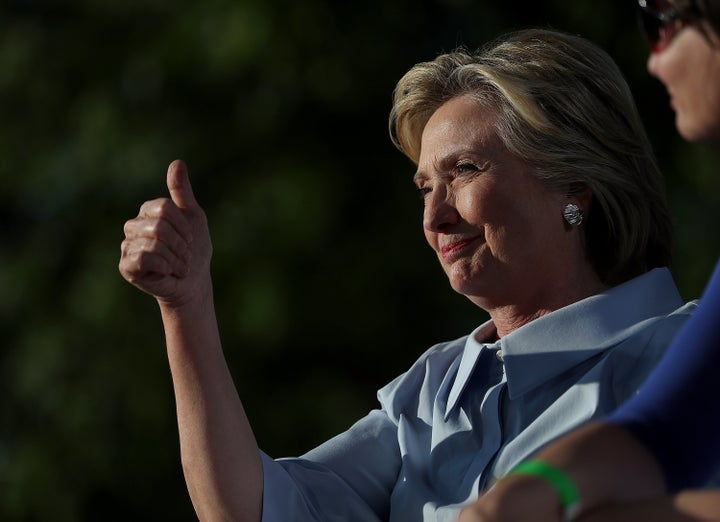 TOP STORIES
62 DAYS UNTIL ELECTION DAY Hillary Clinton's polling numbers are strong, but Donald Trump is tightening the gap. [Natalie Jackson and Ariel Edwards-Levy, HuffPost]
CONSERVATIVE ACTIVIST PHYLLIS SCHLAFLY DEAD AT 92 Called the "first lady" of the conservative movement, Schlafly reshaped politics from the 1950s onward. [Chloe Angyal and Nick Visser, HuffPost]
INTELLIGENCE AGENTS LOOKING INTO RUSSIAN COVERT PLANS FOR NOVEMBER "U.S. intelligence and law enforcement agencies are investigating what they see as a broad covert Russian operation in the United States to sow public distrust in the upcoming presidential election and in U.S. political institutions, intelligence and congressional officials said." [WaPo]
INSIDE ISIS'S PLANS TO DECIMATE PARIS "The sophisticated ISIS network that plots foreign strikes had planned for the carnage in the November 2015 Paris attacks to be far worse, to occur in other European countries as well and, investigators believe, had planned to follow them up with strikes in several locations, CNN has learned." [CNN]
U.S. PLEDGES $90 MILLION TO LAOS TO CLEAR UNEXPLODED BOMBS Left over from the Vietnam War. Take a look at a map of the millions of bombs still left to be cleared. [Reuters]
BRITISH AIRWAYS GLITCH ADDS DELAYS And a Black Lives Matter protest on the runway in London added to delays. [Reuters]
YOUR ONLY OPTION THIS FALL IS A FLU SHOT After authorities ruled out FluMist as an acceptable recommendation for children, saying it was "subpar." [CNN]
For more video news from The Huffington Post, check out this morning's email. 
WHAT'S BREWING
SO MUCH FOR A NEW BOND Looks like Daniel Craig could have a $150 million payday if he signs on for two more Bond movies. [Vanity Fair]
THE DEBATE BEFORE THE DEBATE Will presidential debate moderators "really not challenge lies?" [HuffPost]
CONGRATS TO SERENA WILLIAMS On officially having more Grand Slam wins than any other player. [Reuters]
A SNOWFLAKE'S WORTH OF THIS DRUG COULD KILL YOU "In Cincinnati, some medical and law enforcement officials said they believed the overdoses were largely caused by a synthetic drug called carfentanil, an animal tranquilizer used on livestock and elephants with no practical uses for humans. " [NYT]
'DON'T BREATHE' HAD SOME BREATH TO IT The low-budget horror film dominated this weekend's box office. [Reuters]
INSIDE BUZZFEED'S VIDEO SHIFT "Already, video represents more than 50 percent of BuzzFeed's total revenue, compared with 15 percent at the end of 2014. In the next two years, BuzzFeed expects that video will generate up to 75 percent of its advertising revenue, according to a person briefed on the company's operations." [NYT]
WHAT'S WORKING 
BEFORE YOU GO
Calling all HuffPost superfans!
Sign up for membership to become a founding member and help shape HuffPost's next chapter