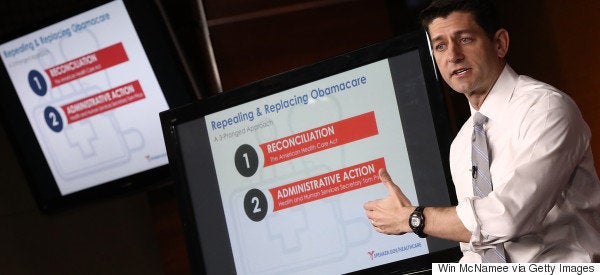 TOP STORIES
(And want to get The Morning Email each weekday? Sign up here.)
NOTE TO MORNING EMAIL READERS: Lauren Weber is on vacation this week. While she's away Eat The Press Editor Jason Linkins and HuffPost Hill Editor Eliot Nelson will be taking over Morning Email duties, and attempting to follow Lauren's complicated sleep patterns. Wish us luck, guys!
CONGRESSIONAL BUDGET OFFICE GIVES RYAN PLAN HARSH VERDICT Paul Ryan called his Obamacare alternative plan an "act of mercy," but mercy me! The Congressional Budget Office rendered a grade on the American Health Care Act and it was not good: projecting that 24 million Americans could lose their health care. In one notable case of sticker shock, the CBO projected that a "single 64-year-old who makes $26,500, for example, could face a 700 percent jump in premiums (from $1,700 now to $14,600 under the GOP bill)." [HuffPost]
AND THE WHITE HOUSE'S OWN INTERNAL PROJECTIONS ARE WORSE The late breaking news was that the White House was even less bullish on the Ryan plan than the CBO was. According to internal documents obtained by Politico, "The executive branch analysis forecast that 26 million people would lose coverage over the next decade, versus the 24 million CBO estimate — a finding that undermines White House efforts to discredit the forecasts from the nonpartisan CBO."  [Politico]
SO DID STEVE BANNON ORDER THE CODE RED AGAINST PAUL RYAN? With the House Speaker committed to this plan, we've had the CBO return the low grade that was widely predicted. But then the White House's even more downcast assessment is leaked to Politico. And the same night, Breitbart News leaks embarrassing audio of Ryan on a campaign conference call, vowing "I am not going to defend Donald Trump ― not now and not in the future." Mother Jones' Kevin Drum wonders if it's not "a coordinated effort to doom Ryan's bill and wreck his reputation with his own caucus."  [Mother Jones]
REPORTERS TRAVELING TO TURKEY GET A BIG SURPRISE Lured to Ankara on the promise of a meeting with Turkish president Recep Tayyip Erdogan, a group of reporters instead find themselves as the audience to an "energetic" conspiracy theorist. The Huffington Post's own Jessica Schulberg made the trip, and has the story of what happened next. [HuffPost]
MARC MUKASEY IS ON THE SHORT LIST TO SUCCEED PREET BHARARA That means the U.S. Attorney who was investigating Fox News might be replaced by one of the lawyers who advised Roger Ailes during his sexual harrassment flap. [Jezebel]
JARED KUSHNER'S FAMILY SET TO RAKE IN $400 MILLION WINDFALL ON TOWER DEAL The terms of the transaction, with a "prominent Chinese company" with "murky links to the Chinese power structure" that "have raised national security concerns," have been deemed "unusually favorable" to Trump's son-in-law by real estate experts. [Bloomberg]
THE UNITED KINGDOM'S UNION MAY GET JACKED The consequences of Brexit continue to pile up, as Scotland's First Minister Nicola Sturgeon calls for a new Scottish independence referendum for late 2018-early 2019. [Reuters]
STOP AND FRISK SHAKEDOWN A Miami police officer has been arrested for allegedly pulling people over and pocketing their cash. Things went awry after he tried it on the undercover detective in charge of the sting operation to catch him, police said. [HuffPost]
CONGRESS MULLS LIFTING RESTRICTIONS ON GUN SILENCERS Proponents say that it's about protecting those who own guns, and the criminals that could benefit from an expanded market might be a little too inclined to agree. [HuffPost]
WHAT'S BREWING
SILICON VALLEY SCHOOLTEACHERS READY TO TEACH ABOUT INCOME INEQUALITY They're getting solid first-hand knowledge, seeing as how none of them can apparently afford to live there. [Citylab]
PLEASE STOP PROMOTING A 'BLUE STATE SECESSION' Here are all the reasons it's a stupid idea that needs to be tossed in the garbage. [The Concourse]
RACHEL MADDOW CREATED A RATINGS COUP WITH ONE EASY STEP She stopped covering Donald Trump's tweets in the same lame way everyone else was. [HuffPost]
GLAMOUROUS INDIE ROCK AND ROLL An inside look at how up-and-coming bands at America's biggest music festival make ends meet following their dreams. [Noisey]
DO YOU LIKE SHORT STORIES? Here's "Cormac McCarthy Rents 'Tin Cup' From A Blockbuster Video," by Patrick Coyne. [Splitsider] 
AND IT'S OVER! "The Bachelor," that is. The hit show's latest contestant, Nick Viall, popped the question to Vanessa Grimaldi, and the only thing left to do is wait for the next edition of HuffPost podcast "Here To Make Friends" to get closure [HuffPost]
BEFORE YOU GO
Calling all HuffPost superfans!
Sign up for membership to become a founding member and help shape HuffPost's next chapter