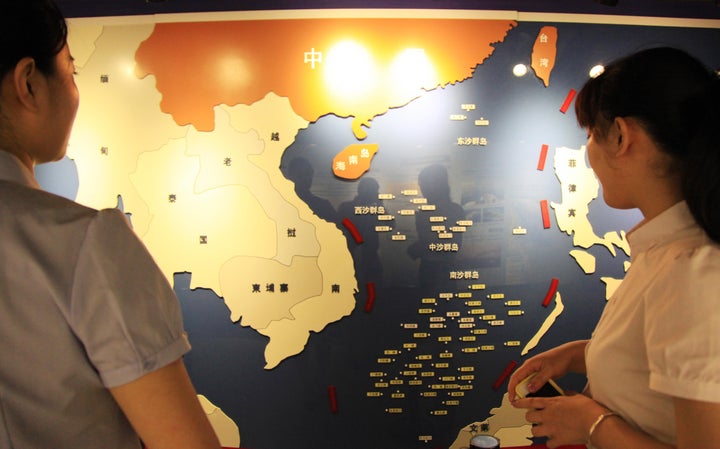 TOP STORIES
HAGUE RULES CHINA HAS NO CLAIM TO SOUTH CHINA SEA The international tribunal also ruled the country was violating the sovereign rights of the Philippines. [Reuters]
WHAT IT TAKES TO RESCUE 26 REFUGEES FROM THE MIDDLE OF THE SEA "Last month, The Huffington Post boarded a small Portuguese maritime police boat navigating these waters to get a first-hand look at how these travelers are identified and brought to safety." Watch it all in360 degrees. [Willa Frej, HuffPost]
MEET THE NEXT PRIME MINISTER OF THE U.K. Inside the political riseof Britain's next leader, Theresa May. And David Cameron will step downWednesday. [Willa Frej, HuffPost]
YOUR GMAIL ACCOUNT FOR A PIKACHU Inside the security risks of Pokemon Go. [Nick Visser, HuffPost]
GOOGLE'S PLACE IN THE CYBER TERRORISM FIGHT The company fights off over 4,000 state-sponsored cyber terrorism attacks a month. [Reuters]
AT LEAST 10 DEAD IN HEAD-ON TRAIN CRASH IN ITALY Dozens were injured in the deadly collision in the south of Italy. [Reuters]
THE UNDERREPORTING OF PHYSICIAN SEXUAL ABUSE "A yearlong investigation conducted by the Atlanta Journal-Constitution newspaper, published last week, uncovered thousands of cases of physician sexual abuse spread across every state in America." [CNN]
SANDERS EXPECTED TO ENDORSE CLINTON TODAY As all the support goes Hillary Clinton's way, Amanda Terkel takes a look at the "long, hard fight to finally get a woman at the top of the ticket." [Amanda Terkel, HuffPost]
For more video news from The Huffington Post, check out this morning's newsbrief.
WHAT'S BREWING
UBER WANTS TO BE YOUR MASS TRANSIT "On Tuesday afternoon, Uber will begin offering a limited number of prepaid, multi-week passes to Manhattan commuters willing to share rides with other passengers." [Slate]
WHY TIM DUNCAN WILL GO DOWN AS AN ALL-TIME GREAT San Antonio Spurs star Duncan is being hailed for his two-way player stats and his work as the ultimate teammate. [HuffPost]
EXAMINING THE PAY GAP FOR FEMALE DOCTORS Who earn on average $20,000 less than their male counterparts. [NYT]
TAYLOR SWIFT MADE A LOT OF MONEY LAST YEAR 170 million big ones in fact. That's enough to buy a million-strong blow up swan fleet, but then again ― that's so 2015. [Forbes]
THE iPHONE BUMP IS HERE TO STAY According to the latest leaks of what the iPhone 7 looks like. [Mashable]
MEET PUTIN'S NEMESIS How this man could "invent a new Russia from exile." [Vanity Fair]
WHAT'S WORKING 
BEFORE YOU GO
Calling all HuffPost superfans!
Sign up for membership to become a founding member and help shape HuffPost's next chapter