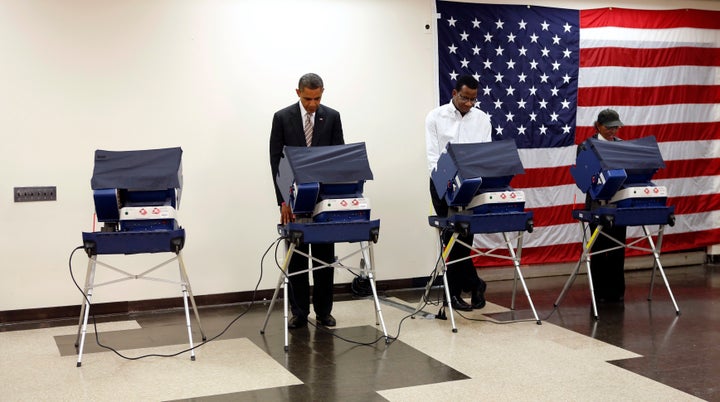 TOP STORIES
COULD SOMEONE BE TRYING TO HACK THE ELECTION? "The FBI's decision to issue a nationwide alert about the possible hacking of state election offices after breaches in Illinois and Arizona is raising concerns that a nationwide attack could be afoot, with the potential for creating havoc on Election Day." [Politico]
A DIFFERENCE IN DEBATE STYLES While Hillary Clinton prepares with a massive data dump, Donald Trump refuses to mock-debate, saying, "I know who I am, and it got me here." [NYT]
APPLE TO PONY UP BILLIONS FOR TAX BREAKS IN IRELAND $14.5 billion to be exact. [NYT]
HUMA ABEDIN ANNOUNCES SEPARATION From husband Anthony Weiner after his latest lewd photo scandal. The news comes just days after a glowing Vogue profile in which she reiterated how thankful she was that Weiner could be a "full-time Dad." [Paige Lavender, HuffPost]
DOCUMENTING ISIS'S 72 MASS GRAVES Where thousands are buried. [AP]
FDA TO SCREEN ALL DONATED BLOOD FOR ZIKA VIRUS Such a transfusion would be catastrophic. And this map of where Zika can "thrive" in the U.S. is terrifying. [Reuters]
WHAT THE DECLINE IN UNIONS MEANS FOR YOUR PAYCHECK "The dramatic nationwide drop in private-sector union membership has lowered pay for non-union workers over the past four decades, a study releasedTuesday argues." [Daniel Marans, HuffPost]
For more video news from The Huffington Post, check out this morning's newsbrief. 
WHAT'S BREWING
REMEMBERING GENE WILDER Tributes are pouring in for the star of "Willy Wonka & the Chocolate Factory." He was 83. [HuffPost]
'ABANDONED IN IRAQ' "The true story of U.S. soldiers left for dead in Iraq, their epic battle for survival, and the military cover-up that kept them silent ― until now." [Rolling Stone]
HAVE A QUESTION ABOUT FRANCE? Now you can call up a random person in France to talk about anything. [The French Number]
DOCTORS WORRY ABOUT INCREASE IN PARENTS REFUSING TO VACCINATE THEIR KIDS "Pediatricians are increasingly encountering parents who don't want their children immunized against infectious diseases, and a leading medical organization wants to help them address parents' fears and questions about vaccines." [Reuters]
MARK ZUCKERBERG MADE A NEW FRIEND The pope. [Vanity Fair]
'JAILED OVER TRAFFIC TICKETS, THIS MOTHER ATTEMPTED SUICIDE' "You never know how a person would feel when being locked up." [HuffPost]
WHAT'S WORKING 
BEFORE YOU GO
REAL LIFE. REAL NEWS. REAL VOICES.
Help us tell more of the stories that matter from voices that too often remain unheard.