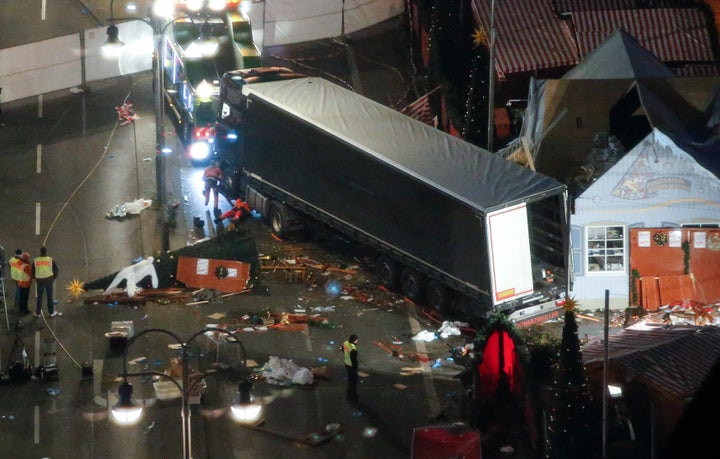 TOP STORIES
12 DEAD, 48 MORE INJURED IN CHRISTMAS MARKET ATTACK IN BERLIN German Chancellor Angela Merkel is calling the deadly incident, which involved a truck driver plowing into a crowded Christmas market in the country's capital, a "terrorist attack." CNN is reporting the suspect may be a refugee from the Afghanistan-Pakistan region. Take a look at a map of the truck's deadly route. [Reuters]
RUSSIAN AMBASSADOR TO TURKEY SHOT AND KILLED IN ANKARA Andrei Karlov was shot and killed by a Turkish off-duty police officer who yelled "Don't forget Aleppo" and "Allahu Akbar." Here's what the assassination means for the already fraught relationship between Turkey and Russia as they negotiate in Syria peace talks. Shots were also fired outside of the U.S. embassy to Turkey after the assassination. And take a look at the wave of terrorist attacks in Turkey this year. [Reuters]
SURPRISE, SURPRISE: DONALD TRUMP WON THE ELECTORAL COLLEGE Despite a movement to get electors to break from their states' voters. Bill Clinton did tear up when casting his ballot for Hillary. [Igor Bobic, Mollie Reilly and Chris D'Angelo, HuffPost]
CHINA RETURNS U.S. DRONE No big deal, it was just stolen by a foreign government for a few days. [Reuters]
ZURICH SHOOTER CONFIRMED DEAD The gunman shot three people at a Zurich mosque Monday. [Reuters]
TRUMP REPORTEDLY PLANS TO KEEP PRIVATE SECURITY DURING HIS PRESIDENCY Which would be an unheard of break with the security protocols for presidents. [Mary Papenfuss, HuffPost]
3 FAMILIES OF PULSE SHOOTING VICTIMS ARE SUING FACEBOOK, GOOGLE AND TWITTER For providing "material support" to ISIS. [Rebecca Shapiro, HuffPost]
FLIGHTS ARE GROUNDED IN CHINA DUE TO THE SEVERITY OF THE TOXIC SMOG Factories and traffic came to a standstill in northern China due to the blanketing smog. [Rebecca Shapiro, HuffPost]
WHAT'S BREWING
WOMAN KILLED BY FALLING TREE AT WEDDING IDENTIFIED AS MOTHER OF THE BRIDE Margarita Mojarro was posing for photos at a park when the tree fell on the wedding party. [People]
THE U.S. GOVERNMENT IS COLLECTING LOANS IT PROMISED TO FORGIVE "The Obama administration has been actively seeking loan payments from thousands of former students eligible for a debt-forgiveness program." [Bloomberg]
SYLVESTER STALLONE TURNED DOWN A POSITION IN TRUMP ADMINISTRATION But signaled he might be willing to take on a role helping veterans. [HuffPost]
BECAUSE TUESDAYS CAN BE MONOTONOUS Check out this Google extension that finds Google Map images that match the shapes you draw. It's oddly mesmerizing and comforting and more interesting than that Excel sheet. Sorry, Bill. [Lines]
DISNEY IS THE FIRST MOVIE STUDIO TO MAKE $7 BILLION IN A YEAR Those mouse ears really are magical. [Variety]
LOOKS LIKE FIFTH HARMONY IS DOWN TO FOUR The girl group announced via Twitter that Camila Cabello was leaving the group ― and that was only the beginning of all the drama. [HuffPost]
CONGRATS TO MARGOT ROBBIE Who reportedly married her filmmaker beau Tom Ackerly. Check out photos of the her new diamond ring. [HuffPost]
BEFORE YOU GO
The Huffington Post's Morning Email team aims to get you the top news, along with entertainment, lifestyle stories and other absurdity that you need to get through your workday — all with a dash of signature Morning Email snark.
Like The Morning Email? Send it to a friend! Does somebody keep forwarding you this newsletter? Get your own copy. It's free! Sign up here.
Check out HuffPost Politics and HuffPost Breaking News newsletters for more of the good stuff.
Popular in the Community