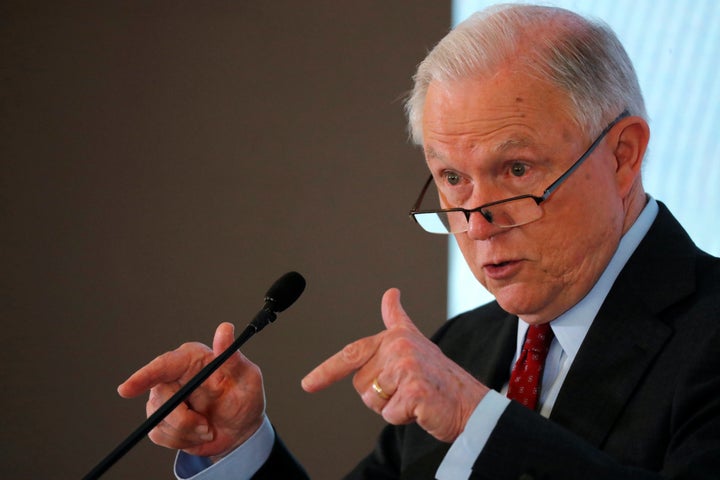 TOP STORIES
(And want to get The Morning Email each weekday? Sign up here.)
Eliot Nelson here, filling in for Paul today. Onto the latest news:
JEFF SESSIONS: NAZIS KEPT 'JEWS FROM LEAVING'  During an appearance on Fox News Monday, the attorney general rejected comparisons between families being separated by the Trump administration's "zero tolerance" immigration policy and those torn apart by Nazi Germany's "final solution." "Well, it's a real exaggeration, of course. In Nazi Germany, they were keeping the Jews from leaving the country," Sessions told host Laura Ingraham. [HuffPost] [Tweet | Share on Facebook]
NIELSEN STANDS BY 'ZERO TOLERANCE' In a contentions press conference Monday, Homeland Security Secretary Kirstjen Nielsen defended the Trump administration's "zero tolerance" immigration policy that has led to the forced separated thousands of children from their families. Asked if the separations were tantamount to child abuse, Nielsen tersely replied, "Be more specific, please." Echoing President Donald Trump, Nielsen blamed congressional Democrats for refusing to close "loopholes." [HuffPost]
THE HEARTBREAKING SOUNDS OF 'ZERO TOLERANCE' Audio obtained by ProPublica of an immigration detention facility quickly went viral Monday, prompting widespread condemnation of the treatment of the children featured in the clip, who are heard crying and calling out for their parents. In the recording, a person who ProPublica reports is a U.S. Border Patrol agent is heard joking about the crying children. "Well, we have an orchestra here," the agent says. "What's missing is a conductor." [ProPublica]
SUPREME COURT PASSES ON GERRYMANDERING CASE The high court said the plaintiffs in the case, who charged that Wisconsin's congressional map was heavily gerrymandered, didn't have standing to challenge the map. The court's decision establishes new framework for how gerrymandering challenges will be brought in the future. [HuffPost]
FIFA INVESTIGATING MEXICO'S SOCCER TEAM Soccer's global governing body is investigating reports that Mexico's fans engaged in homophobic chants after the team beat Germany in a World Cup upset over the weekend. [Reuters]
WHAT'S BREWING
THE HARD-LINERS MAKING POLICY After years in the fringes of politics, Attorney General  Sessions and White House policy adviser Stephen Miller are now among the most influential people in Washington. The two have partnered together before, when, in 2009, Miller served as Session's spokesman in the Senate. [NYT]
DETAILS OF TRUMP'S LA HOTEL STAYS COULD GO PUBLIC A former "Apprentice" contestant accusing the now-president of improper sexual conduct is subpoenaing Trump's records from his stays at the Beverly Hills Hotel, which was the then-TV host's preferred haunt for his trips to Los Angeles. [WaPo]
SAY IT AIN'T SO Emilia Clarke, who plays Daenerys Targaryen on HBO's hit series, "Game of Thrones" posted on her Instagram feed that the show would indeed be ending after the upcoming season. "It's been a trip @gameofthrones," the actress wrote, "thank you for the life I never dreamed I'd be able to live and the family I'll never stop missing #lastseasonitis." [HuffPost]
YESSSSSSSSS Dr. Dre, having successfully conquered the world of giant headphones, is reportedly developing a biopic of the late singer Marvin Gaye. Dre says he has the support of Gaye's family, which has opposed similar efforts in the past. [HuffPost]
BEFORE YOU GO
Calling all HuffPost superfans!
Sign up for membership to become a founding member and help shape HuffPost's next chapter