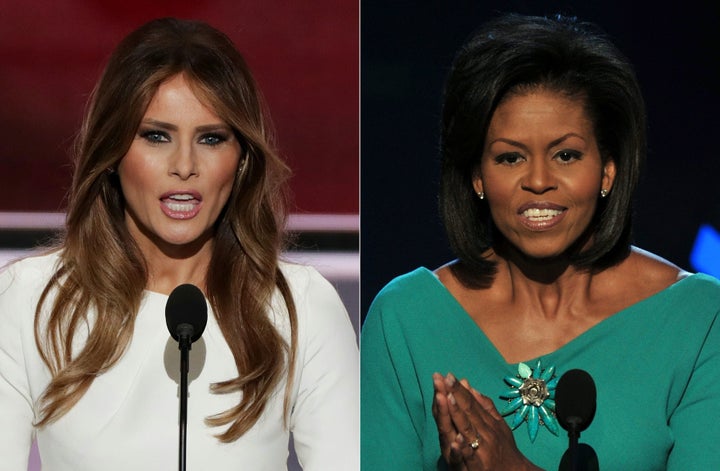 TOP STORIES
DAY ONE OF THE GOP CONVENTION: PLAGIARISM, SMOKE SHOWS AND LOTS OF BENGHAZI Melania Trump is under fire afterappearing to plagiarize part of Michelle Obama's 2008 convention speech. Watch video comparing the two speeches. Speakers talked Benghazi under the banner of the night's theme: "Make America Safe Again." But perhaps the highlight of the night was when Donald Trump entered to introduce his wife -- though a cloud of smoke. And here's what to watch for today. [Christina Wilkie, HuffPost]
BATON ROUGE SHOOTER TARGETED POLICE Gavin Long avoided bystanders in his attack, instead choosing to execute an officer already shot in "10 minutes of terror" that was only ended by a "helluva" shot by SWAT. And take a look at the "online trail" of his spiral into antigovernment beliefs. [WaPo]
ISIS FLAG FOUND IN HOME OF MAN WHO ATTACKED GERMAN TRAIN PASSENGERS WITH AX The Afghan refugee seriously injured four people Monday near Wuerzburg-Heidingsfeld after pulling out an ax and knife. The Islamic State has taken credit for the attack. [Reuters]
FACEBOOK IS SHELLING OUT THE BIG BUCKS For live video from your favorite YouTube stars. [WSJ | Paywall]
ROGER AILES' DAYS 'MAY BE NUMBERED' The Murdochs think their Fox News chief "needs to go" after sexual harassment allegations. [Michael Calderone, HuffPost]
THE PRESIDENT OF TURKEY'S PLANE WAS ALMOST SHOT DOWN DURING THE COUP ATTEMPT Fighter jets had his plane in their radar. [Akbar Shahid Ahmed, HuffPost]
'BLACK OFFICERS FEEL THE INNER TUG OF A DUAL ROLE' "The deaths, the ensuing protests and the fatal attacks on police officers in Dallas and Baton Rouge have intensified the internal tug of war that black police officers endure, the daily duality of being black and serving in blue." [NYT]
For more video news from The Huffington Post, check out this morning's newsbrief.
WHAT'S BREWING
THE AFTERMATH OF KIM AND TAYLOR'S FEUD Watch the newsspread through Twitter, along with the best tweets about the mess. And Swift's camp is threatening legal action for Kanye recording her phone callwithout her consent. You just can't even make this stuff up. [HuffPost]
WINTER IS FAR, FAR AWAY "Game of Thrones" isn't returning until next summer. At the earliest. [HuffPost]
HOPEFULLY THIS IS A FAKE APP Because paying for the Uber of pooper scoopers seems like a true devolution of society. [Pooper App]
THE ALGORITHMS OF SENTENCING "Risk scores, generated by algorithms, are an increasingly common factor in sentencing. Computers crunch data -- arrests, type of crime committed, and demographic information -- and a risk rating is generated. The idea is to create a guide that's less likely to be subject to unconscious biases, the mood of a judge, or other human shortcomings. " [Bloomberg]
P.F. CHANGS RECALLS OVER 195,000 POUNDS OF FROZEN DINNERS FOR METAL SHARDS Be right back, got to go clean out the freezer. [HuffPost]
YOUR KIDS JUST CAME UP WITH THE ULTIMATE EXCUSE FOR PLAYING MARIO KART It actually does make you a better driver. [HuffPost]
WHAT'S WORKING 
Calling all HuffPost superfans!
Sign up for membership to become a founding member and help shape HuffPost's next chapter