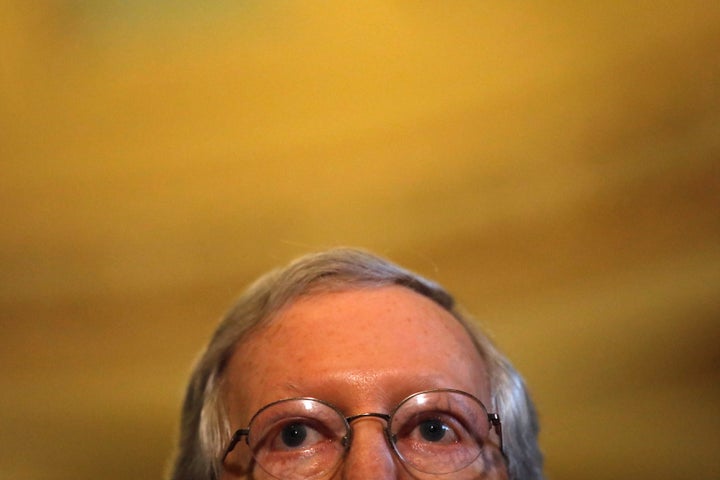 TOP STORIES
(And want to get The Morning Email each weekday? Sign up here.)
Greetings, all: Eliot Nelson here, in for Lauren Weber who is on a much-deserved vacation. I'll be steering this ship through Wednesday. 
MCCONNELL: REPEAL WITH NO REPLACE After Sens. Mike Lee (R-Utah) and Jerry Moran (R-Kan.) announced they would not support the Senate GOP's efforts to repeal and replace Obamacare, Senate Majority Leader Mitch McConnell (R-Ky.) said he would hold a vote to repeal Obamacare without replacing it. While it is unlikely that such an effort will succeed, McConnell's move was viewed as a rebuke of conservative members who opposed his efforts. [HuffPost] [Tweet | Share on Facebook]
DONALD TRUMP CALLS FOR REPEAL WITHOUT REPLACE The president called on congressional Republicans to support McConnell's plan. "Republicans should just REPEAL failing Obamacare now & work on a new Healthcare Plan that will start from a clean slate," he tweeted, adding that "Dems will join in!" [HuffPost]
WHITE HOUSE SAYS IRAN COMPLYING WITH NUCLEAR DEAL, STILL OPPOSES DEAL Though the administration will certify that the country is in compliance with the nuclear deal, it is maintaining that it is in violation of the "spirit" of the deal. [Reuters]
SOUTH KOREA OFFERS TO HOLD TALKS WITH NORTH In a split with the Trump administration, the South Korean government offered to hold military and humanitarian talks with its northern adversary at the DMZ. [NYT]
​PHILIPPINE PRESIDENT CALLS FOR EXTENSION OF MARTIAL LAWRodrigo Duterte, who has waged a bloody campaign against ISIS-inspired rebels in the island of Mindanao, asked the Philippine Congress to extend the country's period of martial law. [Reuters]   
CALIFORNIA LEGISLATURE TACKLING CLIMATE CHANGE Lawmakers in America's most populous state have voted to extend the Golden State's cap-and-trade program, handing Gov. Jerry Brown a major political victory. Eight Republicans broke ranks and voted for the measure. [LA Times]
WHAT'S BREWING
NETFLIX SHARES HIT RECORD Thanks in part to your binge-watching, shards of the streaming service are set to open Tuesday at $179. 17. [The Street]
PARENTS WORRY ABOUT R. KELLY'S ALLEGED 'CULT' In one of the more disturbing pop culture stories of the year, the R&B star is reportedly holding multiple women against their will in a sex "cult." A representative for the singer has denied the report. [HuffPost]
'BACHELORETTE' RECAP Things got intense last night when Dean Unglert introduced Rachel Lindsay to his father, who had converted to Sikhism. [E! Online]
BABY NUMBER 3 FOR JESSICA ALBA The actress announced in an Instagram post featuring her children ― Honor, 9, and Haven, 5 ― that she and her husband, Cash Warren, are expecting. [HuffPost]
ABOUT THOSE STRANGE RADIO WAVES FROM OUTER SPACE Good news for fans of cosmic mysteries, scientists don't know what is causing strange radio waves from a red dwarf 11-light-years from Earth. [The Verge]
BEFORE YOU GO
REAL LIFE. REAL NEWS. REAL VOICES.
Help us tell more of the stories that matter from voices that too often remain unheard.