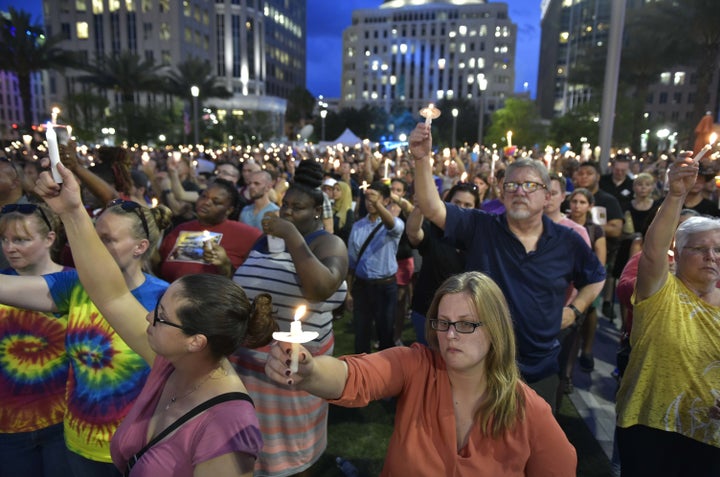 TOP STORIES
PULSE PATRONS SAY SHOOTER HAD VISITED CLUB BEFORE The FBI is working to establish whether Omar Mateen was a patron or if he was scouting the location. Mateen was also on gay dating apps, according to The Washington Post. As the investigation unfolds, here's a look into the FBI's previous investigations of the shooter, and the challenge ofstopping self-radicalization. And meet some of the many heroes who saved lives amid the carnage. [Sebastian Murdoch, Roque Planas, Andy Campbell and Willa Frej, HuffPost] 
U.S. GUN DEATHS IN A WORLD OF THEIR OWN In Japan, your chances of dying from a gun are the equivalent of being killed by a lightning strike in the U.S. [NYT]
FRENCH PRESIDENT CALLS MURDER OF CAPTAIN, PARTNER A TERROR ACT "The killer of a French police officer and his partner broadcast the scene of the attack live on Facebook Monday night local time, a French source close to the investigation told CNN. The man who carried out the deadly knife attack in Magnanville, which is 45 kilometers (28 miles) northwest of Paris, was Larossi Abballa." [CNN]
WHAT IT'S LIKE TO LOSE TO DONALD TRUMP Some crazy stories from the campaign gurus for Jeb Bush, Ted Cruz and Marco Rubio. [Sam Stein, HuffPost]
PROSTITUTES AND FINANCIAL INCOMPETENCE Inside the allegations in the trial between Libya's sovereign-wealth fund and Goldman Sachs. [WSJ]
APPARENTLY 99 PERCENT OF THE FEDERAL WORKFORCE ARE GREAT AT THEIR JOBS Take that report from the Government Accountability Office as you will. [WaPo]
PARENTS, THINK TWICE BEFORE MOVING YOUR PRETEEN ACROSS THE COUNTRY "A child who goes through a residential move at age 14 has double the risk of suicide by middle age. Her risks of engaging in violent crime of abusing drugs more than double." [WaPo]
For more video news from The Huffington Post, check out this morning's newsbrief.
WHAT'S BREWING
WHAT TO DO IN AN ACTIVE SHOOTER SITUATION A graphical look at Homeland Security's "Run, Hide, Fight" program's advice. [WaPo]
THE INTERNET IS COALESCING AROUND THIS END OF THE PERIOD MOVEMENT The grammar nerd in us is cringing. [WaPo]
THIS IS EXACTLY HOW LARGE THE UNIVERSE IS It involves a lot of light years. [BBC]
FOR HACKERS, HE'S YOUR BEST BET "No, one of computer law's loudest voices -- the attorney who has represented some of the country's most famous hackers and who keeps an encrypted chat app open at all times so he can dispense ad hoc pro bono legal advice to members of Anonymous -- spends much of his time defending the kinds of clients Matlock might turn down on a good day and keeping Ventura's marijuana professionals out of trouble." [Buzzfeed]
RUMBLINGS OF A SNAPCHAT IPO But will they disappear in under 10 seconds (sorry, had to)? [Vanity Fair]
MICROSOFT TO BUY LINKEDIN FOR $26.2 BILLION Why your third degree connections with that co-worker you interned with are worth that much. [Vox]
WHAT'S WORKING
Calling all HuffPost superfans!
Sign up for membership to become a founding member and help shape HuffPost's next chapter