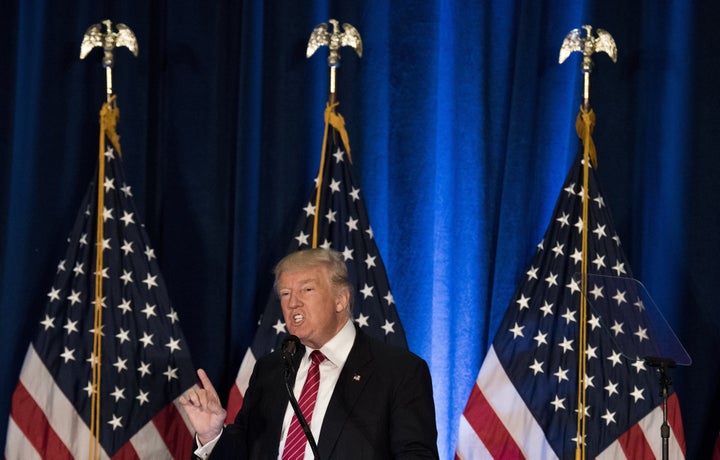 TOP STORIES
TRUMP CALLS FOR 'EXTREME VETTING' FOR IMMIGRANTS "Republican presidential nominee Donald Trump on Monday proposed that the United States administer an ideological test to visa applicants before allowing them to enter the country. The test amounts to an expansion of Trump's controversial plan to ban Muslims from traveling to the United States ― blocking people from certain countries and anyone whose views are deemed un-American." In response, Senate Minority Leader Harry Reid suggested the candidate would fail a naturalization test. [Christina Wilkie and Elise Foley, HuffPost]
ALLYSON FELIX IS NOW THE MOST-DECORATED FEMALE TRACK AND FIELD ATHLETE FOR THE U.S. She won her third silverMonday night (she already has four golds) in the 400-meter dash. We're a bit obsessed over this photo of Michael Phelps asking for Katie Ledecky's autograph. Laurie Hernandez took home silver on the beam, with Simone Biles nabbing bronze. And we love that Leslie Jones, who is having ablast in Rio, is starting a campaign to show Gabby Douglas some love. Here's how to follow along with HuffPost's Olympic coverage. [Nick Visser, HuffPost]
SAUDI AIRSTRIKE ON DOCTORS WITHOUT BORDERS HOSPITAL KILLS 11 And wounds at least 19 more in the latest attack on a medical facility. [Reuters]
MEET THE DEMOCRAT WHO CHALLENGED A DONOR TO HER OPPONENT'S SUPER PAC TO A DEBATE Paul Singer wrote a $500,000 check to Zephyr Teachout's opponent's super PAC. [Zach Carter, HuffPost]
PENNSYLVANIA ATTORNEY GENERAL FOUND GUILTY ON ALL COUNTS OF PERJURY Kathleen Kane was convicted of leaking grand jury information to a reporter and then lying about it. [Reuters]
CURFEW IN PLACE IN MILWAUKEE In a move to "quell riots" after a police shooting of an armed black man. [Reuters]
IMAGINE JAIL ― WITHOUT AIR CONDITIONING "Judges from Arizona to Mississippi to Wisconsin have declared over the years that the Eighth Amendment to the Constitution forbids incarceration in decidedly hot or cold temperatures. Still, prison reform activists encounter deep resistance in their quest to cool the nation's cellblocks." [NYT]
For more video news from The Huffington Post, check out this morning's newsbrief. 
WHAT'S BREWING
'THE NIGHTLY SHOW WITH LARRY WILMORE' IS NO MORE After Comedy Central announced the cancellation, Wilmore said the move was part of the "Unblackening" happening along with the 2016 election. [HuffPost]
AFTER SEVEN MURDERS IN THIS THIS PHOENIX NEIGHBORHOOD "It's like you're a sitting duck." [The Trace]
MEET THE SUPER-RECOGNIZERS This London police unit relies on their incredible knack for remembering faces. [The New Yorker]
THIS FUNGUS IS COMING FOR YOUR BANANAS They could all be gone in five to 10 years. [Digg]
JOSEPH GORDON-LEVITT HAS A QUESTION FOR YOU "Via his production company, HitRecord, Gordon-Levitt solicited online submissions encouraging people from all corners of the political spectrum to discuss their positions on government in the digital age." [HuffPost]
THIS WOULD HAPPEN TO AN OLYMPIAN'S MOM Brazilian authorities blew up Cindy Lloyd's suitcase after she left it at a cruise ship. [NYT]
WHAT'S WORKING 
BEFORE YOU GO
REAL LIFE. REAL NEWS. REAL VOICES.
Help us tell more of the stories that matter from voices that too often remain unheard.