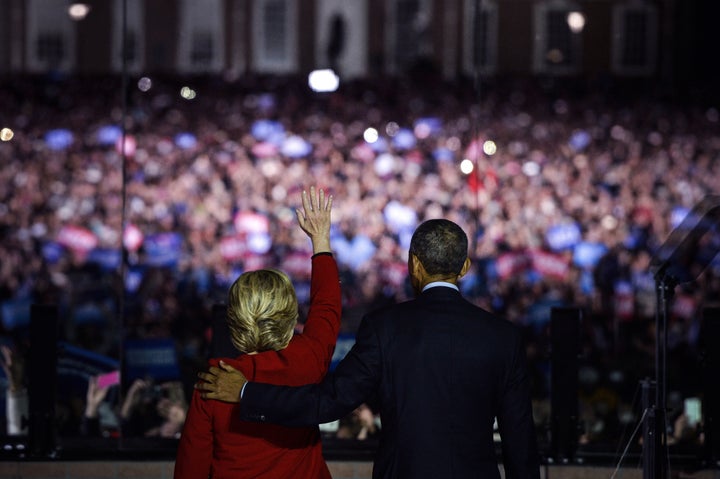 TOP STORIES
WHY THIS ELECTION WAS DIFFERENT Sam Stein takes a look back at how Donald Trump has "shattered campaign norms," while Mother Jones argues this election is a "referendum on hate." And on the strategy side, here's how the record early voting of 46.27 million people has changed the name of the game. More people have already voted in Florida than the total number of those who voted in 2000. [Sam Stein, HuffPost]
AND OF COURSE, DON'T FORGET TO VOTE Here's how to find your polling place. And free pizza might help make that voting line more enjoyable. [Paige Lavender, HuffPost]
ISIS ABDUCTED OVER 300 IRAQI SECURITY FORCES OUTSIDE MOSUL To be used as human shields or killed. [Reuters]
JURY AWARDS UVA DEAN $3 MILLION OVER ROLLING STONE RAPE STORY The federal court jury decided the magazine should pay the administrator $1 million, while the reporter is on the line for $2 million. [Reuters]
A WOMAN WAS PUSHED TO HER DEATH OFF AN NYC SUBWAY PLATFORM At the Times Square station. [Reuters]
THE NAVY SHIP WHERE THE AMMUNITION IS TOO EXPENSIVE TO FIRE Because that makes sense. [WaPo]
WHAT'S BREWING
PRINCE HARRY GOES TO TOWN ON THE BRITISH PRESS FOR COVERAGE OF NEW GIRLFRIEND While the American press has swooned over the news of his dating of American actress Meghan Markle, the British media has not been as kind. Prince Harry issued a statement confirming his new romance and defending Markle from the "racial undertones" in the coverage. And we're still swooning over it. [The Guardian]
WELL, IF YOU WANT TO RUIN THE ENTIRE PLOT OF SEASON 7 OF 'GAME OF THRONES' FOR YOURSELF You can now do so. Looks like HBO has a serious leak problem ― again. [HuffPost] 
IN HAPPY WESTEROS NEWS Looks like Lady Sansa has found herself some love ― in a Jonas brother. Joe to be exact. [HuffPost]
A MASSIVE SINKHOLE HAS OPENED UP ON A JAPANESE STREET Imagine the end of the world jokes if this had happened in Philadelphia today. [Reuters]
OF COURSE A REUNITED DESTINY'S CHILD KILLED THE MANNEQUIN CHALLENGE That's it. Mic drop. If you don't know what the mannequin challenge is, we here at The Morning Email can help you get with the times. [Vulture]
LOOKS LIKE WE COULD BE GETTING A 'BIG BANG THEORY' PREQUEL Get excited for Sheldon's early days. [Variety]
VINE MAY NOT BE DEAD AFTER ALL Turns out bids came in fast and furious after Twitter announced it was killing the product. [TechCrunch] 
BEFORE YOU GO
~ Your Tuesday is going better than the folks who were on a flight when actual snakes on a plane happened. 
~ And the Oscar race for best supporting actress is over before it began ― hand it on over to our favorite Viola Davis for her role in "Fences."
~ The first trailer for Scarlett Johansson's "Ghost in the Shell" confirms that yes, there still is whitewashing here.
~ These five potato chips will run you $56. Anyone want to send some our way to taste test?
~ Welcome back to 7th grade science class: Scientists have discovered a new type of atomic bond.
~ The healthiest packaged foods out of the bunch (there is ice cream on this list!).
~ Matthew Zoller Seitz has reviewed the Martha Stewart-Snoop Dogg cooking show, and boy does it sound like a doozy.
~ Ann Coulter proposed a system in which all of your four grandparents would need to have been born in the U.S. in order for you to vote. Too bad that would exclude Donald Trump from voting.
~ Take a look at the front pages of The New York Times through 41 different elections.
~ And here's why Clinton supporters are wearing white to the polls.
Calling all HuffPost superfans!
Sign up for membership to become a founding member and help shape HuffPost's next chapter