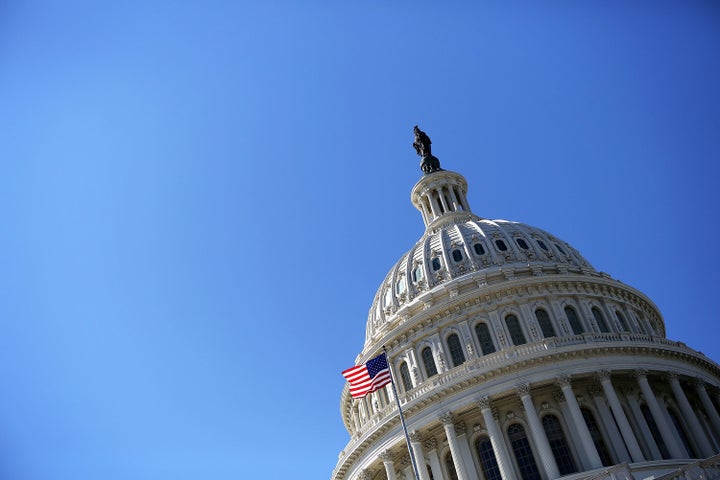 TOP STORIES
(And want to get The Morning Email each weekday? Sign up here.)
WHAT'S ACTUALLY IN CONGRESS'S SPENDING DEAL? Breaking down where the money goes, why Democrats consider it a win, and how the NIH and scientific research came out winners. [WaPo]
LAST NIGHT WAS THE OSCARS OF THE FASHION SCENE Check outexclusive photos of the Met Gala you won't see anywhere else. We were big fans of pregnant Serena Williams rocking the red carpet, the couples squad ― which included Gisele and Tom Brady, as well as Blake Lively and Ryan Reynolds ― and Rihanna's absurd, yet awesome, attire. And did you know that President Donald Trump and Melania Trump got engaged the night of the 2004 Met Gala?
ACCORDING TO THE GOP, A VOTE ON HEALTHCARE IS CLOSE But the votes aren't there.
JARED KUSHNER HAD A HARD TIME FILLING OUT HIS DISCLOSURE FORMS "Jared Kushner, the president's son-in-law and senior adviser, didn't identify on his government financial disclosure form that he is currently a part-owner of a real-estate finance startup and has a number of loans from banks on properties he co-owns, according to securities filings." [WSJ | Paywall]
1 DEAD, 3 INJURED AFTER STABBING AT UNIVERSITY OF TEXAS AUSTIN CAMPUS The suspect, Kendrex J. White, 21, surrendered to police after allegedly stabbing four people with a large hunting knife.
MEET THE FBI TRANSLATOR WHO 'WENT ROGUE AND MARRIED AN ISIS TERRORIST' "I will probably go to prison for a long time if I come back, but that is life. I wish I could turn back time some days." [CNN]
NEVER FEAR, LATE NIGHT FANS The Writers Guild of America and the Alliance of Motion Picture and Television Producers reached an agreement just after midnight to avoid a strike that would have effectively shut down late night.
WHAT'S BREWING
HAVE AN AMAZON ECHO? You can now ask Alexa to listen to The Morning Email! Start your day with a quick update on the latest news by enabling our skill here.
RYAN SEACREST JOINS KELLY RIPA FOR 'LIVE' Looks like the new duo will have some competition, as Megyn Kelly's morning show is set to debut at the same time in the fall. We're with Twitter ― is Seacrest going to take over writing The Morning Email next? How many jobs can this guy do?
WE'LL ADMIT TO CRYING OVER THIS JIMMY KIMMEL MONOLOGUE In which the late night host teared up talking about his newborn son's open heart surgery and the importance of access to healthcare.
HERE'S A BUNCH OF ACTORS ACTING OUT STEVE BANNON'S SHAKESPEAREAN SCREENPLAY ABOUT THE L.A. RIOTS It's exactly what you'd imagine. [Vulture]
NETFLIX IS ADDING MORE TRIGGER WARNINGS TO 'THIRTEEN REASONS WHY" Following growing backlash for the show's extremely graphic scenes.
SO, THE FYRE FESTIVAL PITCH DECK Has to be seen to be believed. And the first of the lawsuits is already in ― and this one is for a cool $100 million. [Vanity Fair]
BEFORE YOU GO
Calling all HuffPost superfans!
Sign up for membership to become a founding member and help shape HuffPost's next chapter