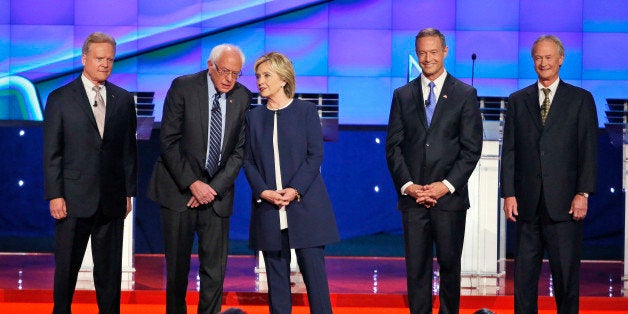 In the aftermath of Tuesday's presidential debate, something smells an awful lot like team spirit.
While there's some public contention of who truly won -- some say Bernie, some say Hilary, Jim Webb says "give me more air time" -- the star of last night's debate wasn't the Democrats at all, but the questions about the middle class.
The focus on income disparity, prison reform, climate change, gun control and institutional racism tells us that there's a significant shift happening in the clout of the American public's concerns. The predominant populist flavor of last night's debate indicates that the political conversation is gradually but definitively shifting towards the needs of the 98 percent.
The 2016 progressive primary has already been historic in the upswell of support for self-described socialist candidate Bernie Sanders.
Last night, when asked if socialism would be an issue for his electability, the Senior Senator from Vermont responded that being a socialist simply meant believing that "it is immoral for the top one tenth of the country to own 90 percent of the wealth."
Sanders' strong stance on income inequality was mirrored by all candidates on stage, as the spirit of middle class solidarity continues to define the 2016 Democratic platforms. Clinton, whose likability has been repeatedly questioned, did her best to distance herself from the tax bracket to which she almost certainly belongs. But even that rhetorical positioning indicates the American voter's growing aversion to Wall Street and special interest groups.

The black lives matter movement was also discussed and defended, most emphatically by Sanders but also by Clinton and O'Malley. Webb was the only candidate to prevaricate, and did so with a great deal of explanation. The fact that these candidates are speaking at great length on institutional racism and prison reform is not a comment on their own competence, but on the vocal outrage of an America that is tired of watching men and women of color disenfranchised, imprisoned, and killed. The fact that the Black Lives matter movement has successfully found it's way to the center of the most important political race in America speaks to the vigor of its energies and the urgency of its cause.
Though talking points alone are never cause for mass jubilation, last night does indicate that the Democratic party is speaking more to individual voters and less to the interests of its large donors. Whether or not that eloquence will pan out in actual policy is a different question. At the very least, though, Tuesday was a comment on increasing public opposition to presidential politics as usual: the American public demands to hear more about the economic and social issues they desperately want remedied.
Calling all HuffPost superfans!
Sign up for membership to become a founding member and help shape HuffPost's next chapter