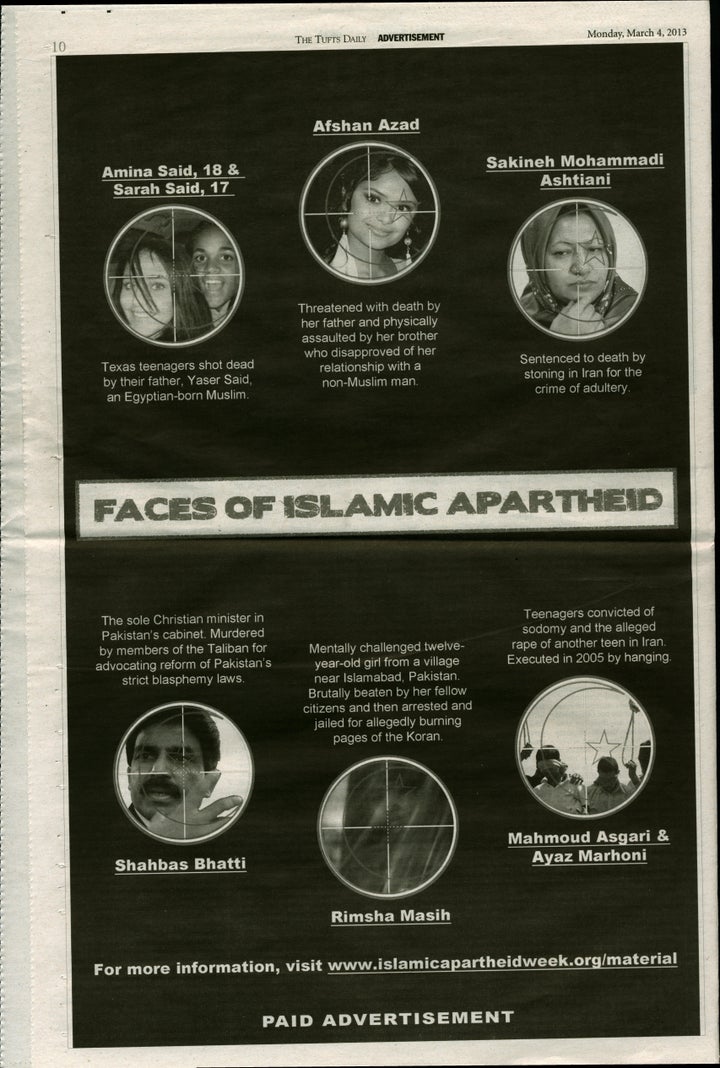 On Monday morning, around 9 a.m., I received a text message from a good friend of mine on campus saying, "OMG you need to pick up a daily [Tufts University's newspaper] RIGHT NOW". I headed to the dining hall and opened the Tufts Daily, only to see an advertisement (scroll down to see the ad) with the boldfaced words "FACES OF ISLAMIC APARTHEID" with pictures of individuals behind photo-shopped crosshairs within the advertisement, which was produced and paid for by the David Horowitz Center, an organization that is known for promoting hatred towards Muslims, going so far as to say that Islamophobia is a concept that was created by the Muslim Brotherhood. After seeing this, I had to take a moment to sigh and look up the ceiling, up to God, and ask, "Lord, what have you gifted me with today?"
The day following this was full of emails, Facebook posts, tweets, discussions, and other forms of dialogue taking place because of this "editorial oversight," including discussing why this advertisement is controversial in the first place, a call for action within Tufts Daily and response to this event, and the steps which the Muslim and allied communities at Tufts University need to take in order for this to never happen again.
I don't believe the response made within the Letter from the Editor at Tufts Daily is quite enough in lieu of this issue. It is imperative to address Islamophobia on a campus-wide level, if not calling for action on a national level. While it is sad that the discussion of Islamophobia has not been present enough on this campus until now, this event has caused a conversation amongst the student body that may have not been present before, even with educational programming that has been put on by the Muslim Students Association at Tufts University (which is currently being planned by the executive board for this upcoming April) and other organizations at Tufts. Representative students from a multitude of student groups not only were able to come together to not only draft a concise letter to the Editor, but also to propose solutions and direct action plans for Tufts regarding Islamophobia, hate speech, xenophobia, and other incidents of hatred actions and/or speech directed at minorities on campus.
Though this is only one of thousands of cases in which media has been the outlet for Islamophobic propaganda, it shouldn't be a surprise that such an advertisement would eventually be slipped onto campus, because of "editorial oversight." Islamophobia is not a new concept to the Tufts campus, and has continued to surface over the years, only to be addressed promptly and then swept under the rug. As stated in the drafted letter:
"After similar xenophobic generalizations were made about Islam at Tufts in 2007, former University President Larry Bacow called on 'students [to] hold their fellow students accountable... When community standards of civility and respect are violated, we should not ask those who have been unfairly attacked to respond on behalf of the community. This responsibility should be borne by all.'"
It is apparent to many individuals at Tufts that the topic of Islamophobia, and, at a more basic level, hate speech and xenophobia, must continue to be addressed on campus, and not only amongst the minority communities which suffer the most from events such as this. While Tufts University does have a forum in which students can report incidents of bias pertaining to gender, race, ethnicity, religion, sexual identity, disability, age, or national origin, it seems that a report of these cases is not enough to emphasize the problematic events that are occurring at Tufts. While there is a reasonable amount of diversity at Tufts, it seems that ignorance runs rampant in the corners of the university that social justice groups are unable to touch. In lieu of this instance, I was surprised to see students state that there was no issue with this advertisement being included in a university newspaper, yelling the less-than-surprising retort of "free speech!" when other students such as myself were questioning the presence of the ad in the Daily. The discussion of hate speech in relation to free speech and the First Amendment is a nationwide debacle that has gone so far as to reach the Supreme Court of the United States, and will continue to be a discussion as long as individuals continue to be ostracized and attacked as a direct effect of propaganda such as this.
As a Muslim at Tufts University, I could not have been happier to see such a large response by many non-Muslim students who condemned this advertisement and the message it presented. However, it seems that there are still actions that need to be taken in order to educate the campus at large as to why this advertisement was problematic, since many students were puzzled about the uproar by their peers. As acts on Muslims and those who "appeared" to be Muslim have been incredibly high within the last year, it is important to actively educate and address the issue of Islamophobia by providing basic factual information on Islam and also providing resources for the student body. As a student at Tufts University, I feel that it is my obligation as a Muslim to address these issues on a campus-wide level in hopes that our measures to combat this type of hatred can provide an example for our nation, as well as other universities and institutions.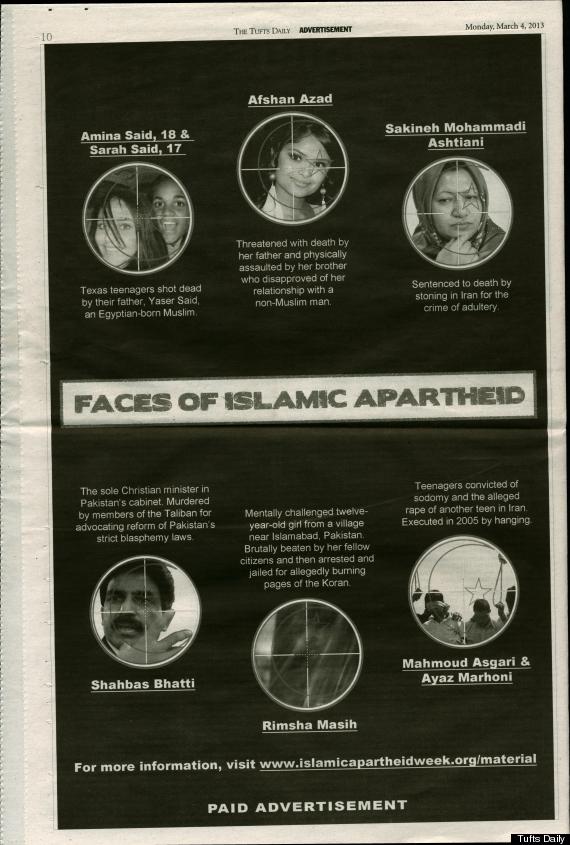 Related
Popular in the Community