"Today we vote, tomorrow we cry," read one headline this week.
"Melhem Karam: Half a Century of Appropriating Power," read another, in a piece describing Karam's monopoly as one of several calamities befalling the Lebanese Journalists Union (LJU), whose administrative council was clueless and detached from journalistic reality.
"Can the LJU be saved?" was another headline.
"What's the use of maintaining this dying institution?" Al Akhbar daily asked rhetorically about the LJU, whose president Karam headed the organization for 44 years, effectively turning it into his fiefdom before succumbing to a heart attack last May.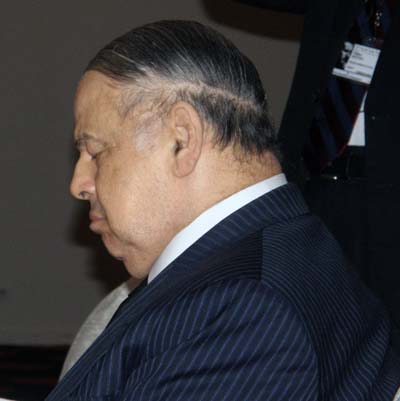 LJU's late president Melhem Karam (Abu-Fadil)
Since then, the union has witnessed a tug of war between the entrenched old guard wanting to maintain a grip on the organization, and rebels seeking to overturn its exclusionary bylaws that have systematically kept qualified journalists outside membership rolls.
Veteran Lebanese journalists working for foreign media have been denied membership and those affiliated with online outlets -- to say nothing of bloggers -- haven't even been on the LJU's radar screen.
Broadcast media journalists have also long complained they lacked representation in any syndicate.
The LJU council has run the union's affairs since Karam's death at age 78 and tried, unsuccessfully, to hold elections to find a "favorable" replacement.
Of the suggested names was Youssef (Joseph) Kosseify, Karam's rubber-stamping deputy, who is officially a government employee and not a recognized journalist with any Lebanese media.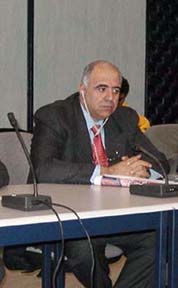 Joseph Kosseify (Abu-Fadil)
"Old timers" backed Kosseify and wanted him to keep the seat warm for Karam's son Thaer, detractors said.
But An-Nahar newspaper reported in August that Thaer had taken himself out of the running.
The tech-challenged Kosseify once boasted he could write faster by hand and send more articles by fax than someone using a computer.
"Most council members are illegal impositions on the union," said a Lebanese journalist on condition of anonymity, noting that current regulations prevent LJU members from being publishers or owners of publications.
Reform-seeking and press freedom NGO Skeyes questioned the LJU's bylaws in a July workshop that called for a review of the syndicate's makeup in a bid to secure more protection for maligned or arbitrarily dismissed journalists.
"Journalists feel abandoned in Lebanon with no solidarity except from colleagues who are like-minded politically," lamented George Nassif, a veteran of An-Nahar daily who was fired following a 35-year career.
Skeyes tasked a committee of experts grouping journalists and lawyers with recommending an overhaul to the bylaws to better represent all journalists in Lebanon.
"Skeyes is pursuing the matter to prompt the union's membership to move and reform it from within," said a source familiar with the deliberations. "We need awareness so that they'll clean it from the inside."
The committee succeeded in halting the elections to replace Karam following lawsuits by journalists who were booted out of the union and had charged the LJU council with nepotism, cronyism and illegalities.
The council postponed the elections at the end of September and decided to review the syndicate's bylaws within six months.
Lebanon Press Club president and Addiyar newspaper managing editor Youssef Howayek blasted the LJU's "blatant violation of bylaws by union members, whose legitimacy is questionable, yet continue to run the union's affairs."
He told a news conference in July that union membership was predicated on a capricious selection process of lucky non-journalistic hangers-on and that it excluded countless deserving and qualified colleagues.
"Can you imagine a member's son, who is a doctor, becoming a member of the LJU just so that Karam back then could secure an extra vote and be re-elected for the umpteenth time?" asked a veteran journalist who is not a union member. "Such irregularities and unethical behavior have been the norm for decades."
The LJU expelled Howayek and fellow journalist Fatima Houhou from the ranks when they created a ruckus and filed suit against the union to rectify what they said were years of wrongs.
Lebanon Press Club administrators had also demanded the resignation and replacement of the LJU council during a visit to Information Minister Tarek Mitri.
Other gripes about Karam's fiefdom included the late LJU president's acquisition of a building that was a gift to the union across from his media group headquarters in Beirut that has subsequently gone to his heirs, rather than the union, critics claim.
Karam owned licenses for several publications, which, technically, should have excluded him from heading the LJU.
Owners and publishers are supposed to be members of a separate Lebanese Press Syndicate (LPS), also headed by a decades-long president, Mohammad Baalbaki.
Karam and Baalbaki have often been referred to derisively as "Jurassic Park."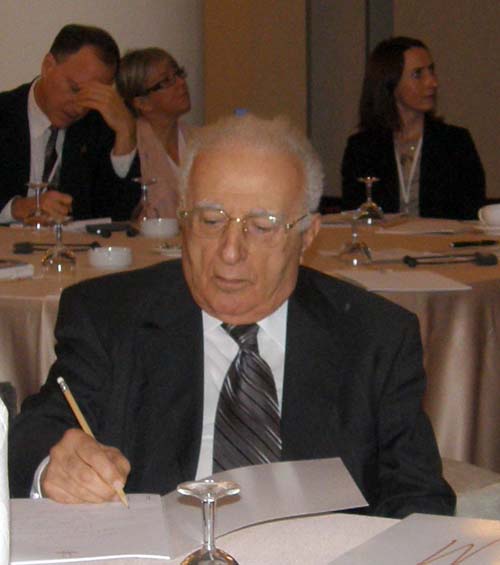 LPS head Mohammad Baalbaki (Abu-Fadil)
Under Lebanon's sectarian system, the LJU is headed by a Maronite Christian while the LPS's chief is a Sunni Muslim.
The octogenarian Baalbaki has also been re-elected to his post several times, thereby excluding other potentially qualified candidates from representing the profession.
The two unions' state of affairs is a microcosm of the Lebanese landscape where the print media law dates back to 1962 and broadcast media legislation was last amended in 1994.
According to the International Press Institute's (www.freemedia.at) Naomi Hunt, most of Lebanon's media outlets are unduly influenced in their journalism content by powerful political figures.
A report by the National Observatory of the Freedom of Opinion and Expression said many Lebanese journalists felt objectivity was a rarity, freedom in short supply, and harassment they faced on and off the job increasing, for lack of union protection.
Ironically, Lebanon is considered the Arab country with the freest press, but activists fear it's been slipping in recent years.
Calling all HuffPost superfans!
Sign up for membership to become a founding member and help shape HuffPost's next chapter