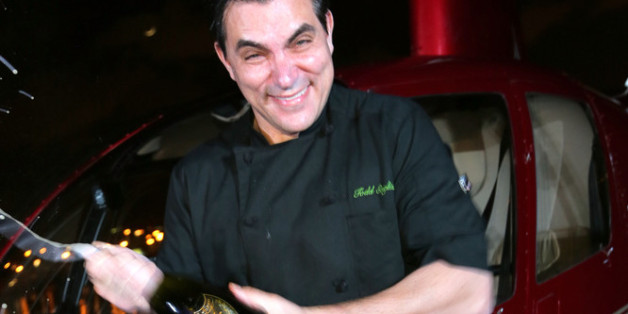 In May 2012, 28-year-old chef Tully Wilson thought he got the chance of his lifetime when he was cast as a contestant on the first season of the Food Network show "Chef Wanted." But the show ended up teaching him that the alluring promises offered by reality television are subject to the same vicissitudes and caveats as any other opportunity in life.
In each episode of the show, four cooks would compete in what's billed as a "live job interview" for a top position at a successful restaurant owned by a famous chef or restaurateur. Wilson was told he would be gunning for the role of executive chef at the New York branch of Olives, Todd English's Mediterranean restaurant chain.
Wilson, who graduated from the Culinary Institute of America in 2004, had owned his own restaurant, Tully's Bistro, near Nashville in Hartsville, Tenn., for five years, but he relished the chance to move to a bigger city.
The "Chef Wanted" filming lasted four days, during which Wilson cooked in the kitchen at Olives in New York and met English and the show's host, Anne Burrell, both professional idols of his. And then, to top it all off, Wilson won. At the end of the episode, English asks him when he can move to New York so he can take over at Olives.

The producers of the show assured Wilson that someone from Todd English Enterprises would be in touch shortly to coordinate his hiring. He flew home feeling victorious and hopeful.
Yet by August, Wilson still hadn't been offered a job at any of Todd English's restaurants, including Olives New York. Indeed, Wilson claims that no one from Todd English Enterprises got in touch with him at any point after the filming in May.
Contacted by The Huffington Post, Chef Todd English said that his team had, in fact, stayed in constant contact with Wilson after the show wrapped.
"I don't know why he said no one was in contact. We're all busy. But he's a little dramatic," English said.
English also admitted that he never seriously considered hiring Wilson as the executive chef at Olives New York, though he could not say when he conveyed that to Wilson.
Neither party could produce any phone, text message or email records demonstrating the timing or content of any correspondence from the summer.
Wilson said that he first tried calling his contacts at Smart Dog Media, the production company in charge of the show. They told him that it was completely up to English to actually hire Wilson. Wilson looked back at the contract he'd signed before appearing on the show, and found that what they said was true: they were under no obligation to guarantee him a prize.
So Wilson called Todd English Enterprises. He was bounced back and forth between the company's head of marketing, Lindsey Valdez, and its corporate chef, Jeffrey Steelman. Over the course of several phone conversations and text message exchanges in the ensuing weeks, they mentioned that they might hire him to help open a restaurant in Kuwait or Mexico City, which had both been delayed several times. But no one said anything about Olives New York, which had hired a veteran chef from within the Todd English organization soon after the show wrapped.
In September, Wilson demanded to speak with English himself. Wilson says that English told him that they didn't have any open positions at the time, but that they were still interested in hiring him. English told him to call back in 30 days to set up a long-term plan.
At this point, Wilson and English's accounts again diverge.
English told The Huffington Post that at some point in the fall -- he couldn't say when -- he had offered Wilson a job as the executive chef at the Todd English Pub he plans to open in January at the Westin Hotel in Birmingham, Ala. English said that Wilson will be on the payroll of Todd English Enterprises starting Dec. 1.
"He has the job," English said. "I don't know what he's talking about. He's moving there in December. The restaurant is opening in January."
Wilson, on the other hand, insists that he has never been offered a job at any Todd English restaurant whatsoever. He said that he followed up with Steelman 30 days after talking to English and that he was told to sit tight.
English admitted that the hiring process had taken longer than he had hoped, but he chalked this up to macroeconomic woes and construction delays.
"The reality is that there's delays. There always are ... But he's got the job -- or he had the job," he said.

Wilson says he can't afford to wait any longer. October credit card revenue at his restaurant was just $5000, down two-thirds from the month before his stint on "Chef Wanted." On Nov. 25, Wilson will quit his job at Tully's Bistro and give the reigns over to his mother. Wilson will move in with relatives in Midland, Texas, where he hopes to find another restaurant job.
"Why would I be doing that if I knew I had job on Dec. 1?" he asked. "Why on the 25th would I move to Texas to live with my family there?"
About 18 hours after The Huffington Post wrote two emails to Todd English Enterprises inquiring about the employment status of Tully Wilson, but before English responded to those messages, Wilson got a phone call from Steelman and English. Wilson claims English called him "a f**king dumbass" for contacting The Huffington Post in regards to this story. Wilson says English repeated this insult several times. He then started saying that Wilson would never work in a Todd English restaurant in his life, and that, by the time English was done with him, he wouldn't even be able to work in a Denny's.
English confirmed that he'd called Wilson to ask about his decision to contact The Huffington Post, but he refused to speak about the contents of that call. He did say, however, that in light of Wilson's decision to complain about him, he would have to consider retracting the Birmingham job offer he'd allegedly given Wilson.
"I'm going to have a conversation with my team and we're going to look at our options with him," he said.
Wilson said that until the call with English and Steelman, part of him still believed that English would hire him at some point. Now, he says he regrets going on "Chef Wanted" in the first place, at least with English as his supposed benefactor.

"It did nothing for me," he explained. "It was just another day in my life."
Calling all HuffPost superfans!
Sign up for membership to become a founding member and help shape HuffPost's next chapter
BEFORE YOU GO
PHOTO GALLERY
The Worst Celebrity Chef Endorsements