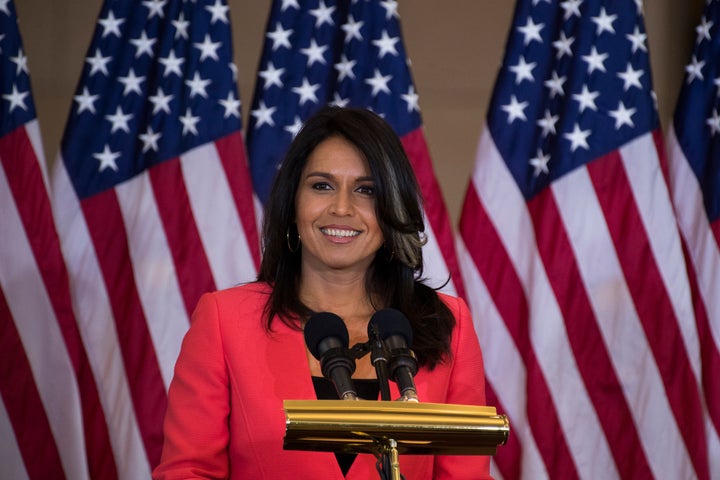 Rep. Tulsi Gabbard (D-Hawaii) is defending her stance on gun violence after actress Amber Tamblyn called her out for not co-sponsoring a bill on assault weapons.
In a tweet Wednesday, the 34-year-old actress pointed out that Gabbard's name did not appear on the list of co-sponsors on the newly introduced Assault Weapons Ban of 2018, also known as H.R. 5087.
Tamblyn also noted that the Democrat had previously received money from a gun lobby group. Hawaii Citizens' Rights, a political action group linked to the National Rifle Association's Hawaii affiliate, once donated $400 to Gabbard's campaign.
Erika Tsuji, the political director for Gabbard's re-election campaign, told HuffPost that the political group donated the money to her city council campaign "over 10 years ago."
"Since that time, the congresswoman has donated nearly triple that amount to a local charity supporting Hawaii youth who provide support and aloha to survivors of gun violence," Tsuji said.
Gabbard's spokeswoman also claimed that Gabbard has never accepted money from the NRA or other gun lobbies since she first campaigned for Congress in 2012.
HuffPost has reached out to Tamblyn for comment on her tweet about Gabbard.
Rep. David Cicilline (D-R.I.) introduced the Assault Weapons Ban bill on Monday. His bill would ban the sale, transfer, possession, production and import of a number of semiautomatic rifles and pistols, semiautomatic shotguns with military features and ammunition-feeding devices that can accept more than 10 rounds.
When the bill was introduced Monday, it listed 164 original co-sponsors, all of whom are Democrats, out of the 194 Democrats in the House. On Wednesday, the day Tamblyn tweeted about Gabbard and the bill, there were 167 sponsors ― with the Hawaii representative's name still missing from the list.
Gabbard did sign up to co-sponsor the bill on Wednesday, a spokesman for Cicilline's office told HuffPost. The spokesman did not know what time Gabbard had requested to co-sponsor the bill.
After Tamblyn's tweet, Gabbard defended her stance on gun control and gun violence later Wednesday.
"The stakes are too high to allow politics to get in the way of Congress taking action to pass common sense gun safety legislation," she wrote.
In her Wednesday tweet, Gabbard apparently resurfaced the same language she used in a Feb. 21 tweet sent from her other Twitter account in response to the Florida shooting.
In an email to HuffPost, Tsuji mirrored Gabbard's tweet by pointing out her previous support for other legislation on gun policies.
Gabbard "has cosponsored sensible gun safety legislation to ban assault weapons, require universal background checks, ban bump stocks, close the gunshow loophole, among others," Tsuji said.
Gun control is listed as one of Gabbard's key policies on her campaign website, with calls for "sensible gun control" and a "federal ban on military-style assault weapons."
Following the Las Vegas shooting, which left 58 dead and 500 others injured, the congresswoman called for a ban on bump stocks, a gun accessory used to simulate automatic fire.
This story has been updated to note Cicilline's bill would also ban the possession of the specified weapons.
Before You Go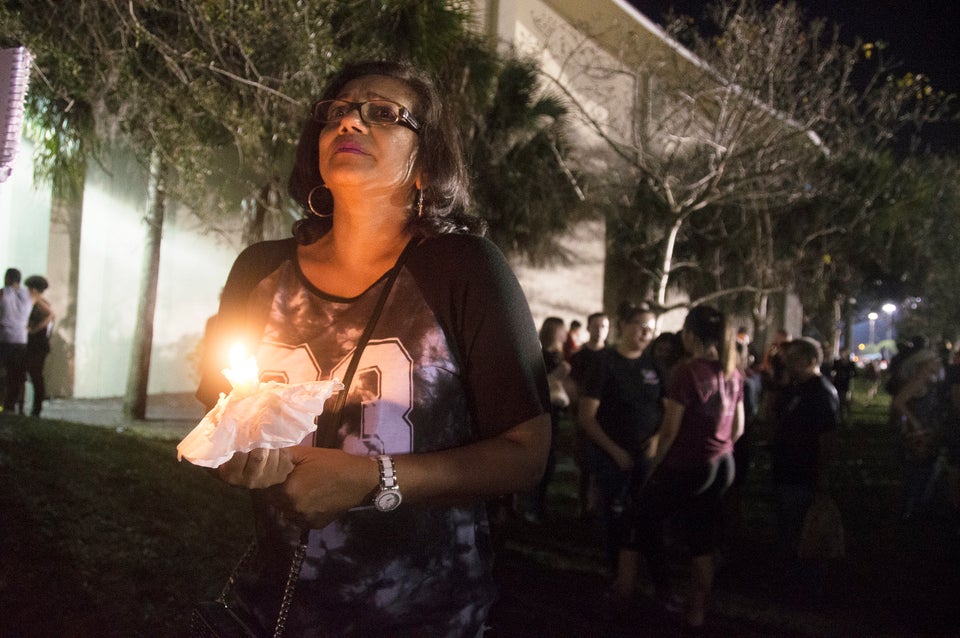 Parkland Vigil
Popular in the Community