Rep. Tulsi Gabbard (D-Hawaii) revealed on Wednesday that she met with Syrian President Bashar Assad on a recent trip to the war-torn Middle Eastern nation.
"Initially I hadn't planned on meeting him," Gabbard said on CNN's "The Lead with Jake Tapper," where she first confirmed the meeting. "When the opportunity arose to meet with him, I did so, because I felt it's important that if we profess to truly care about the Syrian people, about their suffering, then we've got to be able to meet with anyone that we need to if there is a possibility that we could achieve peace. And that's exactly what we talked about."
Gabbard, a member of the House Foreign Affairs Committee, appears to be the first sitting member of Congress to meet with Assad since the Syrian civil war broke out in 2011.
House Minority Leader Nancy Pelosi (D-Calif.) did not immediately respond to a request for comment on the news.
Assad launched the Syrian civil war in 2011 by violently responding to peaceful protests against his family's repressive, decades-long rule. Since then, human rights groups have said he has committed war crimes, including by deliberately massacring, torturing and starving civilians. The war has resulted in the deaths of some 500,000 Syrians and created 5 million Syrian refugees, in addition to the security vacuum that the Islamic State group has exploited. Those human rights groups have documented human rights violations by some of the organizations fighting him as well.
Under former President Barack Obama, the United States called for Assad's removal, provided aid to anti-Assad militias and at one point considered bombing Assad's government in response to its alleged use of chemical weapons on its own people.
Gabbard told Tapper she decided to visit the country "really because of the suffering of the Syrian people that has been weighing heavily on my heart."
"I wanted to see if there was in some small way a way that I could express the love and the aloha and the care that the American people have for the people of Syria, and to see first-hand what was happening there, to see that situation there," she said.
Gabbard has been an outspoken critic of U.S. support for Syrian militias fighting Assad, some of which are Islamist or fight alongside al Qaeda's branch in Syria. Gabbard has decried U.S. aid, which is sometimes routed covertly through countries like Saudi Arabia and Turkey, as tantamount to "arming terrorists." She has introduced legislation that would prohibit the federal government from providing "weapons, cash, intelligence or any support" not only to al Qaeda, ISIS or other extremist groups, but other militias "cooperating" with them.
(The U.S. is already legally banned from supporting designated terrorist organizations like al Qaeda and ISIS.)
Critics argue that Gabbard is parroting the talking points of Assad and the Russian government backing him, ignoring the importance of Syrian insurgents to the fight against ISIS and any chance the country can avoid an authoritarian future.
In fact, the U.S. has taken a hard line against many of the same militant groups Gabbard claims it's arming. It has targeted ISIS in Syria for over two years, slashing its territory by more than half and cutting off its supplies of foreign fighters and revenue. By contrast, many experts argue that Assad has avoided conflict with the terror group and note that the perception of U.S. support for his rule could strengthen extremists' appeal among frustrated Syrian civilians.
"Whatever you think of President Assad, the fact is that he is the president of Syria," Gabbard responded when asked why she would meet with such a brutal dictator. "In order for any peace agreement, in order for any possibility of a viable peace agreement to occur, there has to be a conversation with him."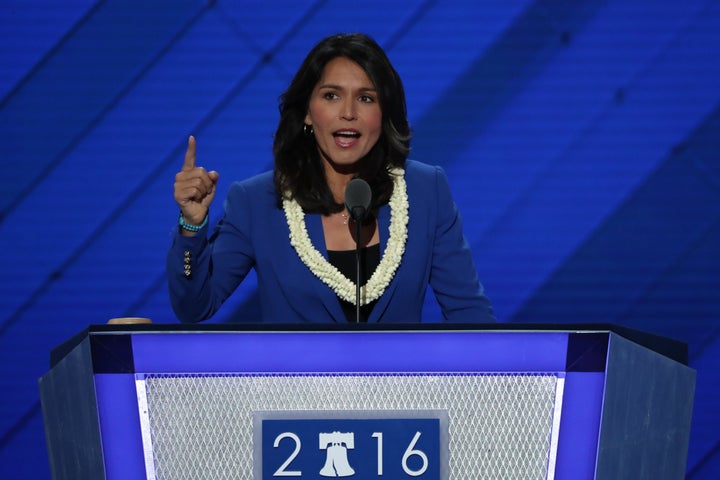 Gabbard also claimed that the Syrian people she met on her trip told her, "There are no moderate rebels."
"Regardless of the name of these groups, the strongest fighting force on the ground is al Nusra, or al Qaeda, and ISIS. That is a fact," she claimed. "There are a number of different other groups. All of them are essentially fighting alongside, with or under the command of the strongest group that's trying to overthrow Assad."
Gabbard, an Iraq War veteran who backed Sen. Bernie Sanders (I-Vt.) in the 2016 Democratic presidential primary, has made no secret of her controversial views on the Middle East ― and even Islam. She has criticized former President Barack Obama for refusing to use the phrase "radical Islam" to discuss jihadist groups and opposes admitting Syrian refugees to the United States.
In November, Gabbard met with then-President-elect Donald Trump to discuss Syria and terrorism policy. Trump has also argued that keeping Assad in power may be better for U.S. interests than continuing to back opposition militias.
Igor Bobic and Akbar Ahmed contributed reporting. This story was developing and has been updated throughout.
Before You Go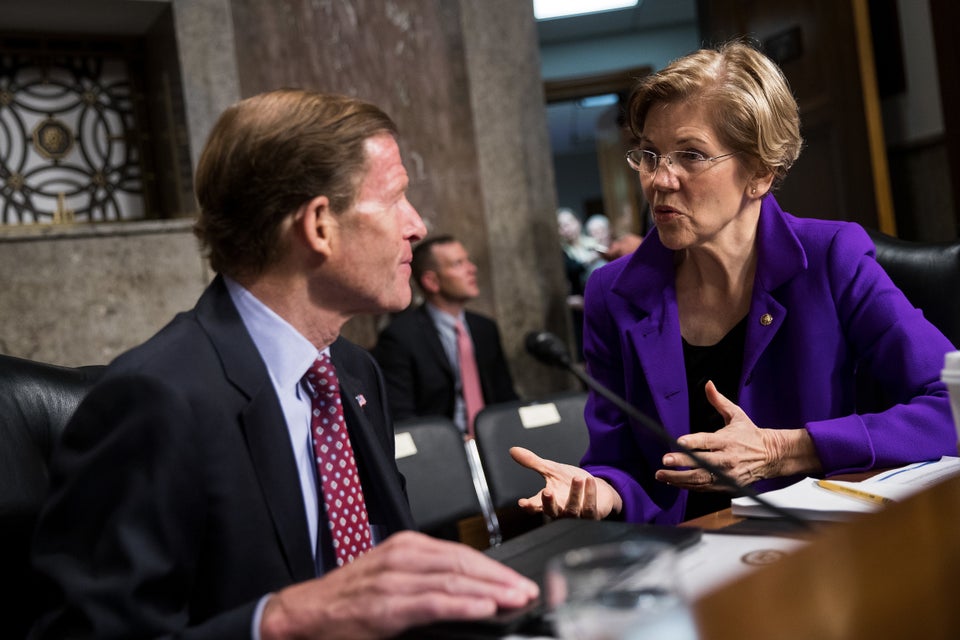 2017 Scenes From Congress & Capitol Hill
Popular in the Community