 U.S. Rep.-elect Tulsi Gabbard, elected last month to represent Hawaii's 2nd Congressional District, has put her name into consideration for the U.S. Senate vacancy left by the death last week of U.S. Sen. Daniel Inouye.
Gabbard on Monday joined a field of 14 that includes U.S. Rep. Colleen Hanabusa, Inouye's personal choice to succeed him, and Lt. Gov. Brian Schatz, considered among the front-runners in political circles to succeed Inouye, who died Dec. 17 of respiratory complications.
The deadline to apply was 5 p.m. Monday.
"I think it's clear that a lot of the forces that supported Sen. Inouye are split between Brian Schatz and Congresswoman Hanabusa, and they are both lobbying for the position," said John Hart, chairman of the Department of Communication at Hawaii Pacific University. "I would think it would be likely that they're both on the list, and it will be interesting to see who No. 3 is and how the governor responds.
"He's his own man, and it's quite possible, at the end of the day, he could go with No. 3."
Dante Carpenter, state Democratic Party chairman, said the list of names would be released Wednesday, when the party's state central committee meets to select three names to forward to Gov. Neil Abercrombie.
By law the governor must make an appointment from the list of three names.
U.S. Senate Majority Leader Harry Reid, D-Nev., has asked Abercrombie to appoint a replacement quickly to ensure Hawaii is fully represented as Congress makes end-of-the-year votes on important issues including the so-called "fiscal cliff."
Others who have announced their application for the vacancy include Ed Case, the former congressman who served four years before unsuccessfully challenging U.S. Sen. Dan Akaka in 2006; Blake Oshiro, a former state representative and Abercrombie's deputy chief of staff; and state Sens.
Will Espero (D, Ewa Beach-Iroquois Point) and Donna Mercado Kim (D, Kalihi Valley-Moanalua-Halawa).
Esther Kia'aina, deputy director at the state Department of Land and Natural Resources, who ran for Congress this year, and Tony Gill, chairman of the Oahu Democrats, also have announced their applications.
Gabbard, 31, a captain in the Hawaii National Guard, said Inouye's service in World War II and then in public office inspired a generation of young soldiers like herself.
"In the military, I learned that 'leadership' means raising your hand and volunteering for the tough, important assignments," Gabbard said in a news release. "In that spirit, I place my name into consideration for the seat he filled so ably."
Inouye, in a letter delivered prior to his death to Abercrombie, called it his "last wish" that Hanabusa be appointed as his successor.
"It's the highest compliment, I believe, anyone could pay me," Hanabusa said in an interview Monday.
"There is no question, I think, in anyone's mind that the senator loved Hawaii ... and for him to say what he said about me, it's like entrusting your most beloved thing to someone.
"It's an extremely humbling experience, but one that I hope he never regrets having said."
Hanabusa, 61, is scheduled to return to Washington, D.C., this morning and, if appointed by Abercrombie, could be sworn in by week's end.
Hanabusa, who has represented Hawaii's 1st Congressional District since 2011, said her understanding of the details related to the fiscal cliff and other issues gives her an advantage over other potential candidates.
"It's not just using some jargon or a catchphrase, it is understanding what is involved in all of that," she said. "It is knowing what's at stake and knowing the different elements of it, I believe, that puts me in a different position."
Some Democrats have privately expressed reservations about a Hanabusa appointment because it would trigger a winner-take-all special election to fill her U.S. House seat, making it vulnerable to a Republican gain.
Others say Schatz, 40, gives Hawaii Democrats a youthful option who could build seniority in the Senate over several decades, as did Inouye.
Schatz declined comment Monday.
Abercrombie said last week he would give "every weight" to Inouye's request but that he did not want to preclude the work of the party's state central committee by indicating any sort of preference.
"I don't even know that Rep. Hanabusa's name will come forward," he said. "The central committee will take everything into consideration, I'm sure, including the senator's opinions and perspective."
There are more than 75 members on the central committee.
Each applicant will get two minutes to make his or her pitch to the committee at Wednesday's meeting.
"I think when the governor said that he did not know if Hanabusa would even be on the list, that was his way of saying, 'I'm in charge and it's open,' and so people applied," said Hart of HPU.
An appointee who is sworn in before the incoming class of 2013 lawmakers, which includes U.S. Sen.-elect Mazie Hirono, who is succeeding the retiring U.S. Sen. Daniel Akaka, would begin accumulating seniority immediately and be considered Hawaii's senior senator.
APPLICANTS FOR INOUYE'S SEAT
Here are people who said they have applied to fill the vacancy left by the death of U.S. Sen. Daniel Inouye. The Hawaii Demo?cratic Party said it will disclose the list of all 14 applicants when the party's state central committee meets Wednesday to select three names to forward to Gov. Neil Abercrombie, who will select a person to serve until 2014.
--Ed Case, former U.S. representative, 2nd District
--State Sen. Will Espero (D, Ewa Beach-Iroquois Point)
--U.S. Rep.-elect Tulsi Gabbard, 2nd District
--Tony Gill, chairman, Oahu Democrats
--U.S. Rep. Colleen Hanabusa, 1st District
--Esther Kia'aina, deputy director, state Department of Land and Natural Resources
--State Sen. Donna Mercado Kim (D, Kalihi Valley-Moanalua-Halawa)
--Blake Oshiro, deputy chief of staff, Office of the Governor
--Lt. Gov. Brian Schatz ___
(c)2012 The Honolulu Star-Advertiser
Distributed by MCT Information Services
Before You Go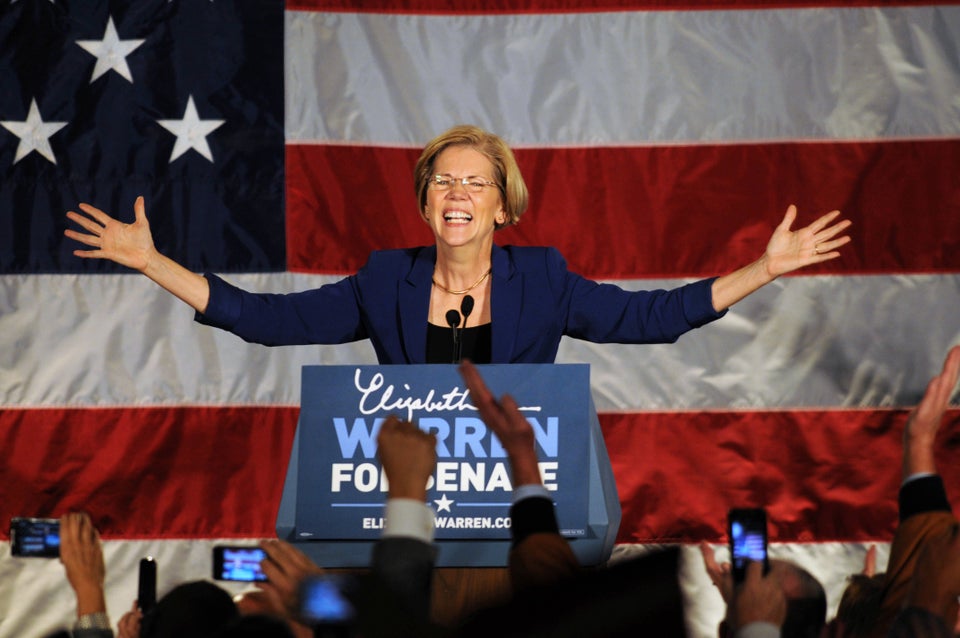 Women In The U.S. Senate
Popular in the Community