U.S. Rep. Tulsi Gabbard (D-HI) skipped an August hearing on veterans care in Hawaii so she could go surfing for a Yahoo News profile.
Despite telling Civil Beat at the time she missed the hearing because she was delayed in another meeting, Gabbard's staff acknowledged last week that she was instead tied up with a Yahoo News reporter in Waikiki where she was surfing for a video the news outlet was shooting.
Gabbard had thought she would be able to do both the interview and participate in the VA hearing. But her office said a traffic jam made that impossible.
The video aired on the news website Sept. 19, a month later, and last week Gabbard also included clips from it in a fundraising message she sent out.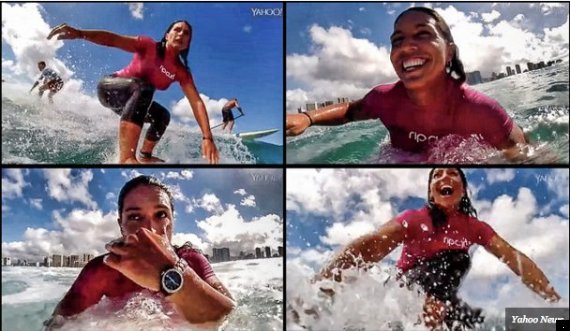 It's not unusual for Gabbard to be interviewed by a major media outlet. In her nearly two years in Congress, she has become a favorite of the national media, especially as a passionate advocate for veterans issues, appearing on network talk shows and in news stories.
But on Aug. 19, Gabbard failed to show up at a U.S. Senate field hearing in Honolulu about the treatment of veterans and problems in the Veterans Administration. The hearing was being chaired by Hawaii Sen. Mazie Hirono (D), who had expected Gabbard to attend and did not know the congresswoman was not going to show up.
After the hearing, Gabbard's staff ignored repeated media inquiries as to why she was not at the hearing. Four days later, Gabbard's staff at first said she was at a meeting then said "an earlier commitment ran very late." No one mentioned the Yahoo News interview or that she was surfing much of the morning.
But on Friday, in response to questions from Civil Beat, Gabbard's press secretary Heather Fluit said in an email that the congresswoman was in fact in Waikiki on an interview and video shoot with Yahoo News reporter Chris Moody.
Asked why she felt it was more important to go surfing with Yahoo News than to participate in the VA hearing, Fluit said that the congresswoman had thought she could do both:
Unfortunately, due to the Yahoo News crew getting stuck in rush hour traffic, Congresswoman Gabbard's interview with Yahoo News started and ended late. This led to her being so behind schedule that she wouldn't have been able to get to Senator Hirono's hearing until near the end. Once Congresswoman Gabbard realized how late she would be, she decided not to go because she felt it would have been disruptive and disrespectful to just show up at the end.
Fluit added in her email response, "We are reviewing our scheduling process and Congresswoman Gabbard regrets that she was unable to attend."
In a 'Wet Suit and Rashguard'
The congresswoman had planned to be at the Oahu Veterans Center in Salt Lake, where Hirono was chairing her first Senate Veterans' Affairs Committee field hearing. The hearing was aired live on Olelo Community Access. A name plate was set for Gabbard, and Hirono told attendees that Gabbard, who represents the 2nd Congressional District, was expected.
But Gabbard did not show, and some veterans, who aired gripes about the VA's recent failings, were also disappointed by Gabbard's absence.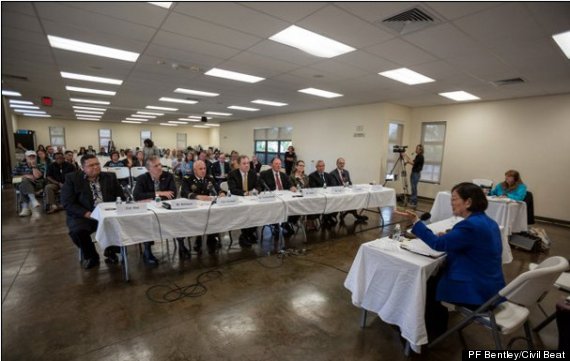 Sen. Mazie Hirono speaking to a panel of VA staff at a Senate Veteran's Affairs Committee Field Hearing at the Oahu Veterans Center, Aug. 19.
Gabbard's office acknowledged the Yahoo News connection only after Civil Beat pointed out that a review of the video story showed that the footage was shot on the same day as the Senate hearing.
A shot of Gabbard's watch in the video indicates that she was paddling away from shore at about 9:15 a.m. The hearing in Salt Lake started at 10 a.m. and ran until 1 p.m.
Tweets and a Facebook post regarding Gabbard's visit to a Kailua school, which was featured in the video, also were posted on Aug. 19.
Moody begins his article with Gabbard doing yoga "on Oahu's windy eastern shore" before sunrise. One hour later, Gabbard is "geared up in a wet suit and rashguard, a surfboard under her arm, looking out over the surf near Waikiki."
Moody writes later, "In a few hours she'll be back on land, ready for a round of meetings with constituents. Then it's back on a plane to stateside fundraisers as part of her duties with the Democratic National Committee."
Gabbard: Combat Veteran and Surfer
Fluit told Civil Beat her boss "had planned to participate in the Yahoo News interview to advocate for Hawaii's veterans to millions of people around the country and promote Hawaii as a wonderful visitors destination, as well as attend Senator Hirono's Senate hearing."
The press secretary also pointed out that the congresswoman missed a Senate hearing and not a House hearing. She explained, "The House holds its own hearings on veterans issues, and Congresswoman Gabbard has been a leader in the House efforts to address issues concerning veterans, including holding numerous town halls across the state and advocating for veterans in the national media."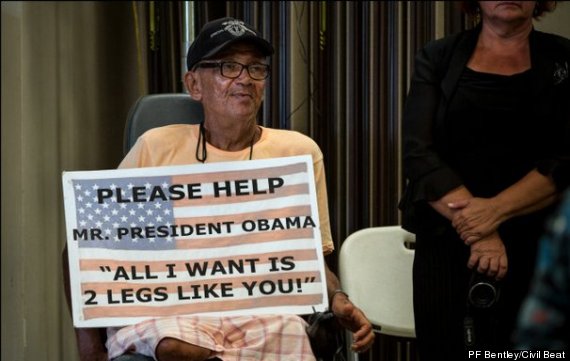 A wheelchair-bound veteran in the audience at the Senate Veteran's Affairs Committee field hearing.
In fact, in June, Gabbard, an officer in the Hawaii Army National Guard who has served two tours of combat duty in the Middle East, demanded that Wayne Pfeffer, director of the VA Pacific Islands Health Care System, be fired for "misinformation and incompetency."
Pfeffer participated in Hirono's hearing, and it was Gabbard's chance to confront him and other high-ranking VA officials face-to-face to voice her displeasure.
In the Yahoo video, Gabbard does talk about veterans issues, but does not mention Pfeffer or her anger with VA leaders. But the video focuses primarily on Gabbard's love of surfing.
Moody, who declined to speak with Civil Beat, explains in his story that he visited Gabbard during summer recess as part of a new Yahoo News series called Extreme Recess that aims "to document how some of Congress' more colorful characters spend their time at home."
The Yahoo News video also shows Gabbard and Moody enjoying shave ice — a famous Hawaii treat — at the Island Snow restaurant in Kailua. The congresswoman is also seen posing with students from nearby Kainalu Elementary School.
Yahoo News was expected to cover Hirono's VA hearing, but the reporter didn't show up.
In the video, Gabbard does discuss her commitment to veterans issues with Moody:
MOODY: Over the past year we've seen a lot of problems with the VA system, a lot veterans really struggling to get the care that they need. There's been some changes. Has that been enough as far as you've seen?
GABBARD: Not even scratching the surface.
MOODY: What more needs to be done?
GABBARD: We were able to pass a bill just before Congress left session in August, and that bill sought to do some quick, short fixes. It passes a few different policy changes that could help to reshape the VA. But, really, the entire VA bureaucracy needs to be overhauled and completely reworked. I think one of the major problems that we've seen is a VA system that looks out first for the VA system rather than looking out for what's best for out veterans. You end up with veterans on Maui, or on Kauai or Molokai, on these different islands, who are not being reimbursed for their travel expenses, for example, to fly to Honolulu to go and see the doctor. And you end up with something that is an incredible cost to these veterans and sometimes it is cost-prohibitive for them to go and see the doctor. It's coming out of their pockets. It's not right.
Eleven days after Yahoo News published its profile, Gabbard sent out an email blast to supporters asking for campaign contributions. It was headlined "Extreme Recess" and includes a link to the surf video.
"It's such a great feeling coming back to Hawai'i, jumping in the ocean for a surf, and reconnecting with this amazing place I call home," Gabbard says in the Sept. 30 request for money. "It leaves me refreshed, inspired, and motivated as I get to work fighting for our communities and beautiful 'aina."
Gabbard goes on to explain, "Yahoo News recently came out to Hawai'i and made a fun video showcasing our incredible state and some of the things I am working on. So please, take a moment to check out this video, and chip in now to help me ensure we keep strong leaders in Congress to protect our incredible home."
Calling all HuffPost superfans!
Sign up for membership to become a founding member and help shape HuffPost's next chapter
BEFORE YOU GO
PHOTO GALLERY
Political Tattoos That Really Suck