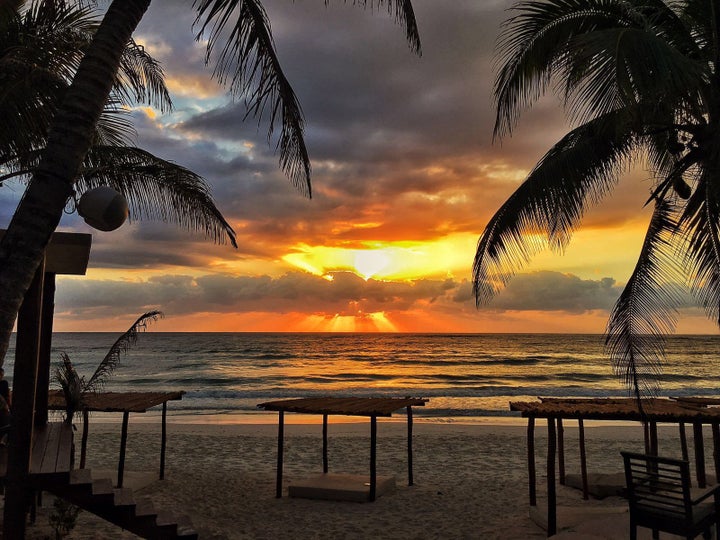 "The hotel's on fire!" yells my friend. It's noon on a Saturday in Tulum, Mexico. I'm in a van outside La Zebra Hotel, having just returned from a morning scuba-dive trip to the nearby Cenotes Sac Atun caverns. Forty friends have traveled south of the border—from New Orleans to Aspen and San Francisco—for a friend's 40 weekend bash. But what was originally slated as a morning of yoga and scuba has quickly turned to mayhem and shock.
We scramble out of the dive van, confused, and watch, dazed, as Mexican workers at La Zebra run from the property, some screaming, many in tears. Several zigzag from the main lobby to the palapas, buckets of water in hand. My room is visible from the street and engulfed by a terrifying tango of flames. I quickly take mental inventory of what's inside and picture my work computer and passport in a rubble of ash. But as a group of Mexican workers gather around a woman in distress—battling a panic or heart attack—luggage is quickly forgotten as we start yelling for the ER doc that's part of our group. Once the local is safely in a car to the hospital, my Cenotes dive buddy is determined to save his luggage. Against the orders of management, he disappears into a wall of smoke. I hold his girlfriend's hand as we anxiously await his return. She's crying. My hand shakes while clutching hers.
The night prior was magical. We dined at Sanara, happily stripped of the mundane routines of daily lives: kids, desks, the constant ping of mobile phones. The lady of the hour, an entrepreneur who just sold her retail business, and her husband, a trader, toasted a weekend of friendship and fun. Our group was the American cross-section of 40-somethings: lawyers, business owners, doctors, a musician, a producer, several creative types, moms, and dads. Most were either approaching or over 40, all sharing the underlying commonality of finally realizing we're not on this planet forever. Some are in the midst of middle-age awakenings—or crises—and we're here to rally our youthful spirit. Overindulgent, yes (16 people signed up for scuba and snorkeling, yet only three of us answered the morning's wake-up call). But during this first night, it's quickly apparent that the love in the room—friendships new, old, fraught, and restored—will be a siren of both sass and serenity while merrymaking in Mexico.
As such, the fire is a knee-jerk turn of events. During the blaze, my dive buddy re-emerges unscathed, luggage in tow, after bolting from our van. I'm particularly concerned for my roommate—a new friend who had broken her nose the night before, during a fall (no joke, This is 40-esque merrymaking). Her plans were to sleep in. I rush around aimlessly calling her name. A severely diabetic friend has mandatory meds that have most likely vaporized. As local fire trucks arrive, the level of panic starts to lessen. A large man, drenched with sweat, emerges from the blaze. "Senoritas, senoritas!" He's waving my computer bag—asking whose it may be. I run to him, and before I can properly thank him he's shouting, "Mas, mas?" In Spanglish I try to tell him it's too hot, please don't go back. But he does, re-emerging (bless him) with most of my luggage. Others in our group are not so lucky. Yet material concerns feel trivial. We're reassured that no one was injured in the fire.
Managers of the hotel are incredibly organized. Though their livelihood is ablaze, their commitment to service never waivers. They arrange for vehicles to take hotel guests to their sister property, El Pez. We gather on the beachfront, relief visibly embracing the crew. Hugs. High fives. Still, some tears. Videos of the fire. The staff brings us a bottle of Don Julio Blanco, shot glasses, and ceviche. We partake. The birthday girl arrives. Shaken. But given a lifelong resiliency and a practiced grace under pressure, a smile quickly emerges. She had planned a jungle-themed "White Party" for the eve. We collectively agree the party must go on. Yet where to stay? The event planner books us at the gorgeous Kore Tulum Retreat & Spa Resort, formerly the all-gay Adonis Resort and Spa. On the short drive there, packed in a van, Talking Heads' "Burning Down the House" is blared. Mas tequila. Some have lost all luggage and passports. Yet there's euphoria that we're all okay. Carpe diem.
We prep for the formal birthday bash, sharing clothes and toiletries with those that have lost theirs. The white party becomes the phoenix of a fiesta rising from the ashes of our morning. Now also stripped of possessions thought important, dancing feels divine. Tribal. Some have only the clothes on their backs. One is in white pants and slippers borrowed from the hotel. A cheeky British DJ plays songs with fire themes. The following morning we hop hotels again—it's not easy booking 40 people on the fly—and it's arranged we take a private yacht to Playa Del Carmen and the new Thompson Hotel. The demands of the day are sun and fun. However, at the end of what becomes a booze cruise, the small boat meant to shuttle us to the beach in Playa gets stuck. After hauling the first group from the yacht, it unsuccessfully battles a sandbar. The tender survivors make it to the Thompson, and one walks through the streets of Playa del Carmen in nothing but a mask, snorkel, and bathing suit. Entering the lobby of the Thompson as such, they turn him away before realizing he's a "La Zebra." He's told to take a seat, served a cocktail, and his feet are wiped with a warm washcloth.
"I mean, you can't make this up!" exclaims our host, toasting our last dinner at the posh Thompson. We dine, cocktail, dance. At the beginning of the trip, a What'sApp group thread had been established. Messages shifted from welcome notes pre-fire, to panic during the blaze, to post-fire jokes and photos. Today, nearly six months later, the thread remains. The Tulum crew shares news, photos (a new nose!), and birthday wishes—a constant reminder of what's important, and how fragile, unsuspecting, and wondrous life can be. The La Zebra hotel flexed its own resiliency, rebuilding, with the aid of the community, in record time. The property has invited all of us back in early 2017. Our host has billed it the "Tulum Reunion Tour." The fire of friendship—ignited by our wild 40 and fabulous weekend—will undoubtedly burn bright.
Erin Lentz, a travel and lifestyle writer based in Aspen, Colorado, is the founder of TAG Media and serves on the board of the Aspen Institute's Aspen Words.
Related
Popular in the Community