Back in January, Tumblr made headlines when it announced that it was growing at nearly a quarter billion impressions every week. The popular blogging platform mixes the traditional blog with the simplicity of Twitter and ties it all together with barebones social networking features.
With just 7 simple ways to post (text, photo, quote, link, chat, audio and video) and a love for animated GIFs, it's proven even easier than Blogger or WordPress as a way to publish all sorts of media on the Web. Like a more visual Twitter, Tumblr and its community's love for cats, animated GIFs, Carl Sagan and the Web's ephemera have spawned delightful sites like Hovering Art Directors, Scanwiches, Awesome Parents and Hungover Owls as well as more "official" accounts from the likes of NPR's Fresh Air, New Yorker, Newsweek, and The Atlantic. And, HuffPost Tech, of course!
It's a fun, casual community without Facebook's inanity or Twitter's churn, and we've got 16 must-know tips and tricks for everyone from beginners to pros. Read on!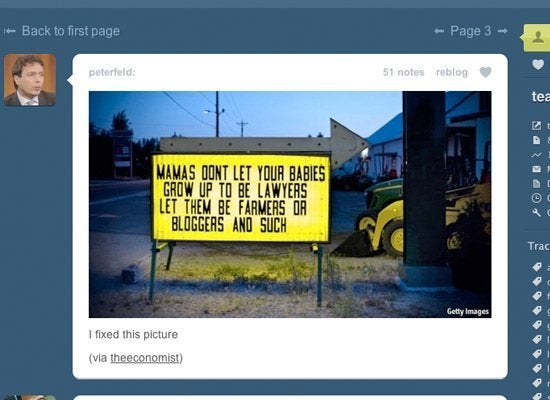 Tumblr Tips: 16 Things You Need To Know
Support HuffPost
The Stakes Have Never Been Higher
Related
Popular in the Community