Ever since the tuna noodle casserole became the darling of the dinner table in the late fifties and sixties, it has come to be regarded as an economical dish. That's because a six ounce can could easily feed a family of four when other ingredients like macaroni and canned peas were added and combined with canned cream of mushroom soup. It was served with pride (albeit not with great taste) by many home cooks.
Over the years research has shown that eating more fish, like tuna, which is high in Omega 3, vitamins and minerals is good for heart health and has been shown to lower blood pressure. According to the National Fisheries Institute, the U.S. and Japan are two of the world's largest consumers of tuna and 17% of American households eat canned tuna in the form or sandwiches at least once a week. Most of that is skipjack and albacore tuna.
But if you think outside the can, tuna can have gourmet possibilities. Sure, we are all looking for ways to trim our food bills and a can of tuna packed in either water or olive oil can be turned into something really special like whole wheat spaghetti with tuna and capers in a lemon sauce. Or drain a can and puree it until smooth in a food processor or blender. Add some diced green onion, a squirt of lemon juice, salt and pepper and serve it on toast for a quick lunch or appetizer. For a great salad, drain a can of chunk style tuna and flake it in a bowl. Stir in two tablespoons of fresh parsley, a tablespoon of fresh dill and a cup of chickpeas. Toss it all with 4 tablespoons of olive oil and 2 tablespoons of white vinegar. Add salt and pepper for a great tasting salad.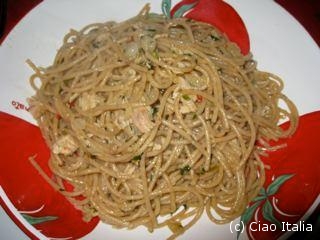 Spaghetti with Tuna, Capers and Lemon
1 medium onion, peeled and quartered
2 cloves garlic, peeled
3 tablespoons capers in brine or salt, rinsed well and drained
1-teaspoon hot red pepper flakes or more to taste
Two 6 ounce cans solid tuna in olive oil or one 10.5 ounce jar Marinella brand tuna in olive oil
1-cup fresh or frozen peas
1 1/2 teaspoons dried oregano
1-teaspoon fine sea salt
Grinding coarse black pepper
1/4-cup fresh lemon juice
1-pound whole-wheat spaghetti
2 tablespoons minced parsley
Let your food processor do the work of mincing together the onion, garlic, and capers. The mixture should be very fine. No processor? Mince everything together by hand using a chef's knife.
Pour 1 tablespoon of the olive oil from the jar or can of tuna into a large saute pan. Reserve the rest. Heat the oil, stir in the minced mixture and cook until the onion softens. Stir in the red pepper flakes and the tuna with all of the oil. Flake the tuna with a fork and continue to cook over medium heat for 2 minutes. Stir in the peas, oregano, salt, pepper and lemon juice. Set aside, cover and keep warm.
Cook the spaghetti in 4 quarts of rapidly boiling salted water until it is al dente, cooked through but still firm. Reserve two tablespoons of the cooking water. Drain the spaghetti and transfer it and the reserved water to the saute pan. Raise the heat to medium high and stir everything together until heated through. Sprinkle on the parsley and serve.