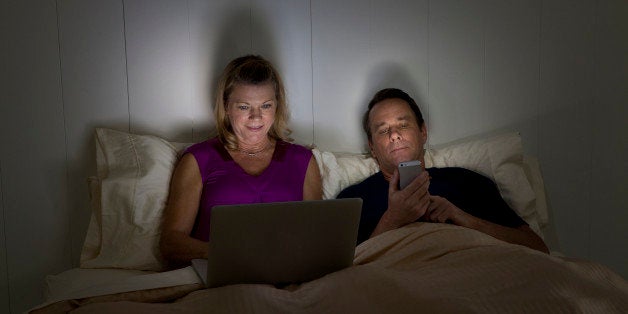 Technology's reach extends across multiple areas of daily life, including intimate relationships. While technological advances, such as online dating, are responsible for creating many relationships, technology does not necessarily impact all relationships positively. According to a recent study by the Pew Research Center's Internet and American Life Project, 25 percent of Americans, and 42 percent of young people ages 18 to 29, claim their partner has been distracted by their cell phone. Technological distractions are not only common in public venues, such as movie theaters and restaurants, but in the most private location we frequent: the bedroom.
Yes, ladies and gentlemen, couples are tuning in to their technology and turning off each other in the bedroom. According to a recent poll by Durex, orgasms are no match for Facebook, phone calls, or text messaging. The Durex poll indicates that couples are distracted by and using technology during sex. Rather than getting it on with their partners, 12 percent of individuals answer phone calls, 10 percent respond to text messages and five percent log in to Facebook.
Notwithstanding the shock associated with learning that so many people are paying more attention to a mobile device than their partner while getting it on, technology use during sex is highly problematic. Given the level of distraction in the bedroom, many individuals probably cannot get much satisfaction. For women, communication with a partner, and not the digital kind is particularly critical for ensuring climax. Couples may not only be unable to achieve sexual, but emotional satisfaction as well. Intimate moments are very important for ensuring emotional closeness between partners and cannot be achieved when individuals are getting into bed both with their partners and technology.
Although many intimate moments are no longer quite as intimate due to technology, couples can modify their behavior.To ensure intimacy and sexual satisfaction, couples need to keep the phone out of the bedroom at least when Barry White is playing. Remember, tune off and get turned on.
Calling all HuffPost superfans!
Sign up for membership to become a founding member and help shape HuffPost's next chapter