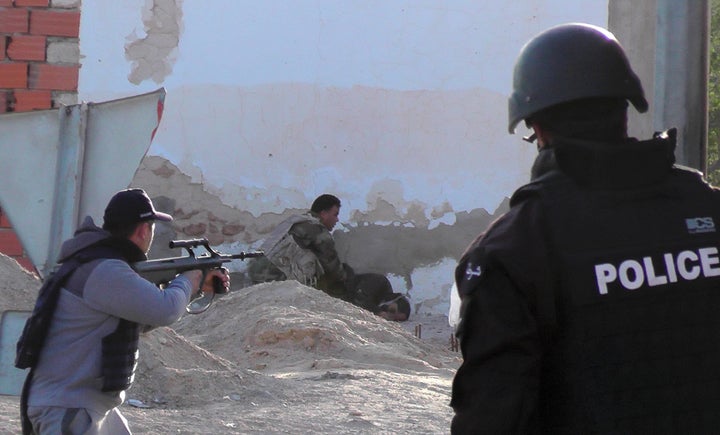 Clashes broke out in the Tunisian city of Ben Guerdane, near the border with Libya, on Monday, leaving 53 people dead. While the Tunisian government has yet to identify the attackers, two websites affiliated with the self-described Islamic State claim that its militants were involved.
Tunisia is considered one of the more stable countries in an increasingly vulnerable North Africa. But ISIS' increased presence in Libya is of growing concern to Tunisia, particularly after terrorist attacks in the country late last year killed dozens of tourists. Tunisian authorities stated at the time that the attackers -- ISIS extremists -- had been trained in Libya.
In response, Tunisia has ramped up its security and surveillance efforts. In November, the country established a national intelligence agency to keep tabs on terrorist threats. Last month, it completed phase one of a massive barrier along its border with Libya, in an effort to clog the flow of Islamist militants, according to Tunisian Defense Minister Farhat Horchani.
France's foreign ministry said in a statement that the Ben Guerdane attack "just reinforces the urgent need for a political solution in Libya."
Tunisian President Beji Caid Essebsi reportedly described Monday's attack as "unprecedented," and said that "its goal was probably to take control of this area and to announce a new emirate."
"The majority of Tunisians are now in a state of war against barbarism," he said.
As the details of Monday's border attacks were emerging, the official Facebook page of Tounes 24, a Tunisian TV channel, posted a photo that showed a group of four men in military uniforms smiling for the camera, as two more men lie dead at their feet.
The caption reads, "A selfie with ISIS members behind me, may God protect you and your men, dear Ben Guerdane."
The soldier holding the smartphone has an expression often seen in selfies: He's grinning, his eyebrows are slightly raised and his eyes are wide, as if in disbelief. Three other soldiers are lined up behind him; one is smirking, one's sticking out his tongue and giving a thumbs up, and the other is smiling. Lying on the ground are the two dead bodies.
The Tunisian Ministry of Defense would not comment to The WorldPost on the photograph, nor would it confirm whether the men in the photo are soldiers. However, the two dead men are dressed in clothing similar to that worn by slain militants in official photographs later released by the ministry. Tunisian Prime Minister Habib Essid said Tuesday that state forces had killed 36 militants and captured seven others the day before.
While the photo's authenticity has not been confirmed, reaction has been rapid and vocal on social media in French- and Arabic-speaking Tunisian communities.
Many Tunisians regarded the selfie, along with photographs released from Monday's clashes, as a hopeful sign for Tunisian forces' ability to curb the threat of ISIS militants in the country. Social media users left comments like "What a lovely picture, may God protect our army and security," and "Bravo, may God grant victory to our army and our children," below the image.
Some have apparently gone so far as to put the selfie on T-shirts, with a bold black caption reading "I love jaichi," or "I love my army."
Others have expressed outrage at what they characterize as the gory and asinine aspects of the image. One woman described the selfie as "beyond morbid" and "disgusting." Some commenters suggested that the photo seems to reflect an appropriation of the practices of Islamic militants, who routinely post gruesome photos and videos of their hostages and victims. One citizen remorsefully wrote on Facebook that there is "no difference between ISIS and us." Other posts on social media remarked that it was an "interesting time to take a selfie."
No difference between ISIS and us. Death makes us smile. Death makes us happy and proud. #shame #selfie_with_dead_terrorists_ #ISIS_is_in_us #terrorism_against_terrorism
Someone who takes a selfie with dead bodies while smiling is just as insane and dangerous as the terrorists that he has just killed.
A #selfie with dead bodies, even if they were killers, is beyond morbid, it's bad taste, disgusting. #Tunisia #BenGuerdane
Current estimates suggest that there are 6,500 militants in Libya. The militant group's increasing strength in Libya has not only stoked alarm in Tunisia: Western officials from France, Italy and the United States have all expressed deep concern in the past months.
U.S. warplanes recently bombed a coastal town in Libya in hopes of killing a Tunisian militant commander linked to last year's terrorist attacks. And according to The New York Times, the Pentagon has readied new plans to stem ISIS' growth in Libya.
A version of this post first appeared on HuffPost Tunisia. It has been translated into English and edited for clarity.
Support HuffPost
The Stakes Have Never Been Higher
Related
Popular in the Community