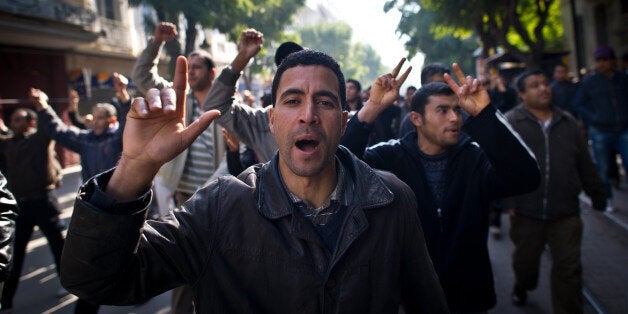 (Editor's Note: Jan. 14 is the fifth anniversary of the resignation of Tunisian President Ben Ali in the wake of Tunisia's Jasmine Revolution.)
TUNIS, Tunisia -- Jan. 14. Five years later.
"My country destroyed me."
Those were Amine's words when he came out of jail. Amine, who used a pseudonym when telling his story, is 19 years old. Every year, about 50 Tunisians like him are arrested and thrown in jail because of Article 230 of the country's penal code. Their misdeed? Being gay.
Amine revealed the story of his imprisonment in a Facebook post: torture at the hands of the police, beatings at the hands of the prison guards, the physical and psychological abuse of everyone from jail doctors to cellmates.
At first, I refused to undergo the anal test in the doctor's office, but because I refused I was beaten to the ground and tortured both physically and mentally. I had no choice but to give in.
Before the doctor introduced an instrument into Amine's anus against his will, he made sure to specify, not without a moralizing tone, that the young man should "bend down as if you were about to pray."
Amine's long testimony paints the picture of a prison system that is in no way better than that of Ben Ali, the dictator overthrown in the Arab Spring five years ago.
Every time they [the prison guards] were bored, they had us dragged out of our cells and brought to them, for their enjoyment ... then, more than 15 guards would beat us up with sticks, forcing us to kneel in order to kick us more comfortably. They would call us names the whole time. After that we were hung to the ceiling and underwent water torture. They would only let us go when we passed out.
Five years ago, the Tunisian revolution was sparked out of an uncontrollable urge for dignity, freedom and social justice -- none of which have been achieved.
In the Tunisia of Beji Caid Essebsi, our president since December 2014, no one is safe from the threat of marginalization. Those he liked to call "his children" during the presidential campaign are living hell on Earth since the man was sworn in. Well, not all of them. One of his children is actually doing well -- his son.
Last week, the 89-year-old president violated the constitution by attending the inaugural congress of his own party, Nidaa Tounes. Article 76 of the constitution excludes him from taking part in partisan politics. Not unsurprisingly, this article was passed unanimously by the constituent assembly in 2014: after all, the source of many of the country's woes under Ben Ali's rule was the complete equation between the RCD -- Democratic Constitutional Rally -- ruling party and the Tunisian state. This authoritarian arrangement caused many Tunisians to demonstrate against the party-state system even after Ben Ali fled the country: "after the dictator, take down the dictatorship."
Cartoon of former Tunisian dictator Ben Ali chuckling over failure of the revolution that threw him out during the Arab Spring (© Z - DEBATunisie).
Ignoring all recent political gains, Caid Essebsi presided over Nidaa's congress in order to appoint his son, Hafedh, as the new head of the party.
Hafedh Caid Essebsi is an unknown figure in Tunisia's political scene. Yet as of a few days ago, he is the new heir to the country's most prominent political party. His father made sure to surround him with a regiment of seasoned advisors who share a tendency for political opportunism and a hunger for political power. In fact, many of them have been rewarded for their loyalty in the recent cabinet reshuffle.
Hafedh has no charisma, no eloquence and absolutely no political vision. The only advantage of Nidaa Tounes' newly appointed (needless to say, no elections were held) secretary general is a powerful but aging father who is ready to sacrifice the country's stability on a whim to boost his son's hitherto inexistent political career.
'It Was Better Before'
Exactly five years after the Arab Spring, Tunisia's revolutionary achievements have disappeared. Once considered the country that resisted the chaos that took over most of the MENA region after 2011, it seems to be sliding back into its pre-revolutionary situation. There is only one cause for this: poor leadership.
Nepotism, clanism, conservatism and self-centeredness are commonplace among the country's political elites. Five years ago, the Tunisian revolution was sparked out of an uncontrollable urge for dignity, freedom and social justice -- none of which have been achieved. Even worse, the meager gains that the revolutionary process brought about have slowly been lost once again. Despite this, there is still a chance for the country, and the stage is set for Tunisia's ultimate test. While the revolution allowed the toppling of a dictatorial regime by removing its head, it has yet to get rid of its system.
When dictatorships fall, the political vacuum that ensues is quickly filled by political activists from the anti-dictatorship opposition. Unfortunately, what these figures have in legitimacy they lack in competency and experience. They are unable to take on the task of reforming the state. As a result, a counter-revolutionary discourse emerges almost organically: "it was better before."
While the revolution allowed the toppling of a dictatorial regime by removing its head, it has yet to get rid of its system.
By voting for Nidaa Tounes, many Tunisian electors voted for an imagined "before" regime, one that they never had any a priori moral problem with. For a brief instant in 2011, motivated by a hope for a better future sparked by the revolutionary moment, they supported the very people who the "before" regime oppressed for decades. But after the rocky democratic transition of the last years, many had changed their mind.
In 2014, they thought that by voting for Nidaa Tounes they would be able to travel back in time and return to that "before" they longed for. Today, most of them realize that it was never better before, and that no hopeful future can be built with elements of the past.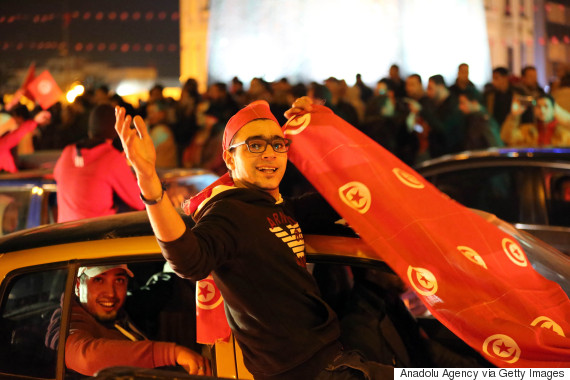 Nidaa Tounes supporters celebrate after 1st results following 2nd round of Tunisia's first democratic presidential election in 2014. (Mustafa Bag/Anadolu Agency/Getty Images)
Five years after the revolution, Tunisia is still trying to get rid of its pre-revolutionary past. Sometimes getting rid of the past is an easy, peaceful and quiet process, and sometimes it is a hard one. Tunisia chose the hard way.
While sentenced to three years in jail, Amine was released a few weeks after his arrest. Detainees for marijuana consumption will be released today -- Jan. 14. Afraa, the minor arrested for criticizing the police, has been freed, and others will follow. Hafedh might inherit his father's party, but he already knows he inherited an empty shell.
The reason? No matter how crooked the "new" politicians might be, the Tunisian people are not giving up the fight.
This post is part of a series focused on the Arab Spring, five years on. The Huffington Post invited people who felt like a part of that revolutionary moment to share their thoughts on what the movement means to them, then and now.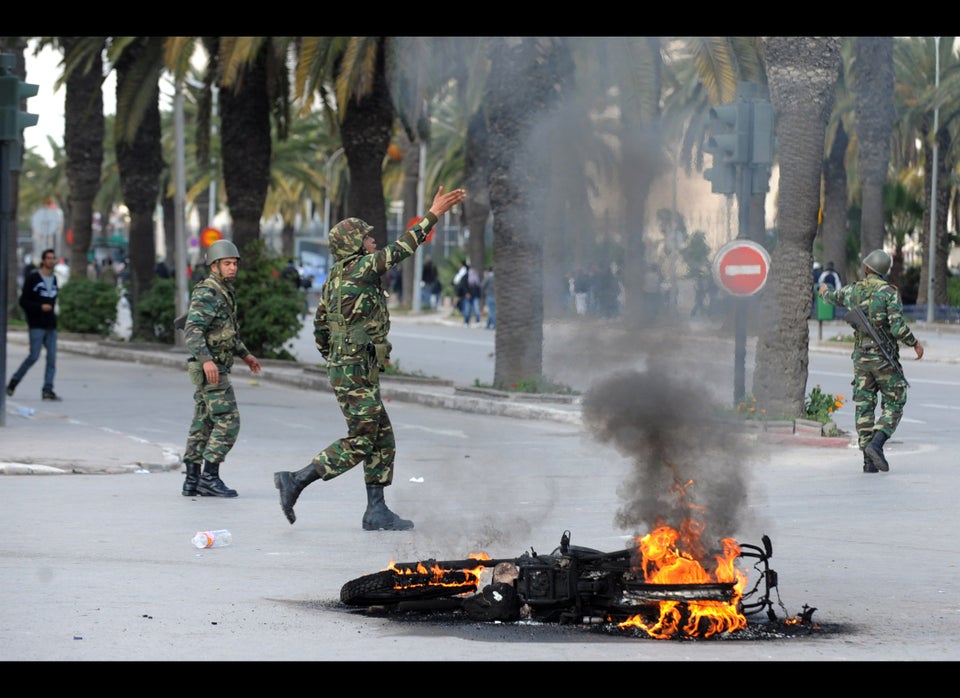 Protests In Tunisia
Support HuffPost
The Stakes Have Never Been Higher
Related
Popular in the Community