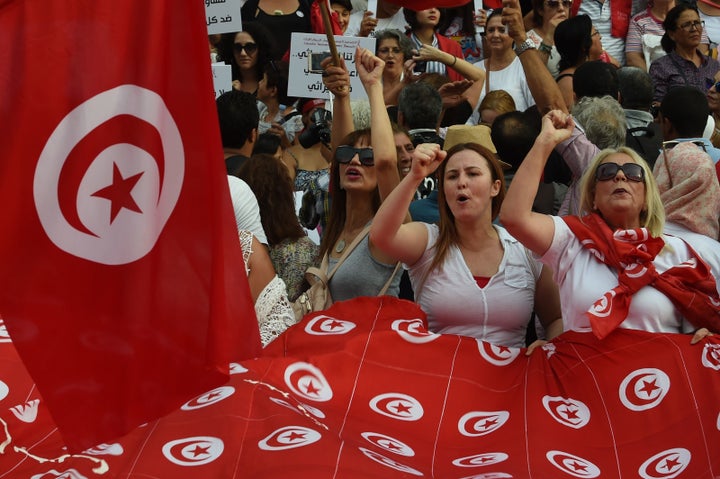 Nearly a year after a law aimed at protecting women from violence took effect in Tunisia, government officials and activists met to assess how well it's working — and the report card wasn't great.
When Law 58 passed in July 2017, Human Rights Watch hailed it as a landmark shield protecting women from violence. Tunisia leads the northern Africa region in women's rights and government representation, but at least 47 percent of the country's women are affected by domestic violence. Law 58, which took effect in February, offered sweeping protections from physical, economic and psychological abuse, and even outlawed harassment in public.
But nongovernmental organizations, government officials and survivors of domestic violence who met late last month to assess how the law is being implemented reported a host of shortcomings, from logistical barriers that prevent some women from filing complaints to social pressures that keep others from even trying.
One woman told the conference of the trouble she faced when filing a report against her husband for assault and economic exploitation. She said police at a local station sent her to a district office so she could file the complaint with a specialized unit, but authorities there turned her away. She eventually managed to take her case to court, but said she was disappointed when the judge only fined her husband 300 dinar, or roughly $100.
The story illustrates some of the common problems women in Tunisia have been facing as they seek protection under a law that seemed perfect on paper.

Hurdles To Reporting
One of the biggest barriers to reporting crimes under the new law is the lack of agents trained to handle them, conference participants said.
Nabiha Gaddechi, an Interior Ministry spokeswoman, said 264 agents have completed training and hundreds more are in the pipeline. But the new units specializing in violence against women are still short-staffed, causing hiccups in the report-filing process.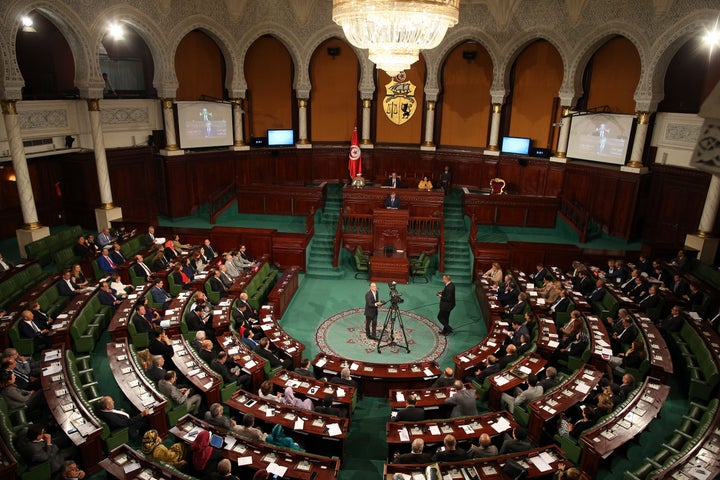 Women who head to their local police station to file domestic violence reports are often sent to district offices, which tend to be located in less accessible areas, Gaddechi said. Once there, she added, victims often aren't offered a private space to file their reports and must do so in the open, sometimes among criminal suspects awaiting processing. Women also can't file reports at night, which is when most incidents of violence occur. Gaddechi attributed these problems to a lack of staff.
Conference participants said there are also many social norms that may lead people to tolerate or even justify violence against women.
The Ministry of Religious Affairs is monitoring whether religious messages are interfering with the application of the law, according to spokesman Slim Bencheikh. However, some agents have abused their power and pressured women against taking their spouses to court, Gaddechi said. She pointed out that this is a clear violation of the law, which states that "any agent who is a part of the specialized unit for investigations into violent offenses against women and who voluntarily exerts pressure, or any sort of coercion, on victims for the purpose of making them give up their rights, change their complaint, or retract it will be punished by one to six (6) months in prison."
Trouble In The Courts
Women continue to face challenges, even if they successfully file a report.
There aren't many specialized courts equipped to handle cases related to violence against women, said Raoudha Garafi, a court magistrate. Others noted how hard it is for some women to afford a lawyer.
Sana Ben Achour, the president of Association Beity, which runs women's shelters, said there were many reasons to consider punishing offenders in ways that don't include prison sentences. For one thing, conference participants pointed out, some women end up dropping charges against their husbands because they're afraid of being left as the only caretaker in their home.
Ben Achour said there were also problems with prisons.
"Prison has a positive, deterrent effect when it comes to fighting impunity, but it is also a problem because Tunisian prisons fail to have the corrective role they are supposed to," she said. "On the contrary, prisoners come out of them even more hateful."
Some Good News
Despite the hurdles, some progress has been made in the last year. The Ministry of Women, Family, Childhood, and Seniors set up shelters and listening centers for survivors of domestic violence around the country. A hospital in Tunis has also been equipped with new technology that makes it easier for medical staff to detect evidence of domestic abuse.
Participants at the meeting drafted recommendations for authorities and vowed to work together to improve the landmark law.
In the meantime, women's rights groups are also turning their attention to two new pieces of legislation that parliament is expected to vote on in coming weeks: an amendment that would make Tunisia the first country in the region to offer women equal inheritance to men, and a bill that would extend maternity and paternity leave for parents.
Related
Popular in the Community