One day a dissident blogger jailed for his activism against a repressive regime, the next a cabinet minister in Tunisia's interim government whose days may be numbered.
It came as a shock to Slim Amemou, the 33-year-old whose battle for online freedom of expression in a country with none to speak of, until former dictator Zine El Abdine bin Ali was overthrown this month was a clarion call for supporters across the Arab blogosphere.
Blogger Ayari Yassine sent Amemou a video message urging him not to become a tool in the new government's hands, since Tunisians clamoring for change want any vestiges of the "ancien regime" to be ousted altogether.
Saudi journalist/blogger/activist Hasan Almustafa wrote that he didn't doubt Amemou's sincere intentions to change conditions from within, but said he was saddened by the latter turning into a lightning rod for Tunisians demonstrating daily for radical change from the yoke of Ben Ali's 23-year rule.
"Political awareness requires a person not to burn himself in a transitional, temporary government," wrote Almustafa, who described Amemou as the first Arab blogger to go straight from jail to the presidential palace.
Almustafa, who attended the Second Arab Bloggers Meeting in 2009 in Beirut with Amemou, said the new Tunisian secretary of state for sports and youth's path to the ministry was blocked by demonstrators who objected to his taking up his position.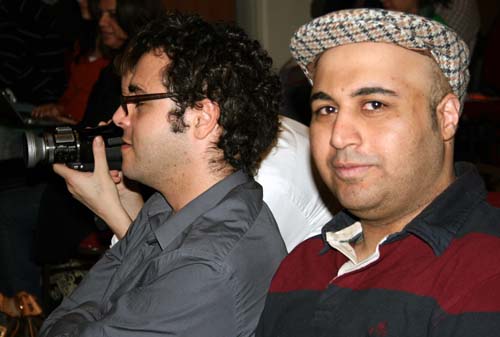 L-R Slim Amemou & Hasan Almustafa in Beirut (Almustafa)
"Online activists' compass shouldn't aim at government positions...but at freedom, reinforcing government institutions, participation, and human rights, because that's how one builds a successful modern state," Almustafa noted.
Tunisian journalists, bloggers and dissidents of all stripes have long dreamt of being unshackled from the stranglehold of Ben Ali's regime and documented cases of torture and human rights violations through different means.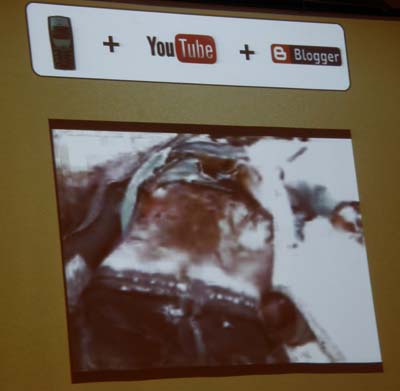 Tunisian bloggers circumvented Ben Ali's web bans (Abu-Fadil)
Before the former president was toppled, a woman in Japan identified only as Hiba wrote on Facebook-- one way to circumvent Ben Ali's iron grip -- that she and others were waiting for Tunisian media to focus on the dangerous trend of Internet bans.
As a journalist who reported from Tunisia and as an academic/trainer who conducted workshops during the Ben Ali era, I can attest to the constraints.
Even checking my innocuous business email account was an impossibility from the J-school and hotel, and I had to go to an embassy to do it.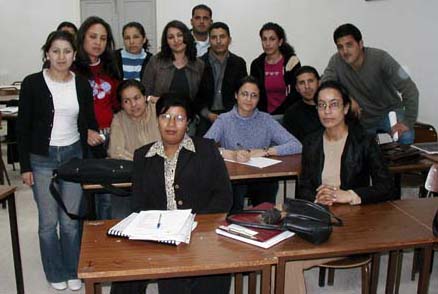 Tunisian journalism professor and students (Abu-Fadil)
It's uncertain what the future holds for the institution.
In its 39-page 2009 annual report on press freedom, the National Syndicate of Tunisian Journalists documented, albeit shyly, government efforts to stifle reporters and editors.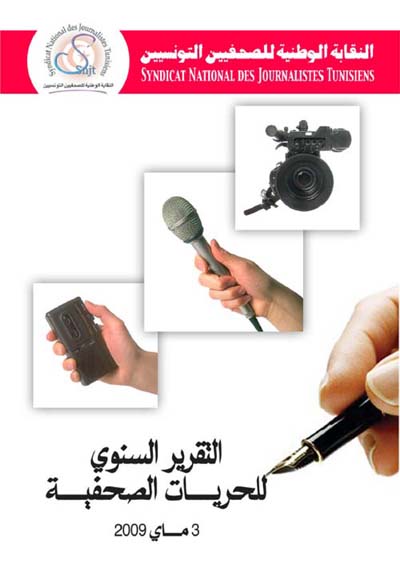 National Syndicate of Tunisian Journalists Annual Report 2009 (Abu-Fadil)
It referred to harassment of opposition journalists, trials against reporters, confiscation of newspapers publishing anti-regime content, and non-issuance of licenses to publishers considered unfriendly to Ben Ali or any of his cohorts in power.
The report said access to information was a pillar of democratic state institutions, adding that Tunisia lacked any legislation guaranteeing journalists' ability to access, and convey, accurate information.
The list of complaints by press freedom advocates was legend and got longer by the year.
Dissidents regularly faulted Western powers and Arab leaders for turning a blind eye to the outrages.
In 2008, the Paris-based World Association of Newspapers and 17 press freedom organizations wrote to French President Nicolas Sarkozy expressing "extreme concern" over "Tunisian authorities' tendency to resort to censorship, intimidation and violence," according to a statement by advocacy group Article 19 .
"It is furthermore essential that France adopts and promotes a policy in accordance with the values of the Republic, by inviting the Tunisian authorities to respect their international human rights obligations, specifically those in favor of freedom of expression and the press," it said.
The call fell on deaf ears.
What rankled advocates in 2005 was the United Nations' decision to organize the World Summit on the Information Society (WSIS) http://www.itu.int/wsis/index.html in Tunisia, a clear slap in the face of all who'd been tortured, imprisoned, or who sought refuge abroad because of their anti-government positions.
What infuriated advocates more was when the Arab Press Federation, headed by Egyptian Ibrahim Nafeh, a one-time CEO of the state-run paper Al Ahram , bestowed its highest award to then president Ben Ali during the federation secretariat's meeting in Tunis.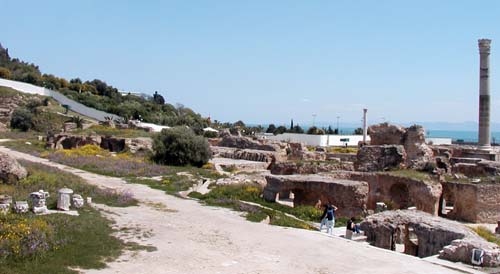 Ben Ali's Palace behind white fence in Carthage (Abu-Fadil)
"We want a new constitution. We want freedom, freedom, freedom," a demonstrator told CNN senior correspondent Ben Wedeman.
One of the first acts of the 24-hour government that took over right after Ben Ali was toppled and that preceded the current one, was the abolition of the maligned Ministry of Information, long considered a ministry of disinformation and a bastion of intelligence officers.
Soon after Tunisia's "Jasmine Revolution" erupted, following the self-immolation of street vendor Mohamed Elbouazizi in the city of Sidi Bouzid, Ben Ali sacked his minister of information, a former press attaché at the Tunisian embassy in Washington, along with other apparatchiks -- on the pretext that he (Ben Ali) had been misinformed about the severity of conditions in his country.
But that didn't stem the tide of protests that led to his ouster.
Former National Syndicate of Tunisian Journalists president Naji Baghouri lambasted the government for its ban on news of violent clashes and security services' heavy-handed response to demonstrators in the days before Ben Ali's fall.


Naji Baghouri (DPC)
He told www.aljazeera.net that Tunisian media were the worst in the region and that authorities imposed strict censorship on opposition outlets while using pro-government papers as mouthpieces for the state's wooden propaganda.
It's too soon to tell when the dust will settle on Tunisia's people revolution, how long it will take the media to find the right groove, and how much of what's happening will have a domino effect in the Arab world, but it's clear the genie is out of the bottle, and there's no turning back.
"What infuriated me was Egyptian Foreign Minister Ahmad Aboul Gheit's statement that fears of Tunisia's revolution spreading to other Arab countries was 'rubbish'," blogged Mervat Fawzi from Cairo, a member of the Arab Bloggers Union.
She headlined her blogpost "The Turn, The Turn, Your Turn is Coming."

REAL LIFE. REAL NEWS. REAL VOICES.
Help us tell more of the stories that matter from voices that too often remain unheard.