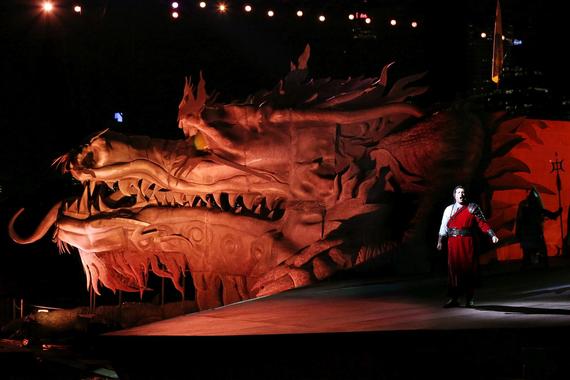 Riccardo Massi as Calaf in Turandot. Photo Prudence Upton
An enormous fire-breathing dragon encircles the stage. Yet it is the human drama that truly ignites in Chen Shi-Zheng's production of Puccini's Turandot, performed outdoors on Sydney Harbor.
With a production of such scale, the risk is the story becomes swamped by spectacle. But this grand design serves the narrative in which the ice-princess Turandot in her lofty tower fatally despatches all would-be suitors - at least until the foreigner Calaf appears.
Turandot is a dark fairy-tale in which cruelty, revenge, sacrifice and love are as perilously balanced as this production's Son of Heaven who hovers high over the stage suspended from a giant crane.
This is the fifth annual Opera on Sydney Harbor, set on a floating stage. The event has become on the most anticipated on the Australian musical calendar and increasingly attracts international visitors. With surtitles in Chinese for the first time as well as English, it is clear Opera Australia is attempting to further widen its audience base.
The production opened in perfect conditions - a cloudless, balmy night in which the Sydney Opera House and Harbor Bridge form part of the backdrop.
China-born, New York-based Chen has directed many well-received operatic and cross-over works with roots in Chinese stories. He came to prominence with the 16-hour epic Peony Pavilion at the Lincoln Center in 1999 and more recently Monkey: Journey to the West. But he has previously resisted directing Puccini's Orientalist concoction -- one based on an ancient Persian tale.
Sympathetic characters are rare in Turandot, with the exception of the self-sacrificing slave girl Liu. But this production creates a strong sense of why the princess behaves so cruelly. Turandot's desire for revenge over the brutal treatment of her ancestor by a barbarian as well as her humiliation at being courted by a foreigner is palpable. We comprehend even if we do not admire her.
This was an outstanding cast across all roles and supported by a fine chorus. As the strident Turandot, Dragana Radakovic brought assured strength and clarity to the title role, especially in the demanding In questa reggia. She maintained her focus even as shaky mechanical ladder lowered her unevenly from her tower.

Riccardo Massi as Calaf sang with lyrical warmth and passion. He certainly earned the fire-crackers that followed his showstopper Nessun Dorma - even if these might have been better saved until the evening's end.

Hyeseoung Kwon was a tender, vulnerable Liu, whose on-stage torture and suicide are truly affecting. Her moving performance threw the central problem of Puccini's unfinished opera into high relief: the final love scene coming on the heels of Liu's death seems improbable and callous.
The comic trio of Ping (Luke Gabbedy), Pang (Benjamin Rasheed) and Pong (John Longmuir) were well-matched and engaging. They provided light relief - without playing on racial stereotypes - from an otherwise savage tale.

The lavish costumes evoked a mythic imperial China without locating it in a specific era. The choreography, also by Chen, was elegant and energetic as 18 dancers swirled across the vast and steeply raked stage.

Dan Potra's magnificent set design dominated by the dragon and pagoda cleverly integrated Leigh Sachwitz's video projections to evoke moonrise, bamboo forests and the dawn.
Brian Castles-Onion, conducting the orchestra beneath the stage, set a swift tempo throughout while allowing the music to soar. The sound balance was much improved on the over-amplification that marred the opening of last year's outdoor Aida.
This is a Turandot in which all the elements have come together. It is as powerful and rare as a fire-breathing dragon.
Handa Opera on Sydney Harbor, Australia, runs until April 24.

Popular in the Community