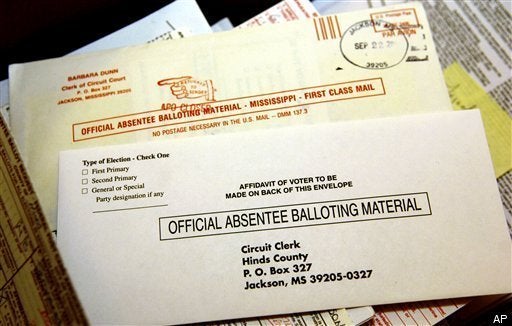 Driven by a simple yet lofty vision -- to make it easier for more people to vote -- three graduate students at the Harvard Kennedy School developed a voter-registration site called TurboVote to simplify the process of mailing in a ballot.
After signing up through TurboVote, users receive pre-filled absentee ballot forms, pre-stamped envelopes and text message and e-mail alerts to remind them of upcoming elections. Then, all they have to do is select a candidate, sign the form and drop the envelope in the mail -- what creator Seth Flaxman likes to think of as "Netflix applied to elections."
With the help of fellow students Kathryn Peters and Amanda Cassel Kraft, Flaxman launched a prototype in September. And although the three did not intend to publicize their project until the spring, investors took notice -- and TurboVote a life of its own. With $3,700 worth of seed money from the Sunlight Foundation and logistical help from various professors, the founders of TurboVote were able to launch a beta site at Boston University. So far, 300 students and 100 of their friends and family have signed up.
Although the three are excited by the progress they've made, they remain intimidated by complicated state laws regarding absentee ballots. Flaxman explains that in 29 states citizens can opt to vote from home without giving a reason, and that in the remaining ones absentee ballots can be obtained. Variability from state to state makes for a bevy complications. Regardless, Flaxman and his fellows hope that the snail-mail system will ease the burden on applicable voters until they are able to cast their ballots online.
TurboVote aims to collect $25,000 by Nov. 2 in order to cover operational costs. According to the Atlantic, they are using Kickstarter (a micro-patronage website) to reach out to investors, and have managed to gather $20,879 from 205 backers so far.
Below, check out what founders have to say about TurboVote. What do you think of the system? Weigh in below.
Calling all HuffPost superfans!
Sign up for membership to become a founding member and help shape HuffPost's next chapter