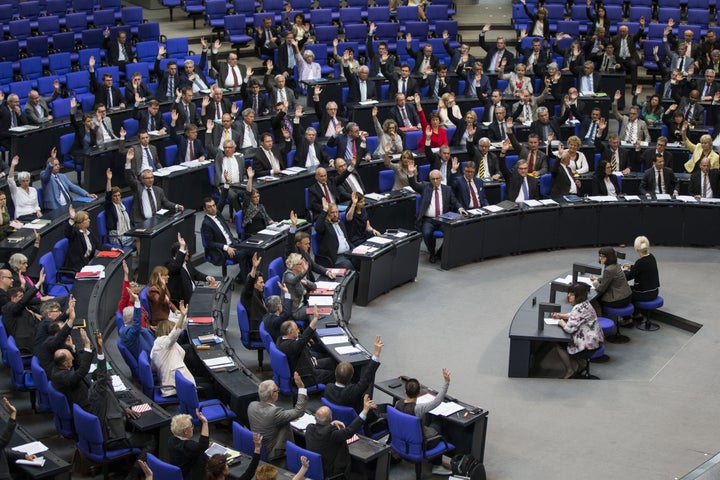 ISTANBUL -- Turkey recalled its ambassador to Germany on Thursday following a high-profile vote in Germany's parliament that formally recognized the 1915 mass killings of Armenians by Ottoman Turks as genocide.
The vote also places blame on Germany -- which allied with the Ottomans in World War I -- for failing to prevent the deaths of an estimated 1.5 million Armenians at that time.
Over a century later, the events widely known as the Armenian Genocide are still embroiled in controversy and hold significant political weight.
Turkish President Recep Tayyip Erdogan said on Thursday that German lawmakers' nearly unanimous decision would "seriously affect relations" between the two countries. Erdogan's relationship with Germany has deteriorated in recent months, and he made his fury over the vote known.
Recalling Hüseyin Avni Karslioglu, the Turkish ambassador to Germany, was only a "first step," Erdogan said. Ankara also reportedly summoned its charge d'affaires from Berlin on Thursday.
"If Germany is to be deceived by this, then bilateral, diplomatic, economic, trade, political and military ties — we are both NATO countries — will be damaged."
Erdogan has offered muted condolences for the 1915 killings, saying that there were indeed events with "inhumane consequences" during World War I, but Turkey wholly denies the murders ever amounted to genocide. The Turkish state has also slammed critics for not paying more attention to the ethnic Turks who also died during that time.
Men, women and children were forced on death marches, starved, raped and buried in mass graves just because they were Armenian, descendants of victims and survivors say.
"The genocide is not forgotten," said 95-year-old Mari Tomasyan, who told The WorldPost last year that dozens of her family members were marched toward the Syrian Desert to their deaths in 1915. "It's impossible to forget."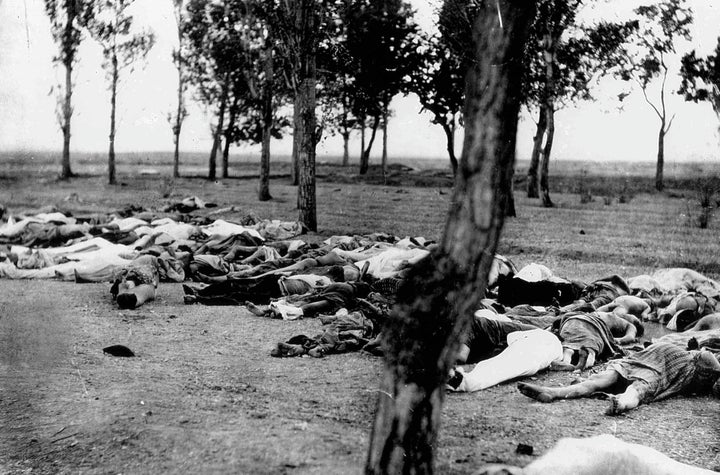 While Armenians welcomed Germany's decision to label the killings as genocide, it's not clear how the resulting political spat between Germany and Turkey will affect other groups, like Syrian refugees.
Both Turkey and Germany are key players in the international effort to address the refugee crisis as millions of Syrians flee to neighboring countries and risk dangerous sea passages to Europe.
Turkey's spat with Germany casts further doubt on the fate of the controversial and already-shaky EU-Turkey deal to manage the crisis. As part of the deal -- which rights groups say is illegal and inhumane -- Turkey has agreed to take back migrants who illegally cross the Aegean Sea to Greece.
The EU has promised to resettle one Syrian refugee in Europe in exchange for every migrant Turkey takes in, and has also pledged some 6 billion euros to help Turkey bear the financial burden of caring for millions of Syrian refugees.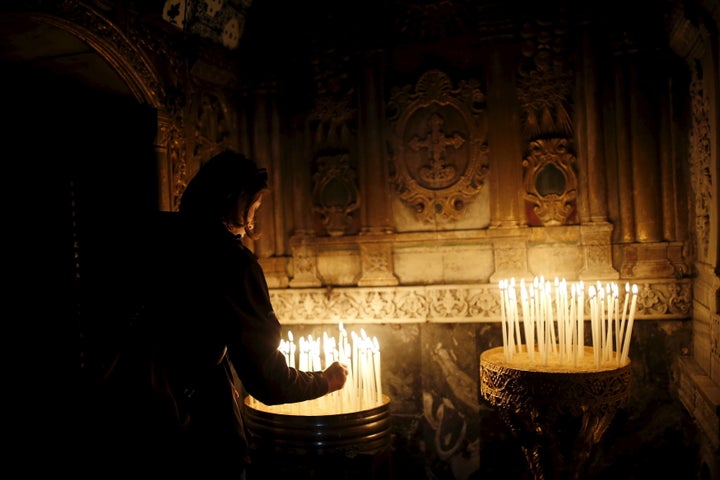 It remains to be seen whether the German vote will impact the EU-Turkey deal. German Chancellor Angela Merkel attempted on Thursday to downplay the vote and its potential for political consequences.
Related
Popular in the Community