ANKARA -- No group has claimed responsibility yet for
Saturday's
twin bombings in Turkey, the worst terror attack in the country's history that left at least 95 people dead at an anti-war rally. But many Turks insist they know exactly who has blood on their hands: the Turkish government.
"The murderous state will be judged!" thousands of men, women and children cried in Ankara's Sihhiye Square
on Sunday
, their hands held high in a sea of peace signs. "The martyrs of the revolution are immortal!"
Political tension and distrust have only deepened in the wake of the attack that targeted labor union members, pro-Kurdish Peoples' Democratic Party (HDP) supporters and leftists. They had gathered
Saturday
to decry fighting between Turkey and the outlawed Kurdistan Workers' Party (PKK) that has exploded in recent months.
While Turkey mourns and tries to process the weekend brutality just weeks before a heated
Nov. 1
parliamentary election, politicians have turned to finger-pointing in lieu of concrete answers.
On Sunday
, HDP leader Selahattin Demirtas addressed the crowd of several thousand people congregating in the city center in honor of those killed and to voice their fury against the government.
"The state wasn't able to prevent a massacre right in the middle of Ankara," he boomed through loudspeakers, casting blame on the state for failing to stop the bombings and previous attacks just like it. "Instead, [the state] enabled it."
In June,
two bombs exploded at an HDP political rally
in Diyarbakir, a predominantly Kurdish city in the country's southeast. And in July, dozens of people, most of them politically active pro-Kurdish youth,
died in a similar attack
that was later blamed on the Islamic State militant group.
As Demirtas spoke
on Sunday
, riot police flanked by water cannon vehicles readied their tear gas canisters and volunteers protectively formed a human chain around the protest. Some people hung around on the outskirts of the rally, fearful of venturing in too far if the police responded with violence. Just the day before, survivors say they were met with police tear gas when they tried to tend to the dead and dying.
The Republican People's Party, the main opposition party in Turkey, has called on Turkish justice and interior ministers to resign, citing a grave lapse in security that led to Saturday's bloodshed.

But Prime Minister Ahmet Davutoglu has dismissed any state responsibility for the attacks, instead saying that the Islamic State, radical leftist groups or PKK militants may be responsible.
The PKK announced a cease-fire hours after the attack, saying it would halt hostilities unless attacked in order to support conditions for a
"fair and just election." Turkish forces have continued to hit PKK positions in air raids. Hundreds of people, many of them police officers and soldiers, have been killed in violence since the summer.
Last week, images and video surfaced online of police officers in the country's southeast allegedly dragging the lifeless body of a Kurdish activist killed in clashes, sparking widespread anger and fear that the country would delve back into the bloodshed of the 1980s and '90s.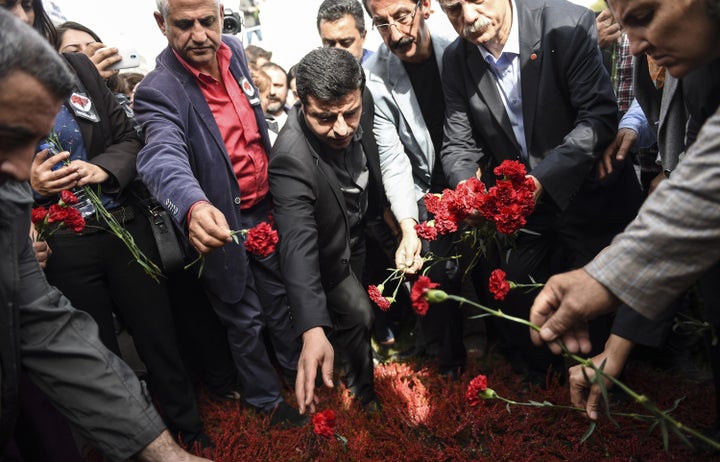 Ankara's Mayor Ibrahim Melih Gokcek said that the PKK was "100 percent" behind the incident, tweeting that the group had bombed the peace rally with many Kurds in attendance in order to bolster support for HDP at the polls come
Nov. 1
.

The election is on everyone's mind here in Turkey, with the Justice and Development Party (AKP), founded by President Recep Tayyip Erdogan, hoping to regain parliamentary majority after losing its 13-year hold on power.
In June, HDP made history when it garnered enough votes to secure seats in parliament, squashing Erdogan's plans to expand his presidential powers. But in August, Erdogan called for snap elections amid growing political turmoil.
"It will only get worse after the elections," said 23-year-old law intern Ecem as she paced outside of
Sunday's
rally. "The state is responsible for these attacks. They aren't satisfied with blood."
Somber people huddled outside of a morgue late
Saturday
night voiced similar fears, saying the attack was nothing but a deadly political ploy to sway the
Nov. 1
election outcome in favor of AKP.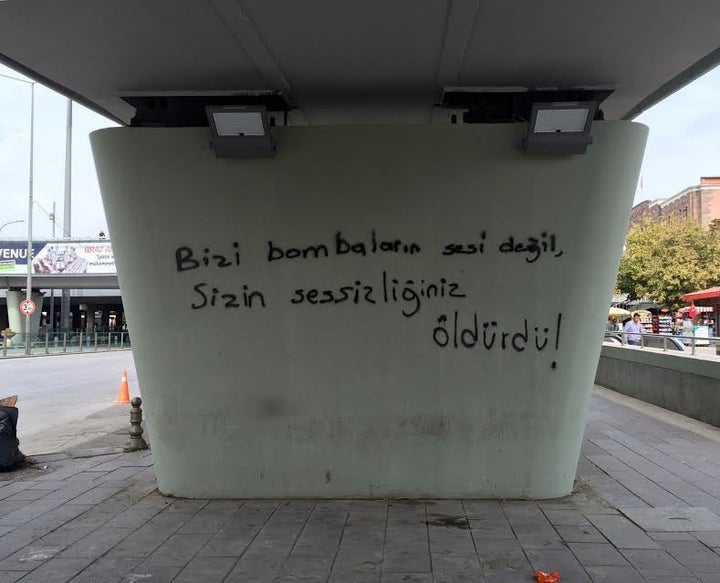 "There is nothing Erdogan wouldn't do for power," said 31-year-old Mesut Kete as a woman's blood-curdling wail from inside the morgue pierced the cold night air.
Like hundreds of other people, he had been waiting for hours to collect the bodies of friends and family killed in the blasts. Three had already died, and three were still in the hospital.
For now,
Saturday's
twin bombings remain shrouded in mystery.
"Dark forces who want to divide the country are responsible," one Turkish taxi driver who did not give his name said as he drove past the roped-off blast site
on Saturday
. "But who are they? Who knows."

Hazal Arda contributed reporting from Ankara.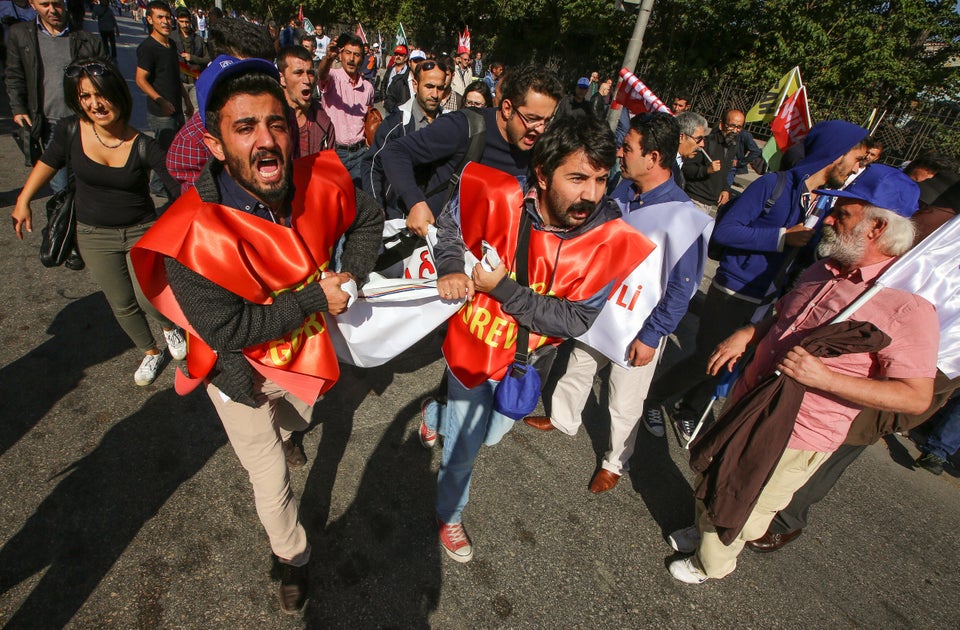 Oct. 2015 Ankara Bombings
Related
Popular in the Community