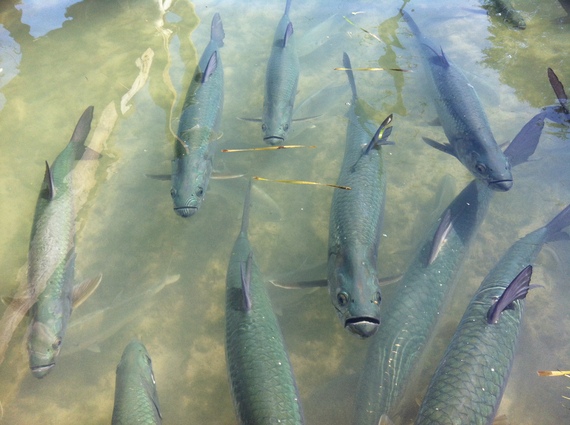 Every Thanksgiving at around 4:30 p.m., Michael, my stepdad who I consider my dad-dad, starts nudging my mom, sister, and me to get moving. The sun sets over the Florida Bay at 5:32 p.m. and Michael does not like to miss sunset. But my mom, my sister, and I love the beach that time of day, and by 4:00 p.m., Michael has usually brought cheese, crackers, and a bottle of wine out to us there, so we can be hard to motivate. By 5:00 p.m., things are getting real. "Shower now," he says each year, "or you'll be going to dinner in your bathing suit." Fine by me... it won't be the first time.
For some families, Thanksgiving dinner means wives, husbands, children, grandparents, grandchildren, aunts, uncles, and cousins - even in-laws, the whole megillah - dressed in their holiday finest, gathered together around a beautifully appointed table enjoying a feast of turkey, stuffing, cranberries, yams, and green bean casserole.
For mine it means perhaps a shower before walking across the street to Lorelei's Restaurant & Cabana Bar - a self-described roadhouse with an outdoor bar - to drink beer, and martinis, while chowing down on spinach artichoke dip, mozzarella sticks, and Captain's Quesadillas. In fairness, we sometimes order the special Thanksgiving turkey entrée for Buddy, my parent's teacup poodle, since he's not a big fan of the rest of the menu.
My biological father left when I was eight and I never met anyone on his side of the family. My mom's family was small and both her parents died around the same time my father left, so it was pretty much just me, my mom, and my sister together growing up.
Throughout the years, the family of my mom's boyfriend, or our cousins, or later when I was older, members of Michael's wonderful family (who I consider my own) would kindly and generously invite us to join their holiday dinners. But as lovely as it was to be included, I always felt apart... it wasn't really my family, or our traditions. We were guests.
As a result, I grew up hating the holidays, and holiday dinners in particular. I hated dressing up and all the trappings that came with it. I still do. Come December, for example, you won't find me anywhere near a holiday table. Instead, I'll be off exploring some far-flung locale (this year, Chad).
But Thanksgiving is different. I love Thanksgiving. Or since 1989 I do. 1989 is when my mom, Michael, Kristy (my sister), and I started going to the Florida Keys for Thanksgiving. Going to the Florida Keys has since become my family tradition.
Over the years we've traveled to the Keys in myriad configurations but regardless, we go. In the beginning we traveled exclusively to Key West, and Michael's daughters - my other sisters - would join us (they eventually stopped coming, having other family obligations). One year we let boyfriends come. That didn't happen again. A few years when we found ourselves bored with Key West, we broke tradition and traveled to the Bahamas, Puerto Rico, and Belize. Instead of feeling invigorated by our new surroundings, we lamented not being in Key West. It's not that Key West was so great...it turns out it had become our tradition, and we missed it.
For the past three years, since Buddy the dog was born and joined our crew, we've been going to Islamorada. At first we missed Key West and thought about going back, but we've grown to love Islamorada more, with its super laidback, aggressively casual vibe. And it's far less crowded and mainly full of locals - how Key West used to be when we first started going there.
It's amazing how many traditions we've managed to firmly establish in just the three short years we've been going to Isla. For one, we call it Isla. We always stop at this little place on the water for lunch on our drive from the airport to the hotel. I would tell you its name but none of us can remember it. In fact, none of us are even sure it's actually the same place we've eaten at the past three years but we figure it's close enough. The intent is there and the food is more or less the same.
We always stay at the Slander Resort. We call it the Slander Resort because the first year we stayed there the "I" in their giant, lighted "Islander" Resort sign out front was burned out. Even though they've since fixed it, we think Slander fits the vibe there far better. The Slander reminds us of those old-school Catskills resorts where families used to spend their summers, like the one in Dirty Dancing - only on the beach. It's far from fancy, but we love it. We stay in three adjacent rooms with screened-in porches that connect, so Buddy spends most of the week imitating a herding dog, running ceaselessly back and forth between rooms, trying his best to corral us together into one.
Feeding the giant tarpon at Robbie's each year is a double-edged sword for me: simultaneously fascinating (they're SO big), but sad (I feel SO sorry for the little fishies you feed to the tarpon). Our first year in Isla, Michael and I rented kayaks from Robbie's. We paddled together for hours through mesmerizing mangrove creeks and peaceful streams of the bay. It was only after we were back on the dock that I realized that afternoon with Michael had been my very first father-daughter outing in my whole life. I was 46 years old. It was worth the wait for such an outstanding day. We haven't been able to go again because of bad weather - so please wish us luck this year.
Even though there are plenty of restaurants in Islamorada, we tend to stick with the same few. We like the routine of eating breakfast at Mangrove Mike's, a funky old diner with yummy food and huge portions, lunch at Guy's Beachside Bar & Grill (full disclosure, it's at our hotel... we love traditions, sure, but we are also very lazy), and of course, dinner at the aforementioned Lorelei's.
When we can muster the will to actually groom and properly attire ourselves, we love dining at the bar at Chef Michael's. The food is delicious, of course, but it's David, the bartender, and Mary, the restaurant's co-owner who joins David behind the bar, who keep us coming back. Both are both ridiculously nice, clever, and funny, and we have an absolute blast swapping stories and joking around with them. We like going to this other place, too. It's on the beach and serves drinks with green glow sticks in them. We can never remember the name or where it is, so it's hit or miss each year whether we can find it. But each year, without fail, we at least try.
Our main tradition is sitting and laughing. We are masterful at it. We sit and laugh all day at the pool. We lie on the beach and laugh. We sit on the porch and laugh. We take drives and laugh. Sometimes we rent a boat and laugh. We head over to the bar and laugh. Sometimes after a grueling day on the beach spent doing nothing, when we're simply too exhausted to move, we'll lay on the bed in one of our rooms and laugh, while we send Michael (who thankfully likes driving) to go get take-out.
Two years ago we ate Jersey Boardwalk pizza and Snickers bars in our screened in porch for Thanksgiving dinner...after all, we had a "tradition" to keep.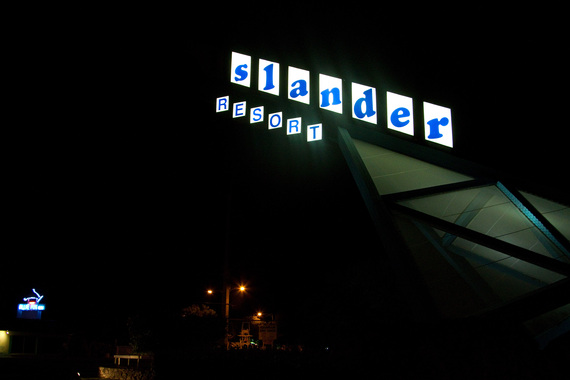 The Slander Resort. (aka The Islander Resort)
Related