It doesn't happen often, but every once in a while a prestigious publication will allow you to name drop freely through a blog on their well-trafficked webpage. If you are lucky enough and this happens to you, I hope that you will not only have a great name to drop, but also a great circumstance or context to drop the name in.
Here is mine: I was taught how to cook a turkey dinner by none other than Martha Stewart. Not through the help of her website or cookbooks. Oh no! I'm talking about an "in-the-flesh" Martha Stewart standing next to an "in-the-flesh" Jesse Tyler Ferguson and teaching him how to prepare a Thanksgiving dinner that was, in her words, "certain to impress."
But before we launch into the day that will live in infamy, we have to back up 365 days to a more humble and ill-informed Thanksgiving.
That was the year I celebrated the day of Indians and Pilgrims with my younger siblings Kelly and Ben in Kelly's shoebox-sized (I'm being generous here) studio apartment in Seattle, Wash. I arrived on her turf with a grocery list in hand. She assured me that she had already done the bulk of the shopping the previous week and that we would have very little to buy. Entering into her kitchenette, I took stock of the cabinet (yes, cabinet -- not cabinets). She had a few sweet potatoes that seemed to be sprouting vines, a frozen turkey and a few packets of sugar in the raw... for the pumpkin pie, of course. At the time, my sister was on the Paleo Diet, which basically cuts out everything one eats on Thanksgiving and requires that you eat like a caveman. Much to Kelly's dismay, I took my list and went hunting and gathering down the processed food aisle of the local grocery store. No Paleo Thanksgiving for me, thank you. Cavemen would have loved white sugar, flour and butter had they only been given the chance. Working in the constraints of my sister's 250-square-foot apartment, we were going to have a Thanksgiving dinner my mom would be proud of... even if it meant setting the coffee table as a three top.
The electric "oven" in my sister's apartment had never been used for much of anything beyond storage space for winter sweaters. My natural concern of using a stove for cold weather overflow was alleviated when I realized the appliance really didn't retain heat above 120 degrees. We were basically trying to cook our turkey in the heat of a Palm Springs afternoon.
But we were problem solvers. We relied on the kindness of strangers and ended up using the next-door neighbor's stove. I wish we could have used her dining room table, chairs and additional 500 square feet of elbow room, too, but I didn't want to push it. As It turns out, the Good Samaritan was going through a divorce and was having her first Thanksgiving without her children and instead was soon off to spend the holiday at a friend's house. She assured us that the smell of a turkey cooking in her apartment would bring her joy. However, the sound of her sobs through the thin walls of the building seemed to suggest differently. I was so distraught about her tears that my scheduled basting sessions fell behind. In the end, the turkey came out a half-hour late and an Indian Summer too dry -- but the Ferguson trio ate well that day, like knights of the low, round coffee table, grateful to be together.
At this point we would cut to a montage of what came subsequent to that day leading up to now. It would be full of generic seasonal clichés: Christmas caroling in the snow, discovering spring's first daffodil while hunting for Easter eggs, tossing a beach ball and frolicking on the Santa Monica Pier, winning Best Comedy at the Emmy Awards (sue me, I'm proud) -- it would end with the super title "One Year Later."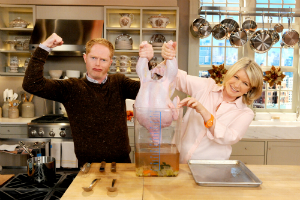 I am a guest on the Martha Stewart Show for her annual Thanksgiving episode. Under her tutelage, I learn how to make an extra-long dining room table using two saw horses and a plank of plywood (cut by my local carpenter, of course). I help in the creation of a flock of tiny, cute, turkey center pieces fashioned from gourds, colored felt and ironed brown paper. Lastly, I do what every red-blooded homemaker, housewife and gay man dreams of doing: I brine and stuff a turkey with Martha Stewart!
I stand back in awe as she ties back the legs and the wings of the bird with twine from her Martha Stewart line. I squeal with joy as she playfully whacks me on the shoulder with a bouquet of cilantro I mistook for flat-leafed parsley. My heart skips a beat as she places the bird in the oven and moments later reveals a beautifully browned turkey, already garnished on a bed of rosemary, bay leaves and cranberries. She prepares me a plate, and as I taste the moist turkey, I playfully look at the audience with an "I-know-you-wish-you-could-taste-this-too" kind of shrug. Something I didn't even know was on my bucket list has been achieved. I have cooked Thanksgiving dinner with Martha Stewart. I vow to follow the gospel of her teachings and do my very best in the remarkably less glamorous kitchen of my own home... without the luxury of magically appearing prep bowls filled by a staff of sous chefs.
I would like to report that I did a pretty bang-up job. It wasn't without its struggles and improvisation, however. For instance, I couldn't find the beautiful clear plastic bin that looked like it was created for the sole purpose brining a 20-pound turkey. I had to settle on a paint bucket, which disturbed me a little... but hey, it was better than the garbage bag I'd used the year before at my sister's apartment. The stuffing was delicious, as was the gravy. In fact, the whole meal was pretty spot-on. The shame of Martha looked down upon me only once: as I carved through the turkey, I cut right into the bag of giblets -- I'd forgotten to remove them from the bird's cavity.
I pride myself on making the holidays special for my friends and family. Come Christmastime, you can bet you will find me frosting the sour cream cookies my mom used to make, decorating the entire house with garlands and candles and making homemade peppermint ice cream (thank you, Williams-Sonoma ice cream maker). I get great joy from creating the perfect Norman Rockwell holiday. This is why I think I might be Martha Stewart's brother from another mother.
But this Thanksgiving will be different. For the first time, I am going to spend the day with my boyfriend's family. In a strange twist of fate, we have both been on the caveman Paleo Diet for the past month. (Trust me, we'll cheat.) Yes, this year I am relinquishing the power. I am giving myself over to his family's tradition and remaining open to creating new traditions with him. Sure, for a moment I might long for the company of my siblings around a cramped coffee table. I might wish my dad were there to carve the turkey with the silver my grandma passed down to us. One thing is for sure: I will certainly wonder if the stuffing is made to Martha's standards, with thick Artisan Bread. But this year I am allowing myself to be content with my sole obligation: "bring sweet potatoes."
Photo: The Martha Stewart Show
REAL LIFE. REAL NEWS. REAL VOICES.
Help us tell more of the stories that matter from voices that too often remain unheard.