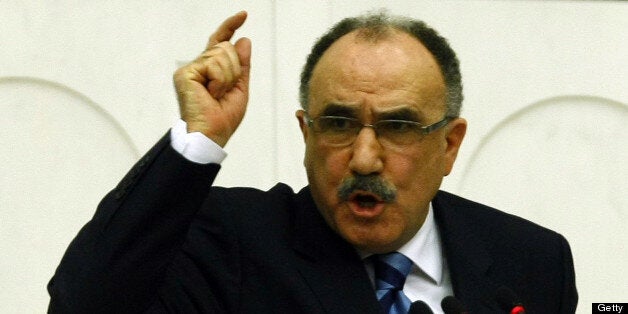 * Minister's office says comments taken out of context
* Government has blamed "foreign circles" for unrest
* International, domestic Jewish community concerned (Updates with denial from Atalay's office, World Jewish Congress statement)
ISTANBUL, July 2 (Reuters) - A Turkish deputy prime minister linked the "Jewish diaspora" to recent anti-government unrest, drawing condemnation from world Jewish leaders on Tuesday and concern among Turkey's Jews the comments could make them targets of popular anger.
Deputy Prime Minister Besir Atalay's office said his comments, made to reporters in the town of Kirikkale and published on the Cihan news agency website on Monday, were taken out of context.
Turkey was rocked by violent protests last month when a small effort to save Gezi Park in central Istanbul from redevelopment mushroomed into a mass demonstration by tens of thousands of people opposed to what they see as Prime Minister Tayyip Erdogan's increasingly authoritarian rule.
Erdogan, in power for ten years, and other officials have cited conspiracies involving "foreign circles", an "interest-rate lobby", foreign media and terrorists engineering the protests to undermine Turkey's economy and political clout. Atalay's comments pointed the finger at the 'Jewish diaspora".
"There are those inside and outside the country who are envious about Turkey growing too much," said Atalay, one of four deputy prime ministers.
"They are all uniting. On the one side you have the Jewish diaspora. You have seen the foreign media's attitude over the Gezi Park events, how quickly they bought into it and how quickly and widely they started broadcasting before any assessment was made," he said.
In a written statement to the media on Tuesday, Atalay's office said some of the minister's comments had been taken out of context and had been added to, resulting in articles stating Atalay had said the Jewish diaspora was behind the protests.
"There was no such statement or assessment made by our Deputy Prime Minister Besir Atalay," the statement said.
The World Jewish Congress said it was shocked by what it said were "despicable" and "totally baseless slurs".
"Mr. Atalay should have the decency to apologise. His remarks are an insult not only to the Jewish people but also to the many Turkish citizens who took part in the protests and who have real grievances," it said in a written statement.
The Turkish Jewish Community, which represents most of Turkey's estimated 23,000 Jewish faithful, said Atalay's remarks could lead to reprisals against its members in a mostly Muslim country of 76 million.
"We are trying to obtain information about the meaning, the scope and details of Deputy Prime Minister Besir Atalay's statement about the 'Jewish Diaspora being behind Gezi protests,'" the Turkish Jewish Community and chief rabbinate said in a joint statement on the community's website.
"(Because) Turkish Jewish citizens, as well as other Jewish people living all around the globe, may be affected and pointed (out) as a target of such a generalisation, we wish to express our concerns and share our apprehension and worry of the consequences that such perceptions can cause."
Turkey's Jews, most of whom trace their roots to the 15th century when their ancestors found refuge in the Ottoman Empire from the Spanish Inquisition, have in recent years faced pressure as relations between Israel and Turkey soured.
Ties between the erstwhile military allies hit a low in May 2010 when Israeli commandoes killed nine Turkish activists in storming the Mavi Marmara, a ship in a Turkish-led convoy seeking to break a naval blockade of the Gaza Strip.
Earlier this year, Erdogan called Zionism "a crime against humanity", prompting objections from U.S. Secretary of State John Kerry. President Barack Obama subsequently orchestrated an Israeli apology for the Mavi Marmara raid.
While at least one other member of Erdogan's ruling party has suggested Jewish involvement in the Gezi protest, the remarks by Atalay appeared to be the first such public accusation by a senior member of the ruling AK Party, which traces its roots to a banned Islamist movement.
In a message on Twitter, the AK Party mayor of the Turkish capital Ankara, Melih Gokcek, said on June 16 the Gezi protests were a "a game of the Jewish lobby" and cited a Turkish newspaper report that a Washingon-based think tank linked to the American Israel Public Affairs Committee lobbying group had predicted the protests earlier in the year. (Reporting by Ayla Jean Yackley, Jonathon Burch and Gulsen Solaker; editing by Ralph Boulton)
Calling all HuffPost superfans!
Sign up for membership to become a founding member and help shape HuffPost's next chapter
BEFORE YOU GO
PHOTO GALLERY
Taksim Square Stormed