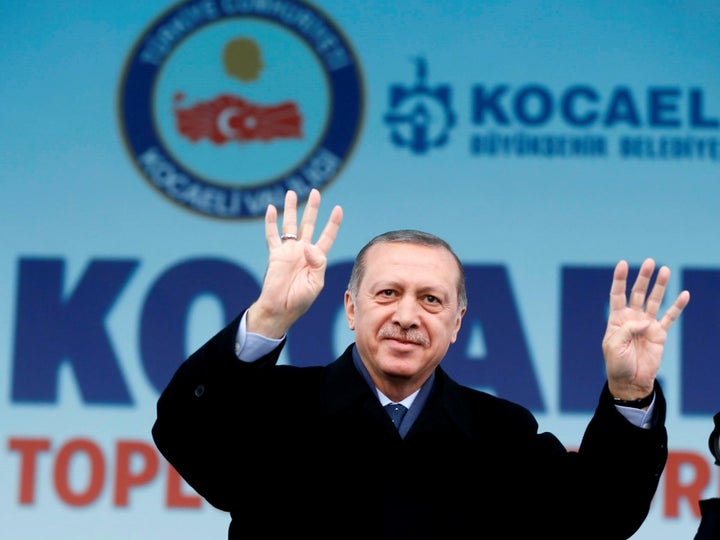 ANKARA, Turkey – Last week, the mayor of Ankara escorted me and about a dozen other journalists into a windowless room with rows of green velvet armchairs facing a flat-screen television and told us his theory about ISIS.
Reporters from a bevy of major outlets, including the New York Times, Washington Post, Wall Street Journal and Associated Press, had traveled to Ankara to interview Turkish President Recep Tayyip Erdogan and other high-ranking government officials. But the mayor, an energetic, mustachioed man named Melih Gokcek, had a different idea.
It was around this time that I realized we definitely weren't going to meet Erdogan.
The other reporters and I had traveled to Ankara to hear the Turkish government's side of a complicated story. Turkey, a NATO member, is one of America's most important Muslim allies in the Middle East. But relations have soured recently — in part because Turkish government officials are angry that the U.S. hasn't extradited Fethullah Gulen, the cleric they accuse of plotting a failed coup in July.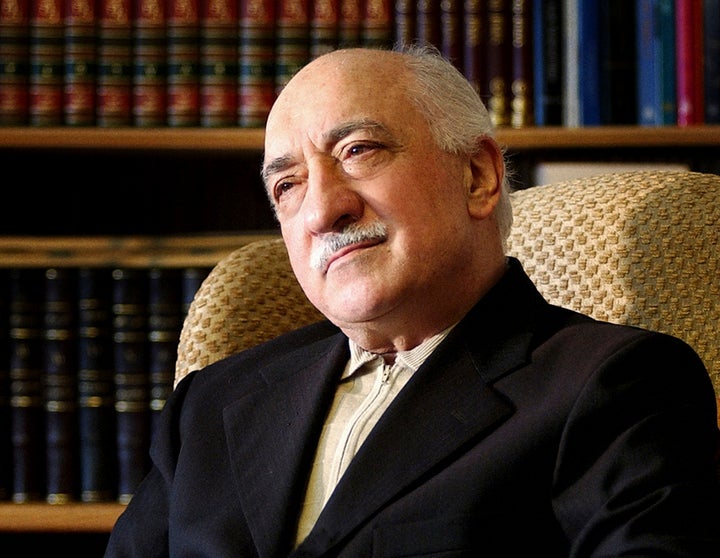 Turkish officials are adamant that Gulen, now living in self-imposed exile in Pennsylvania, is to blame for the coup. But they have failed to offer hard evidence.
Erdogan rarely makes himself available to the media — especially for foreign reporters who are freer than Turkish journalists to criticize his government. So when Adam Sharon, a Washington-based public relations executive, contacted me and several other reporters last month and offered interviews with Erdogan and other top Turkish officials, it held out a chance, however remote, for American reporters to assess face-to-face whether top Turkish officials had any evidence for their claims about Gulen.
If the goal of the trip was to convince reporters that the Turkish government's case against Gulen was based on facts, rather than innuendo and conspiracy theories, it backfired spectacularly.
Gokcek, who has been the mayor of Ankara for nearly 23 years, offered to arrange the meetings, and his team did everything they could to entice reporters to make the trip. They provided an invitation letter proposing to arrange meetings with Erdogan, the prime minister, the foreign affairs minister, the chief of general staff to the military, and the chief of national intelligence. They later followed up with a detailed itinerary. They offered to cover the cost of airfare, room and board, and meals. (The Huffington Post paid my expenses.)
Onur Erim, the mayor's chief adviser, enlisted in the help of Arda Sayiner, an Istanbul-based public relations expert. Sayiner brought on Sharon, who was paid $20,000 for his work setting up the trip. Sayiner received "very very very little," he said, declining to say how much.
Gokcek met us at a compound he uses to entertain guests on the first evening of our two-day trip in the capital city. He had a single red rose for each of the female reporters in honor of International Women's Day. The mayor said he was excited to show us "never-before-seen footage" of the failed July 15 coup. The video was so gory that women might not be able to watch, his chief adviser warned during lunch.
The reporters were growing restless. Our hosts had dropped Turkey's intel chief from the itinerary and replaced him with the justice minister. Our appointment with the justice minister kept getting pushed back so he could assemble better evidence against Gulen, Sayiner told us — a claim that seemed questionable, at best. And sources in the offices of the president's and prime minister told our Turkey-based colleagues that we weren't on those officials' schedules.
The day was nearly over, and with the exception of a morning interview with Deputy Prime Minister Mehmet Simsek, we had spent much of it touring Mustafa Kemal Ataturk's mausoleum and a revitalized former slum in Ankara. We also saw Parliament buildings that had been damaged during the coup. The destruction was being preserved for future generations to see, our parliamentary guide, Sami Akgun, said. He showed us a bombed-out portion of the Grand National Assembly — and a hole in the ground in front of it. The depression used to be deeper, Akgun said, but the rain and snow during the eight months since the attack had partially filled it in.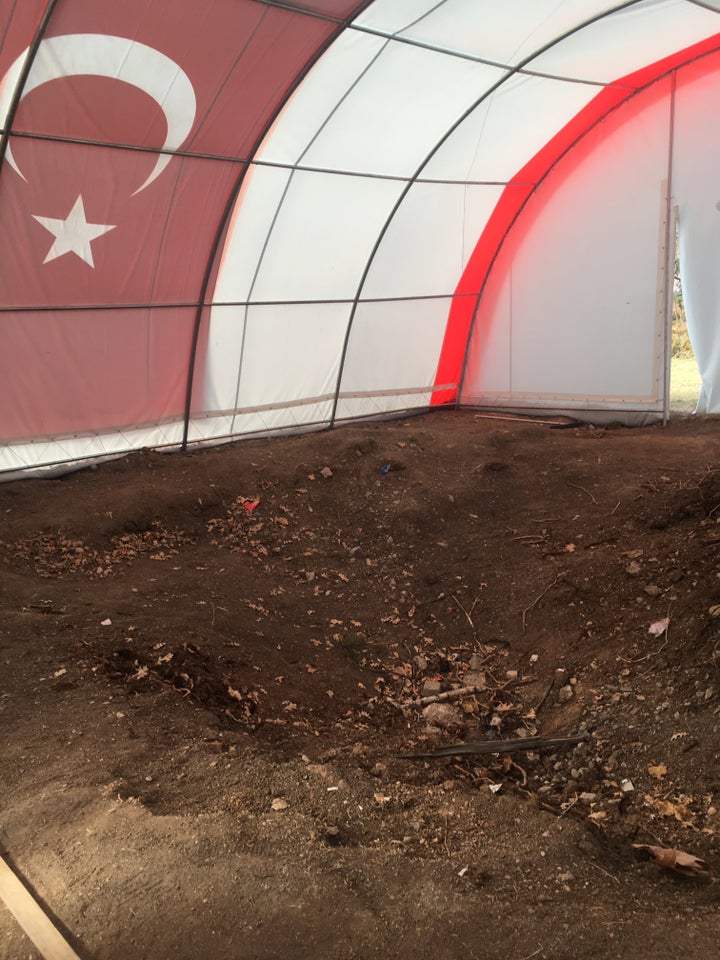 When we asked for updates about our interviews, Sayiner assured us they would still happen, but he didn't say when.
Gocek led us downstairs to the room with the green velvet armchairs and the TV. There was a dessert platter set out next to every chair. The 24-minute video was as bloody as promised. The mayor, seated next to the screen, provided running commentary. At one point, he told us that he had appeared on television 18 times on the night of the failed coup. After the video, he told us his theory about former President Barack Obama and 2016 Democratic nominee Hillary Clinton creating ISIS. Mehul Srivastava, a Financial Times reporter based in Istanbul who is familiar with Gokcek's style, wanted to make sure the other journalists fully understood what they were dealing with.
"Could you perhaps explain to us your theory on earthquakes?" Srivastava asked the mayor.
"Surely, I would be happy to answer that," Gokcek said. "There are two types of earthquakes in Turkey. The ordinary ones that happen spontaneously, the other ones that are triggered." According to Gokcek, the U.S. and Israel had collaborated to "trigger" a 7.4-magnitude earthquake in the Gulf by sailing up to a coastal fault line and attempting to extract energy. "They couldn't manage it, just like an atom bomb, the energy inside the ground exploded and it turned into an earthquake," he said. There's no evidence of such an occurrence. The mayor has also suggested that Gulen and his followers created an earthquake with the goal of destabilizing Turkey.
Gokcek said he gets his information from the Internet. "I have the largest intelligence service in the world: Google," the mayor said. "You can find anything in Google. In Turkey, I am the person who uses Google the best way … I would like to thank Google."
Sharon, the Washington-based PR hand, started breathing heavily.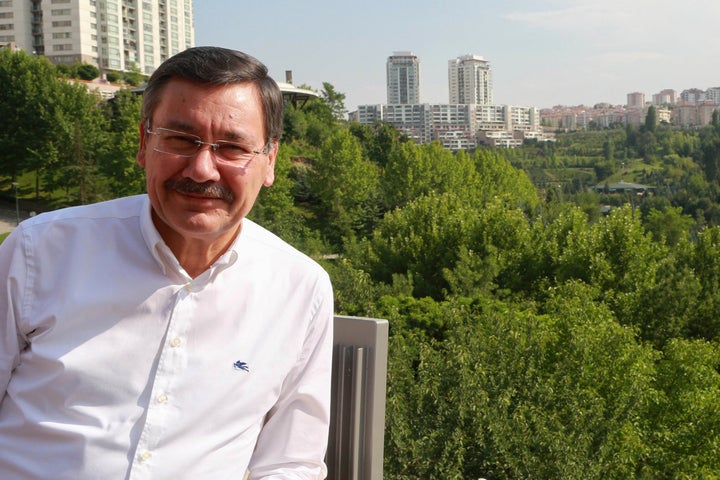 We interviewed Yildirim, the prime minister, the next day.
At the end of the hourlong meeting, The New York Times' Gardiner Harris thanked Yildirim for his time and asked if he was aware that we also had been promised interviews with Erdogan and other top government officials.
The prime minister looked surprised. He had only been asked to meet with us two days ago, he said.
Ultimately, we heard from Simsek, Justice Minister Bekir Bozdag, and Erdogan's spokesman, Ibrahim Kalin. The meeting with the justice minister, Sayiner told us, was the hastily arranged result of a request from Prime Minister Yildirim's office.
The Turkish officials said what we'd expected them to say. They defended Turkey's post-coup crackdown and said they had been unfairly judged and abandoned by the U.S. in the wake of the violent attempt to overthrow their democratically elected government.
Many of their grievances were understandable: The Syrian Kurds that are armed and trained by the U.S. to fight against ISIS have ties to the PKK — a group accused of several attacks against Turkish troops, including a suicide bombing last year that killed 11 police officers. They argued that Washington should take them at their word when it comes to Gulen. When former President George W. Bush said Osama bin Laden was behind the Sept. 11, 2001, attacks, "We didn't say show us smoking guns," Simsek said. "We sent our Turkish army to Afghanistan to fight."
All of those arguments would have seemed more compelling coming from Erdogan himself in a setting where reporters could question him directly. Instead, we heard from the president's subordinates — and a conspiracy theorist who claims Obama literally created ISIS.
Popular in the Community